The Most Stylish Horror Films to Stream Right Now
Bisexual vampires, haunted pianos, and David Bowie.
---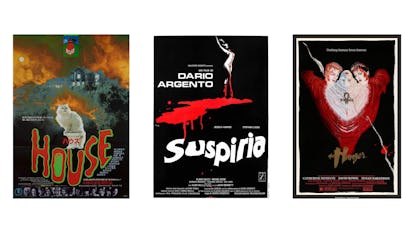 Real life right now is absolutely frightening on its own, but one thing it decidedly is not is: stylish. If we're going to acknowledge Halloween at all this year, we might as well milk it for all its aesthetic escapist possibilities. Before scaring us silly, please at least have the decency of transporting us to some alternative universe where everyone is like a dressed-to-kill bisexual lit up in neon hues, please.
Sure, you could use October to stream movies about orange-skinned men hunting teenage girl's dreams or mysterious plagues threatening existence, but that's a little too on the nose, isn't it? Instead, let yourself escape into the stylistic freedom taken by more outré horror films. Here, some of our favorite stylish fright fests to stream now.
Daughters of Darkness
Streaming on Shudder and Criterion Channel and for free with ads on Tubi and VuDu.
Though never confirmed, it seems Ryan Murphy clear picked Harry Kümel's 1971 Belgian horror film for inspiration for the Hotel season of American Horror Story, especially for Lady Gaga's Countess character. After all, European screen legend Delphine Seyrig plays a glamorous blonde Countess posted up at a deserted grand hotel with her Gothy little girlfriend when she comes across a young couple on their honeymoon. A game of bloody seduction ensues.
House
Watch on HBO Max and Criterion Channel
The Japanese studio best known for producing Godzilla movies wanted to make a quick rip-off of Jaws, and commissioned Nobuhiko Obayashi to jam out a script. House is the film that resulted, and, reader, there is not a shark to be found in the final product. What we get is a surreal fever dream with intentionally bad special effects involving killer pianos and blood-spewing cat portraiture.
Ganja & Hess
Watch on Criterion Channel and Shudder
Established playwright Bill Gunn was offered a chance to make a quick, cheap production with the loose directive of "Black vampire film" back in the '70s. After some hesitation, Gunn went for it and was granted wide creative leeway. What came next was one of the first horror films to use the genre as an allegory for race relations. The film is regarded as a milestone in black Independent film making, and Spike Lee remade the movie under the title Da Sweet Blood of Jesus in 2014.
Bram Stoker's Dracula
Watch on Shudder or for free with ads on Crackle
This 1992 production of the classic tale may not be regarded as Francis Ford Coppola's best overall work, but it still remains treasured for its aesthetics. Indeed, it won Oscars for costuming and makeup, and received another nomination for art direction. While the film is notable for the first on-screen pairing of Gen Z icons Keanu Reeves and Winona Ryder (who may or may not have been accidentally married on set), it also stars a grand trio of slightly unsettling legendary character actors in Gary Oldman, Anthony Hopkins, and Richard E. Grant.
Midsommar
Watch on Amazon Prime Video
A24 has really used its capital as the hip indie production company to help foster a new age of stylish horror film—and one of its biggest success has been nurturing the career of Ari Aster. After scaring half of Bushwick's thrifted pants off with Hereditary, he returned a year later with the more visually pleasing yet still decidedly twisted Midsommar. The film somehow twirls together a Björk-worth flower dress and a disembodied bear carcass into a frightening affair.
The Love Witch
Watch on Amazon Prime Video and Shudder
A comedy-horror hybrid, Anna Biller's film isn't meant to scare you out of your seat as much as it is a particularly stylish exploration of man's fear of woman. Samantha Robinson plays a young witch whose biggest passion in life, aside from wearing the hell out of teal eyeshadow, is to find love. She casts love spells on man after man, but when she realizes they aren't quite right for her, she's forced to deal with them one way or another.
Suspiria (the original and the remake)
Watch both the original and the remake on Amazon Prime Video
Italians can't do much without a heap of stylistic flourishes, so you can put the entire genre of giallo horror (essentially: Italian-produced horror films with an element of mystery and investigation) on this list. Though, Dario Argento is internationally considered one of the masters of the form, and while his most celebrated film Suspiria somewhat shakes the strict genre definition, it retains most of its aesthetic flourishes. The film is so beloved that film nerds were left shaking when it was announced Luca Guadagnino intended to remake it, but his 2018 update was also warmly received.
The Neon Demon
Watch on Amazon Prime Video
Nicolas Winding Refn decided to take on the genres of crime, comedy, and adventure before he turned his attention to horror with 2016's Neon Demon. Unsurprisingly, the Danish director really let his obsession with style loose in the film. Its central characters are all aspiring models, after all. While it was greeted with a decidedly divisive response, it's worth a viewing for its Technicolor visuals alone. It's not called The Tastefully Lit and Rendered in a Muter Color Palette Demon, after all.
The Hunger
Stream on VuDu
You'd think "David Bowie Vampire movie" would have a bit more cultural caché, but Tony Scott's 1983 flick remains something of a cult classic. Even if it's not the best-known cult film featuring Susan Sarandon caught up in a supernatural love triangle either (that would, of course, be Rocky Horror). Still, the film remains something of a Goth culture touchstone, and has stunning visuals.