Stylist Lara Estefan-Coppola's Insider Guide to Miami
Just in time Art Basel Miami Beach, the stylist shares her tips for the city, including vegan cafés, vintage markets, and dinner at her mother-in-law Gloria Estefan's restaurant.
---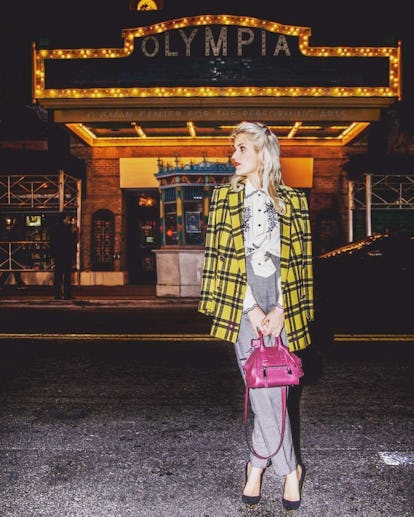 Ren Féria
Lara Estefan-Coppola was born in Caracas, Venezuela and has spent years living in L.A. But over the last two decades, the stylist has always found herself returning to Miami, where she runs a monthly vintage market called Ropa Vieja and frequently gets her fill of her all-time favorite Cuban food. (Her favorite restaurant is conveniently owned by her father and mother-in-law — none other than Larios and Gloria Estefan.) Just ahead of Art Basel Miami Beach, she shares her tips for the city, here.
Describe your neighborhood: It was developed in the 1920s, so it has that Art Deco feel to it, and lots of Mediterranean Revival-style homes, too. Reminds me of Los Feliz in L.A., but with tropical, lush landscape.
Regular neighborhood spots: Choices Cafe is a little vegan spot that is so delicious, and Bunnie Cakes is the cutest little bakery, where I love to go treat myself and my son. Great for afternoon tea and cupcakes.
Best dinner for a date night: My husband and I love going to Bombay Darbar in this little pocket in Miami called Coconut Grove. Authentic Indian food joined with funny banter of high school memories during after-dinner strolls in the neighborhood.
Favorite restaurant: My parents-in-law's restaurant, Larios on the Beach, has my favorite Cuban food in Miami. Order the croquetas de pollo and the churrasco salad.
Favorite place to see art: The Pérez Art Museum (PAMM). Their exhibits are amazing and the building itself and the grounds are beautiful. I also love Nina Johnson Gallery, which just opened in Little Haiti and always showcases cooler and emerging artists.
Favorite shop: C. Madeleine's is hands down my favorite place to shop in Miami. It's a huge space with the most amazing vintage. It's magical!
Best places to thrift: I host a vintage market, Ropa Vieja, once a month at a place called Gramps in Wynwood. It's all my favorite Miami girls' closets, the best music, and great cocktails in one place.
Go-to beach spot: My parents' backyard on Key Biscayne.
Family favorites: I have publisher friends who run Dale Zine Miami and they curate family art workshops throughout city. We love going together and working on a fun project that we both enjoy, like zine making or learning how to play a synthesizer. We really like going to the North Beach Bandshell for great family concerts at a venue right off the sand.
Secret escape spot: There's a little hidden bar called The Corner in downtown Miami where they play jazz every Tuesday night. I don't think people associate Miami with great jazz, but this low key night begs to differ.
Best bar or club for a night out: Miami has so many more options culturally nowadays. There's a new trend of old places being revived, like the Byron Carlyle Theater in North Miami Beach where Secret Celluloid Society shows classic films all on 35mm every Saturday at midnight! It's a fun and interactive way to spend a Saturday night.
Local food you can't live without: Tequeños from Doggi's Arepa Bar, a true Venezuelan treat.
Best place to stay: The Nautilus is a pretty new hotel on the beach, with complete five-star accommodation in a glamorous mid-century design setting.
Tips for Art Basel: Don't get caught up on trying to do everything. Make no plans and go with the flow. Stay in the moment and enjoy the little treasures Miami has to offer!