How Sufjan Stevens Got His Victoria's Secret Wings
With a little help from the breakout designer (and Rihanna's go-to costumer) Adam Selman, the musician's emotional set at Panorama looked more like a neon rave.
---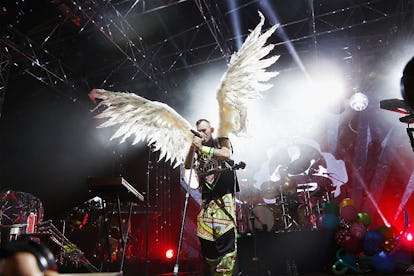 Mireya Acierto/WireImage
Last year, prompted by the death of his mother, Sufjan Stevens released an achingly beautiful album titled "Carrie & Lowell," and embarked on a tour often as somber as the songs about suicide and loss. In April, though, a change came: Stevens, who at that point had been sticking to plainclothes, showed up to his set at Coachella decked out in neon, metallics, balloons, and a massive pair of wings.
The transformation, which carried over to Stevens's performance on Saturday at New York's Panorama, was thanks to the designer Adam Selman, who is somewhat of a go-to for Stevens when it comes to rave gear. He first turned to the then-budding designer five years ago when looking for costumes to go along with his first experimental pop album, "The Age of Adz." Selman, who'd outfitted the likes Lady Gaga, Britney Spears, and Michael Jackson when training with the famed costume designer Zaldy, quickly proved the perfect fit.
"Before I got involved, literally before going on stage, he'd just been taping this neon gaff tape all over everything, like his t-shirt, his arms, his head, the whole thing," Selman, 34, recalled with a laugh. Though that was, and still is, somewhat of a meditative process for Stevens, Selman knew how to do things a bit more efficiently – especially when it came to the wings.
"I said, 'Oh, I actually know these guys who make the Victoria's Secret wings,'" Selman said. The feathered armature proved so sturdy, they're still holding up at Stevens's now raucous sets five years later. His wings were even the basis for the red-white-and-blue pair worn by Miss U.S.A., whom Selman outfitted last year for the Miss Universe competition.
Though Selman has now designed eight collections for his namesake label, launched in 2013 and currently in the running for the CFDA/Vogue Fashion Fund, and become the go-to designer for none other than Rihanna, he and Stevens, who became fast friends, kept in touch, and reconnected professionally earlier this year. "[Sufjan] was like, 'Adam, I'm doing these summer shows, and I've done them before, and I just want to have fun. Will you help me?" Selman said.
Fun is definitely being had: Stevens spent most of his performance at Panorama on Saturday running around the stage, eventually mounting a metallic ladder that Selman called "a silver monstrosity" in a shiny, matching floor-length cape, smiling unabashedly below the three revolving disco balls overhead. Also onstage: A cacophony of prints, patterns, and flashing neons worn by the entire nine-piece band, including fishnet tops and light-up headbands.
For his part, Stevens also contributed design input: This time around, he tried his hand at sewing and came up with a pair of cotton "soft pants," which Selman used as inspiration. It was a collaborative effort, just like before. "We'd just made this plexi trench coat, and I went to a rehearsal and he was sitting in the corner, taping balloons, streamers, and silver mylar to it," Selman recalled. "I was like, 'What are you doing?' And he was like, 'Oh, I'm just adding things to it.'" Selman laughed.
"I really respect him as a true vision and artist, so my job is just to make sure that he sort of gets what he needs and I help him tell that story and help create it," he went on. "I loved that he took it as a base and really made it his own."
By now, Selman is used to a bit of back and forth: Shortly after they'd met, he made Stevens a denim jacket made of strips that resembled a cage. "He was like, 'I like this, but it might be a little S&M for me,'" Selman recalled with a laugh. "Sometimes it's just all about trial and error."