Behind the Seams of "Suited," a Lena Dunham-Produced, Trans-Focused Documentary
The story of Bindle & Keep, the Brooklyn company making bespoke suits for trans clients, wasn't always a perfect fit for the big screen.
---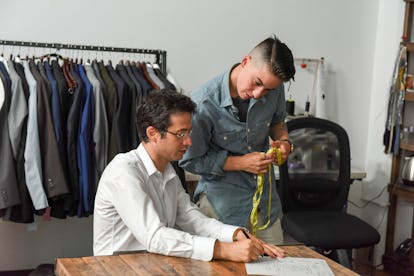 Late in 2013, the filmmaker Jason Benjamin was perusing the New York Times when an article caught his attention: It told the story of Bindle & Keep, a Brooklyn-based bespoke suit company that specialized in tailored creations for trans clients. More specifically, though, he zeroed in on one detail: The life-changing moment when founders Daniel Friedman and Rae Tutera deliver a suit to a client who'd spent ages struggling with both clothing and their identity.
"It sounded so full of self-empowerment and self-realization," Benjamin recalled, "and if we could convey that in the film, it would be really powerful."
So Benjamin did what any documentary-maker who spends most of his days handling microphones on the set of Girls would do: He brought the idea to Lena Dunham and Jenni Konner, who had recently launched their production company, A Casual Romance. "We were immediately really excited about it and wanted to support it in any way we could," Dunham said. So excited, in fact, that she and Konner put up the money themselves for Benjamin to shoot a 10-minute sample reel. It made its way to HBO, and suddenly, Benjamin's short became a feature documentary: "Suited," which premiered earlier this year at Sundance, and is getting an HBO release on June 20th.
The feature film meant adding a few years to the project, not to mention exploring new territory for Dunham and Konner. "Me and Jenni were like, 'Woah, making documentaries is crazy – you can't package it exactly or tell people exactly what to say, and you can't demand that people cry, or for the right things to happen,'" Dunham remembered.
Benjamin, of course, knew his way around. (This is his second feature-length doc.) Plus, he had Friedman and Tutera. Each client who comes to them for a suit submits a form to schedule a fitting; the form has an optional box in which they could tell their story. Friedman and Tutera began forwarding the more detailed ones to Benjamin, who'd reach out and ask for a lunch date. Ultimately, he settled on five subjects, and since, as Dunham pointed out, suits tend to attract those leaning toward a more masculine presentation, the film spotlights those transitioning from female to male, whereas the media typically sticks to covering the opposite.
The exception is Jillian, a middle-aged attorney who needs a skirt suit for an important trial. But there's also Derek, a trans man from rural Pennsylvania who needs a suit for his wedding. And Everett, a law school student in the south who's been openly rejected from jobs for simply being a trans man. Each is introduced and followed in full, as Benjamin said it only took about five minutes into a lunch date for him to find that, once they got past the basics and preferred pronouns, gender was largely irrelevant.
"After that, it was just a conversation between two people, and everyone was contending with the same things we all contend with – finding a job or getting married, just in general trying to be happy," he said.
So he followed them everywhere from the rural Pennsylvania farm where Derek grew up to the barber shop, plus major life events like a wedding and a bar mitzvah. "For me, that moment when they try the suit on is really only effective if you care about the person that you're watching," Benjamin said.
"And they're all just really compelling people in their own right," Dunham added. "They all have fascinating lives and do really interesting things. Their gender and their gender presentation is just really the tip of the iceberg of who they are." Diving deep also assuaged Benjamin's anxieties of creating "insensitive or sensationalized portraits of people," having never transitioned or identified as trans himself. He also bombarded Turtera, who identifies as a trans male, with plenty of shameless questions – which, as Dunham pointed out, is unfortunately not standard protocol for straight white cis men.
"Suited" has its share of tear-inducing moments, such as when Aidan, a pre-teen trans boy from Arizona, shows up to the Bindle & Keep office with his grandmother in the months ahead of his bar mitzvah. "He clearly is in a lot of pain and coming to this process from a place of deep discomfort, and to have someone that young confronting that, and seeing his grandma in the background with tears streaming down her face was a really, really powerful moment to witness and get through," Benjamin said. (His own son is around the same age.)
As for Dunham, the film had a more explicitly familial presence: Grace, one of the clients Benjamin follows, happens to be her 24-year-old sister, who's looking for "a dark wool suit to run around in" to replace one made by her father's tailor, which she wore until the buttons fell off. "I thought it was so cute," Dunham said. "Grace's gender nonconforming is like the least weird thing about her, which is one of the things that I find so funny. If you just go any deeper you forget that so quickly, and then this total other kind of weirdo emerges."
Dunham, Benjamin, Konner, and the rest of the crew all had their own suits made for the film's premiere at Sundance. "They measured me, it came, and I didn't have to do a single alteration," Dunham recalled. "I just felt strong and beautiful and powerful, which was really cool and unexpected."
Photos: Behind the Seams of "Suited," a Lena Dunham-Produced, Trans-Focused Documentary
Bindle & Keep founders Daniel Friedman and Rachel Tutera in "Suited."
Everett and Rae Tutera in "Suited." Photo courtesy of HBO.
Rae Tutera and Grace Dunham in "Suited." Photo by JoJo Whilden, courtesy of HBO.
Debra Matteson and Derek in "Suited." Photo courtesy of HBO.
Aidan in "Suited." Photo courtesy of HBO.
Director Jason Benjamin. Photo by JoJo Whilden, courtesy of HBO.