How to Get Suki Waterhouse's Bohemian Chic Look
Friends Suki Waterhouse and Poppy Jamie are launching a line of customizable and versatile jewelry and handbags, inspired by their friendship. Here, they share the personal style notes that inspired Pop&Suki.
---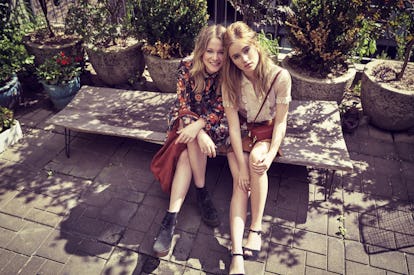 Courtesy of Pop & Suki
In a city as sunny and carefree as Los Angeles, the British have to stick together, and that's exactly how Suki Waterhouse and Poppy Jamie became friends. Now, they're taking their relationship to the next level by launching a business: Called Pop&Suki, it's a line of jewelry and handbags inspired by their friendship. The bag offerings include a camera bag and shopper tote in cotton candy, noir and cognac colorways, and can be made personal with monograms, straps and leather attachments. Jewelry is equally customizable; a paperclip-style chain can be worn as a necklace, bracelet, anklet or body chain, with a choice of charms of crystal add-ons.
It's the duos first foray into design–Waterhouse is model (she's the face of Burberry and Redken) and burgeoning actress, and Jamie cut her teeth in TV. But they bring their respective backgrounds – and styles – to the design studio. The collection is available for pre-order now, and the collection, priced from $20 to $255, will be up for sale come November. Here, they talk personal style, what's always in their bags, and what they're lusting after this season.
Occupation Suki Waterhouse: Actress and mother to Pop & Suki Poppy Jamie: Entrepreneur
Three words that describe your style S.W.: Find clean clothes… P.J.: Feminine, '60s, Utilitarian
Daily uniform S.W.: An oversized Stella McCartney sweater, Cheap Monday jeans, and wedged Burberry sneakers with a black Pop & Suki Camera Bag. I'm never without my Lucy Folk chunky gold rings and vintage hoops. P.J.: A long day dress; I love Chloé for inspiration or my recent obsession is a Christopher Kane long metallic pleated skirt. I love wearing length in the day.
Favorite store in New York/London S.W.: I love Amacord in Brooklyn. They specialize in high-end Italian gems and there's no smelly, ill-fitting junk around. (Bonus.) P.J.: The vintage store Rellik in London.
Nighttime look S.W.: It varies. Last night I wore Dorateymur loafers, Isabel Marant high-waisted jeans, a petit bateau sweater and a vintage blue jacket from Bustown Modern in LA. P.J.: Charlotte Tilbury red lipstick with a block heel (I love Miu Miu).
Style icons/inspirations S.W.: I met one of my style icons the other day – Anita Pallenburg. She was dressed in Nike sweatpants, UGG boots, the most amazing fringed leopard jacket, giant mobster sunglasses and a huge brimmed hat. She fulfilled and exceeded every expectation. P.J.: Florence Welch's vintage pieces; Bridgette Bardot's hair; Sienna Miller always looks amazing.
Best recent discovery S.W.: I Sodi in NYC. Must have the cacio y pepe pasta and drink a Negroni. I'm also addicted to 5th Rhythms dance classes. It's two hours of freestyle. P.J.: Away luggage! I travel so much and break so many suitcases. Thrilled I've found a suitcase that's light, affordable, and can be jammed full yet still survives!
Style pet peeve S.W.: Being so uncomfortable that you can't enjoy yourself. That's the only way you can really go wrong. P.J.: Really short, really tight dresses. They are uncomfortable to wear and never look that great on in my opinion. Well, they certainly don't on me!
Last purchase S.W.: A giant shaggy blue jacket from Phillip Lim. P.J.: Two vintage dresses from a vintage fair I went to in L.A.
Lusting after S.W.: Alexander Wang combat boots, vintage gold lamé jackets, the perfectly battered white T-shirt that Angelina Jolie's character wears in Girl, Interrupted. P.J.: Gucci shoes, Vetements bomber jacket, and a Rosie Assoulin jumpsuit.
What's always in your bag S.W.: Tweezers. You never know when you'll need to tweeze on the go. P.J.: Oh God, I cram my bag full everyday: Mascara, I'm obsessed; red lipstick, just in case I have to go straight out; tiny mirror, you never know when you might need a touch up; concealer, I break out at the most random moments; headphones, because I'm scared of radiation from my phone; often my passport!
Something you would never wear S.W.: I can't stand anything that's tight on my arms. P.J.: A body con dress.
Fashion week go-to S.W.: Say yes to champagne. P.J.: Comfortable shoes for running around.
Favorite athletic brand(s) S.W.: Beyond yoga leggings. They have a high-knee breathable-sock look going on. P.J.: Ivy park, Adidas by Stella McCartney, Nike for my basics.
Fall wardrobe must-have(s) S.W.: I'm looking for the perfect pair of high knee boots and a new jump suit that can go from day to night. Anything Alessandro Michele is doing for Gucci right now I'm dying over – it's so inspiring, the '70s shape and prints and the wide lapels. I also really want a pair of slouchy jeans I can wear with low slung heels à la Jennifer Lawrence at the most recent Dior show. Being comfortable never looked that hot. P.J.: An oversized winter jacket and Pop & Suki suede tote in Cognac. The maroon-y brown color is fall all over.
See the Pop & Suki Collection