Watch Suki Waterhouse in The Bad Batch, a Film About Cannibals with a Danceable Soundtrack
Suki Waterhouse stars in The Bad Batch, a beautiful cannibal film with a really danceable soundtrack.
---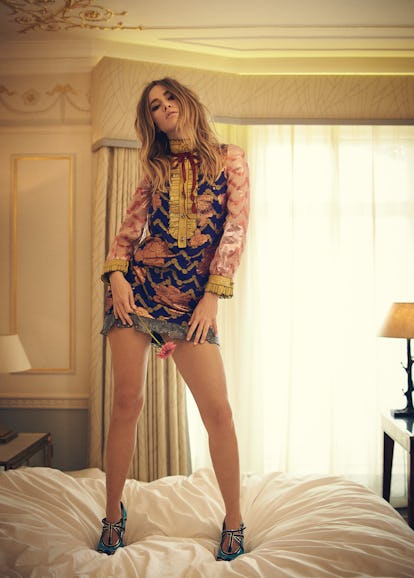 The trailer for The Bad Batch, a film that marks model-turned-actress Suki Waterhouse's first major role, is creepy and unsettling from the beginning. It starts with Waterhouse's character running from something in the middle of a dessert. Then, just as she's caught and pinned down, an incredibly funky baseline hits. You almost have to fight the urge to dance until the trailer gives you a short glimpse of an apparent amputation that forces your almost-swaying shoulders back into tense, upright position.
In other words, it looks both intensely terrifying and undeniably cool.
Which is maybe not a surprise considering it's the second feature from up-and-coming director Ana Lily Amirpour. Her first feature, A Girl Walks Home Alone at Night, was "dubbed first Iranian vampire Western." Needless to say, she has a reputation for mixing up things that shouldn't go well together but do.
Set in Texas, Waterhouse's character sets out to survive a cannibal-filled post-apocalyptic era. She also runs into a character played by Jason Momoa who seems to be perennially shirtless (perhaps to show off his "Miami Man" chest tattoo), a hermit, and some children in an underground nightclub. In addition to Suki Waterhouse, Diego Luna, Giovanni Ribisi, and Keanu Reeves also appear in the film. Jim Carrey supposedly pops up at some point or another, although he's not credited in the trailer.
The film made its premiere last year at the Venice Film Festival and popped up at the Toronto Film Festival, as well. Netflix picked up distribution rights, but it will have a limited theatrical release on June 27th as well.
Critics who saw the film on the festival circuit have been divided. Some think the plot can get a bit confusing, but most agrees that it's a beautifully shot, visually interesting film with a killer soundtrack (most of it provided by Brooklyn-based experimental electro outfit Darkside).
As for how that amputation scene came to be?
Amirpour described the process to us back in September.
"We built a nub — a piece [Suki] wore on her body — and her arm would be behind her, and then we removed the arm," she explained. "What you see looks really fleshy and real."
Go home with Suki Waterhouse and more haute bohemians: