Ladies of the court: Five minutes with six U.S. Open hopefuls
Summer may be fleeting (only 22 days left!) but at least that means it's U.S. Open time. The last Grand Slam tournament of the year starts today in New York, and we're predicting that a...
---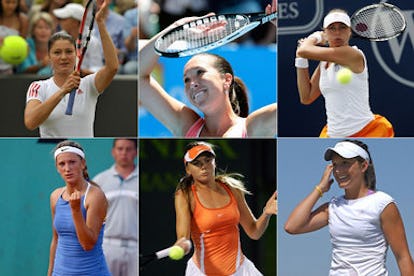 Summer may be fleeting (only 22 days left!) but at least that means it's U.S. Open time. The last Grand Slam tournament of the year starts today in New York, and we're predicting that a non-Williams sister might, just might, take home the trophy. We asked the experts over at the Sony Ericsson WTA Tour who to keep our eyes on and they offered up these picks: Dinara Safina (from Russia, 23 years old, ranked number 1), Jelena Jankovic (from Serbia, 24 years old, ranked number 5), Vera Zvonareva (from Russia, 24 years old, ranked number 7), Victoria Azarenka (from Belarus, 20 years old, ranked number 8), Daniela Hantuchova (from Slovakia, 26 years old, ranked number 23) and Melanie Oudin (from Marietta, Georgia, 18 years old, ranked number 67). We caught up with the six champs about shopping, celebrity crushes, and, oh yeah, tennis.
Top row: Safina, Jankovic and Zvonareva. Bottom row: Azarenka, Hantuchova and Oudin.
Other than the obvious, how'd you spend your summer? Safina: I had a week off after Wimbledon that I spent with my friend [and fellow professional player] Anastasia Myskina in Italy. Zvonareva: I was home getting treatment and recovering from my right ankle injury, went to practice in Turkey for a few days before my first tournament back, tried to catch up with my school, and went to the theatre. Hantuchova: I took some time off with my friends and then trained for two weeks in Florida. Oudin: After Wimbledon I went to the Outer Banks in North Carolina with some friends and their family. We went to the beach and the pool, and I went surfing for the first time.
What's your favorite part about the U.S. Open? Safina: I like everything there. The stadium is huge and there are great restaurants and great shopping. It's a beautiful place to be. Jankovic: The atmosphere out there; the night matches especially are really amazing. It has so much energy, and the crowd really gets involved and it's loud. Zvonareva: The crowd, they love tennis. Playing in the big stadium is just great. Oudin: The fact that it's my home Grand Slam and the support that you get there from all kinds of Americans. My friends come, and the whole atmosphere when you're American is much better there than the other Grand Slams.
What outfit will you be playing in? Safina: It's going to be a light-colored Adidas outfit. Jankovic: I'm now with a Chinese company called Anta, and I believe I will be wearing a red dress. Zvonareva: K-Swiss, but I'm not sure if I'm going to wear a dress or skirt and top but hopefully I can get [a dress]. Azarenka: I'll be wearing Nike, which has been sponsoring me for a long time now. It's supposed to be yellow, white and black. Hantuchova: I don't know yet. (She recently signed a deal with Adidas; the firm told W she will be wearing a layered lilac tank top and a low-waisted blue skort.) Oudin: I heard it's a purple Adidas outfit. I actually got to design my own shoes as well. [see below] They're supposed to be crazy and funky so I picked pink, blue and yellow as my colors.
What's your favorite thing to do in New York City during your downtime? Safina: Shopping on Fifth Avenue. Jankovic: I love going shopping and going to the hair dresser. I also get pampered with manicures, pedicures and facials. Zvonareva: The first thing I will do is probably go to Starbucks and then walk around the shops. Azarenka: There are so many different restaurants and you can just go every night to a different one. Hantuchova: I love hanging around in SoHo because of the great shops and restaurants. Oudin: If I have time I'll try to go to a play. The last one I saw was Mama Mia!
Speaking of shopping, what's your favorite label? Jankovic: I love Jimmy Choo shoes, and when it comes to dresses I like Vera Wang. For jewelry, Chopard, Bulgari and Cartier. Zvonareva: DKNY, Marc Jacobs, Stuart Weitzman, Jimmy Choo. Azarenka: Gucci. Hantuchova: Roberto Cavalli. Oudin: American Eagle.
Do you have any superstitions or good-luck charms on the court? Safina: I do but I want to keep it private. Jankovic: I used to have a set of diamond Cartier earrings in the shape of a heart. I won three tournaments in a row last year wearing them but then I lost one. Hantuchova: I like to eat the same meal at the same restaurant the night before the match. Oudin: I always eat raisins when I play matches.
Favorite post-match meal? Safina: Apples and meat. Zvonareva: Chicken or fish. Hantuchova: Crepes with Nutella. Oudin: Pasta with marinara sauce.
What's the biggest splurge you've made with your prize money? Safina: An apartment in Moscow. Jankovic: A huge lot in San Diego which I'm building a house on that should be done in a year. Zvonareva: An apartment in Moscow. Azarenka: An apartment. Hantuchova: A Jaguar for my mom. Oudin: A 2005 Forerunner. I also really want to get a nice Rolex watch soon.
Celebrity crush? Zvonareva: Matt Damon. Hantuchova: Brad Pitt and George Clooney. Oudin: Chace Crawford and Mark Wahlberg.