Summer Survey: Jessie Randall of Loeffler Randall
Rompers, sprinklers and jaunts to Cape Cod. Indeed, Jessie Randall knows how to beat the heat. That is, of course, when she's not busy designing her cool Loeffler Randall collection, which has been a favorite...
---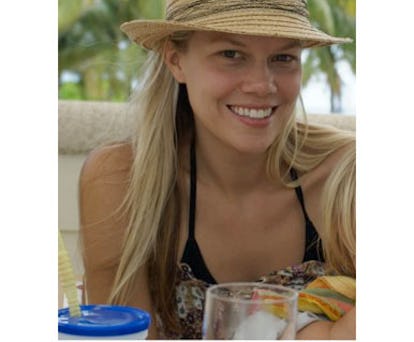 What's your must-have during the sweltering months? Decaf iced coffee.
Do you have a favorite summer outfit? A cute, easy romper, like this Loeffler Randall one:<br [#image: /photos/5853a0af9c190ec57ac08ffe]||||||
What swimsuit will you be wearing? I like J. Crew's Liberty print one-piece.
Aside from your own line, what are your go-to accessories? A.P.C.'s khaki and leather backpack, and I like to wear Salt Water sandals to match my little boys. Simple and chic, plus they are waterproof.
Do you have a secret to staying pretty and fresh throughout the crazy humidity? I like to have "spa water" on hand at home. I fill up a big glass dispenser with water, ice and sliced lemons and cucumbers and drink it throughout the day. Also, Jurlique makes a really refreshing spritzer for the face.
Watching my boys run through the sprinklers in the park, taking our dog Romeo to Dog Beach in Prospect Park, eating at outside cafes with friends, laying outside on our deck, visits to the Brooklyn Botanic Garden, taking the boys to swim, not having to wear pants or tights!
Any family vacations on the calendar? We are going to Shelter Island and Cape Cod. I can't wait!
Check back on Monday, when Nicole Miller will answer our summer survey.