Summerland Is a Cottagecore Period Drama Made for Life in Lockdown
Jessica Swale talks making her directorial debut with Summerland, a lesbian cottagecore period drama starring Gemma Arterton and Gugu Mbatha-Raw.
---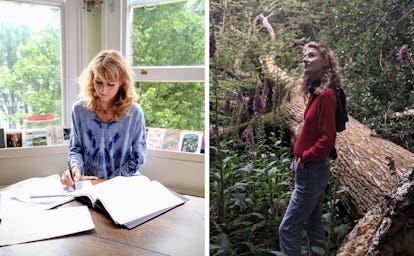 Images provided by Jessica Swale for W.
It's safe to say most of us have had a hard time adjusting to life in quarantine these past few months. But Jessica Swale's new film Summerland is a comforting balm that might take your mind off contemporary chaos and make you reconsider the benefits of an isolated existence.
Swale is already well-known in Britain for her award-winning plays, Bluestockings and Nell Gwynn (the latter of which is currently being adapted for the screen), but Summerland may be the project that brings her particularly English perspective to a wider global audience.
Years ago, after the critical success of her plays, Swale received a scholarship from BAFTA to write a screenplay. At the time, although she did not know it, her father was terminally ill, and while he loved film, he stopped wanting to watch anything that didn't have a happy ending. So she decided she would tell a story about magic. "I was already making comedies, and all of the stories I've chosen to tell have always been something where I've felt like an element of hope is really important," the filmmaker said on Zoom, while sitting in her London home earlier this month. "Making work that's hopeful and optimistic, not in a trite popcorn way, but in the sense of believing that one of the things cinema can do is give us hope and remind us of the joy of life."
The result is Summerland, a triptych of sorts that follows the intertwined narratives of Alice (Gemma Arterton), a curmudgeonly single woman who writes academic papers that use science to debunk folkloric myths; Frank (Lucas Bond), the schoolboy sent by his mother from London to the seaside cottage where Alice resides alone during World War II; and, in the past, a younger Alice and a her free spirited paramour named Vera (Gugu Mbatha-Raw).
There is a sweetness to be found in Summerland, and those familiar with Swale's stage work may find it to be out of step with her usual writing tone. The film, which marks her debut as a director, leans towards tragedy, though it is imbued with some comedy and ultimately ends on an unexpectedly heartwarming note. "There is something, culturally, about the value of tragedy and comedy where I feel like we've always put tragedy on a pedestal as the hardest art form to create, somehow that it's more important. I just don't think that's true. It's very difficult to write a comedy," Swale said. "Summerland isn't really classified as a comedy compared to everything else I've done, but if you can infuse a story with both something real and potentially tragic, and then shine a light on the way that we might overcome these things, then that's worthwhile."
When Alice is introduced, viewers encounter a much older version of her (portrayed by Penelope Wilton) in the 1970s. The locals call her a "witch," an insult we learn she's been called since the 1940s, when she moved into her secluded cottage to study folklore. When Frank, the young London Blitz evacuee, arrives at her doorstep, she doesn't know how to care for him, nor does she care to learn. "I like telling stories across history, stories where we get to believe that there might be a little bit more than what there appears to be," Swale said. "I love magic realism, but when it's just a touch of magic in a real landscape."
A little bit of melodrama meets a little bit of magic realism, and Alice's reluctance to form a bond with the child whose father is a soldier in the British Army eventually gives way. Still, there is nothing predictable about what unfolds thereafter. "I love folklore and ancient stories, and I also felt that there was something really important that I wanted to explore about the nature of heritage and culture and perhaps Englishness," Swale revealed. "I wrote this at the time when Brexit was becoming a real question on the horizon, and I was really uncomfortable with the notion of 'Englishness' and what that could mean in terms of white nationalistic culture. I thought, 'What was it before that? Is there something about Englishness which I like?'," she laughed. "And if there is, then it's something really ancient, it's something about the land and pagan storytelling and nature and the sense of an age-old place where nature and stories intermingled for a long time."
Arterton plays Alice as a grumpy, smart woman who might not be characteristic of the type of heroine that one would expect from an English period drama. "I love the idea that Alice is cranky and cantankerous and intelligent and that she's an outcast because people see her as this witch—but that shouldn't define her or be her exclusive quality," Swale said. "I think very often in films, men are allowed to behave as they like and still be the heroes, but allow a woman to be the cranky one in the beginning and we tend to judge her. I feel like it's very easy to say, 'We should have representation of women who are strong,' for example. I think that's such a fallacy and a really wrong steer, actually. I'm not interested in watching films about strong women per se, I'm interested in watching films about layered women, who have lots of characteristics, and one might be strength but for every part of their strength they need vulnerability to balance that out."
Before Summerland, Swale had worked with both Arterton and Mbatha-Raw on stage, when they both portrayed the titular character in Nell Gwynn, and have remained close. She's known Mbatha-Raw for even longer, as they attended university together. "When I was thinking about who to cast for Vera, the most important thing for me was finding somebody who was charismatic enough, and could sweep Alice off her feet. I thought, I do know someone who I know can deliver that, that's Gugu," Swale said. "In her personal and real life, she's a great energetic, optimistic force, but I also know she's hugely flexible as an actor and she can do anything that I asked. I knew personally that she had that in her soul. As a friend of mine, she's always a force of optimism and energy and great fun and spirit, but even if she wasn't, she's such a brilliant actress that I knew she could find that and deliver it."
Alice and Vera's past love, a lesbian interracial relationship that, of course, is presented as the taboo romance it would have been in the 1930s, is told in flashbacks throughout the film. "One of Gemma's brilliant characteristics is that she's super prepared, and that she will also try things and be spontaneous," Swale said. "We needed to be nimble because as we were shooting, we were all discovering more about the story, and she was always willing to do something at the last minute or play a scene in four quite different ways so that we would have more choices in the edit. I think that's enormously helpful and a very generous way for an actor to be as well."
Ahead of its official release date, many of the Letterboxd reviews for Summerland appeared to agree on one defining vibe: cottagecore, the agricultural aesthetic that has recently become re-popularized (thanks, in part, to TikTok). The landscape that surrounds the cliffside town fills out the world of the film as much as the layered performances from Arterton and Bond. Swale and her boyfriend actually scouted the location themselves and stayed overnight in the home where Alice lives in Summerland, not far from Dover Castle. "When the wind comes in and when the waves come in, it makes the whole building shake. You feel like you're on a ship the whole time … You're extremely aware of the power of the sea and of nature, and you feel like you're living on the edge. Alice chooses that," she said. "That was really informative for me in terms of somebody who would literally go until I can't get any further out into nature and then live on that sort of precipice. It's beautiful but it's also awesome in the original sense of the word. It's quite intimidating, and it should be quite scary. When you watch storms come in and roll over the span of the horizon, you can see so much. It was a pretty humbling experience and that was a big part of why I wanted to film there."
As for the topicality of releasing a film about a woman who chooses to live in the margins just as everyone is itching to leave the city for their own farmland escape, Swale cites Summerland's depiction of such a breathtaking landscape as a reason for why people might consider this film timely. "It is a celebration of the simple things in life and the important things in life," she said. "Alice has chosen to live outside culture, and to instigate her own lockdown life and live in complete self-isolation, actually. You start to see how there are elements that she appreciates about life that other people don't because she's put herself out in nature, so I hope that's something people might take away from it. I do hope that we as a population and as humanity come out of the other side of Covid with more of an appreciation of nature."
Swale's next ventures include casting for Nell Gwynn, adapting Joe Baker's Long Gone (a riff on Pride and Prejudice), and working on a film adaptation of Jane Austen's Persuasion, but it might be hard to top the experience of working on Summerland. "I've never been happier than shooting that movie. That's the honest truth," Swale said. "That was the best period of my adult life in terms of feeling like I was both really challenged every single day and doing something which I adored. If you asked me if I wanted to be anywhere else on the planet, I would've said no, right here, I love this. And what an absolute privilege to get to tell a story that was originally a kernel in my head."