Super Bowl 2017: Donatella Versace Was the Real Winner of the Night
Sorry, Tom Brady, but it's true.
---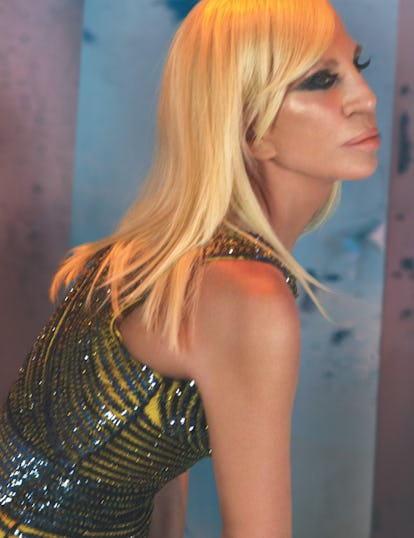 Photograph by Mert Alas & Marcus Piggott, Styled by Edward Enninful; Hair by Kiril Vasilev; makeup by Renato Bernardi; manicure by Adam Slee for Rimmel London at Streeters. Set design by Andrea Stanley and Emma Roach at Streeters. Produced by Across Media Productions; Fashion Assistants Ryann Foulke, Dena Gianni; Hair assistants: Taichi Saito, Sean Mikael, Rebekah Calo, Katie Schember, Cat Wyman, James Oxley; Makeup Assistants: Taylor Treadwell, Lauren Aiello, Anete Salinieka, Sergio Alvarez; Manicure assistant: Chiharu; Set-design assistants: Devin Rutz, Colin Lytton, Nathan Smith, Chloe Park, Amy Bairstow, Philip Doucedame, Warwick Turner-Noakes.
The New England Patriots may have had a major comeback in the second half to take home the Vince Lombardi trophy, but it was Donatella Versace–one of fashion's favorite women and W's March issue cover star–who was true winner of Sunday's big game.
Versace kicked off her whirlwind day in Texas, posting an Instagram video of herself on a private jet, pre-takeoff, writing in the caption, "Hi guys! I'm leaving for Houston for the #Superbowl. The atmosphere is electrifying because my dar friend @ladygaga will be performing. She's going to be fierce. Wait and see! Follow me live on my #instastories! #SB51"
Upon landing in Houston, the designer changed out of her plane attire–which, when you are Donatella Versace apparently consists of a pair of sporty track pants and a massive ruby ring–and into a sleeveless purple cocktail dress with a strategic stomach cutout to take in the big game. No Patriots jersey here.
Of course, the reason for Versace's trip not just to check out Tom Brady in the flesh, but to outfit her bestie Gaga for the singer's highly anticipated halftime performance. The singer opened her 13-minute spectacle in a custom fully beaded iridescent jumpsuit with sculptural shoulder detail paired with fully embroidered boots, both covered in Swarovski crystals. Mid-performance, the look was topped off with a gold cropped jacket with spiked shoulders, also covered in Swarovski crystals, and a keytar, for good measure. Gaga closed the show with Versace's homage to the sport, a custom pair of hot-pants and cropped sculptural white jacket with metallic hardware.
Versace previously outfitted Gaga on her Born This Way tour in 2013, and the following year tapped the singer to star in the house's spring campaign, which starred Gaga dressed in the likeness of Donatella herself, long blonde hair and all.
Before her pal took the stage, Versace popped backstage to give her well wishes and pose of an impromptu Instagram photo shoot, of course. The designer later posted a shot of the performance, writing, "@ladygaga your performance was simply breathtaking."
Versace will show her fall collection in just a few weeks during Milan Fashion Week, and if her sports-filled 24 hours in Texas is any indication, Versace-branded football jerseys may soon be a reality. See all of the designer's Insa-fun from the Super Bowl below.
The Evolution of Donatella Versace's Powerful and Bold Personal Style
Donatella Versace and Paul Beck at a dinner party honoring Richard Avedon, September 27th, 1993

Getty
Donatella Versace and Gianni Versace at the Costume Institute Gala, 1995

Getty
Matt Dillon and Donatella Versace at the Costume Institute Gala, 1999

Getty
Versace at the VH1 Vogue Fashion Awards, 2000

Getty
Versace at a fashion show and gala at Waddesdon Manor in Buckinghamshire.

Getty Images
Versace at the Vanity Fair Oscar Party, March 24th, 2002

Getty
Versace at the Giorgio Armani Retrospective Cocktail Party, October 14th, 2003

Getty
Versace at the Fashion Rocks For Princes Trust, October 16th, 2003

Getty
Versace at the Women's World Awards.

Getty
Versace at the Whitney Museum Gala, October 19th, 2009

Getty
Versace at the 20th Annual Glamour Women of the Year Awards, November 8th, 2010

Getty
At the Versace for H&M Launch, November 17th, 2011

Getty
At the Palazzo Versace with Lady Gaga, October 1st, 2012

Getty
At the Versace Runway: Paris Fashion Week Haute-Couture FW 2013-2014, June 30th, 2013

Getty
Versace at the Costume Institute Gala, May 5th, 2014

George Pimentel
Versace at the Costume Institute Benefit Gala, May 4th, 2015

Getty
Versace at the Amfar Paris Dinner, July 3rd, 2016

Getty
At the Versus Versace Runway at London Fashion Week Spring 2017, September 17th, 2016

Getty
With Gigi Had at the Fashion Awards 2016, December 5th, 2016

Getty
Why Photographers are Always Asking Kate Moss to Take Her Clothes Off: