Supergirl Showrunner Andrew Kreisberg Has Been Suspended Amidst Sexual Harassment Claims
Andrew Kreisberg works on Supergirl, The Flash, Arrow, and DC's Legends of Tomorrow
---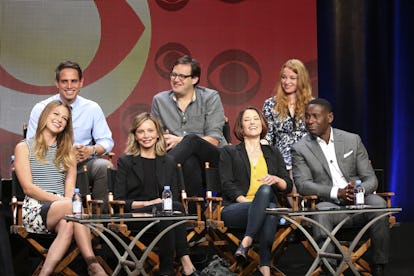 Photo by Monty Brinton/CBS via Getty Images
When Supergirl can't save the day, The CW's legal and HR departments may step in to put bad guys away, or at least, suspend them and conduct an internal investigation. Andrew Kreisberg, an executive producer on Arrow, Supergirl, The Flash and Legends of Tomorrow, has been suspended from work while Warner Brothers conducts an internal investigation into multiple allegations against Kreisberg after years of sexual harassment. Kreisberg has denied all allegations.
The announcement came on Friday night when Variety published a feature that included statements from Warner Brothers, the denial by Kreisberg, and nineteen separate anonymous accounts of improper conduct by Kreisberg,including inappropriate touching and creating a hostile work environment. The most common complaint was of a "constant stream of sexualized comments about women's appearances, their clothes, and their perceived desirability." Women felt belittled and objectified.
Sources told Variety that "The workplace feels unsafe,"and "He scares people." Once he became more influential, rising through the ranks as a producer, it got worse, the piece continues. "The power went to his head," a male writer said. He reportedly showed one young woman in a low-level position so much unwanted attention that she eventually left her job, and sent another female coworker personal text messages that made her uncomfortable.
Additionally, male writer alleges that Kreisberg invited him into his office to watch a tape of an actress who would be coming in to audition later that day, and she was topless in the video. Kreisberg was apparently "grinning." While the writer was too shocked to say anything, "my internal reaction was, 'Why would you show me this — it's wildly inappropriate!'" he told Variety. In Kreisberg's telling of the incident, however, it was simply a case of unexpected nudity. "In doing research on the internet about a prospective actress, we found that she had a role in a premium cable network show. It was not a X-rated show. We clicked on the video and she was topless," he said.
In another instance, one woman said that she was asked "to lie on Kreisberg's office floor while he assumed a push-up stance over her. Then he asked her to pretend to choke him." Kreisberg told the woman that "it was for research" and she did not feel that she had the ability to decline. In Kreisberg's recollection, there were "never any sexual intent or overtones" and "it is not uncommon in writer's rooms that we act out what we want production to film."
Halt And Catch Fire writer Angelina Burnett weighed in on this point on Twitter, implying that this was not common practice in writers' rooms:
Very few people ever confronted Kreisberg about his behavior, fearing career-damaging retaliation. The few times concerns were raised, say the sources, there was no effective consequence. "There was zero response," said a "high-level female producer" who reportedly brought the issue up with an executive at Berlanti Productions, Greg Berlanti's outfit that oversees basically every superhero property at the CW. "Nothing happened. Nothing changed."
A source at Berlanti Productions says that Berlanti was unaware of all allegations against Kreisberg, and he has released a statement supporting the investigation and affirming his commitment to keeping his staff safe.
Related: Louis C.K. Responds to Sexual Misconduct Allegations
Seeing Stars: Superhero Style from the Spring Runways
The inspiration: "Warrior Stance," photographed by Steven Klein, styled by Edward Enninful; W magazine February 2014.
Valentino Garavani bag, $4,845, Valentino 5th Avenue.