The Original Supermodels Are Getting an Apple TV+ Series
Naomi, Linda, Christy, and Cindy are coming to streaming.
---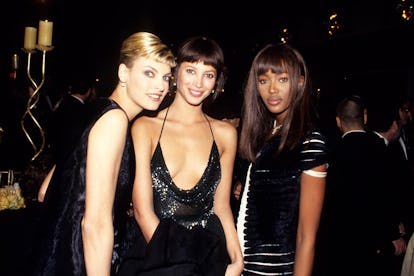 (L-R) Linda Evangelista, Christy Turlington and Naomi Campbell at the 13th Annual CFDA Awards at the New York State Theater at Lincoln Center on February, 7, 1994 in New York City. Photo by Patrick McMullan/Patrick McMullan via Getty Images.
They didn't get out of bed for less than $10,000 a day, and they just struck a deal that will surely bring in a lot more than that per episode.
Yes, the original, indisputable pack of supermodels—Naomi Campbell, Linda Evangelista, Christy Turlington, and Cindy Crawford—have just struck a deal with Apple TV+ to both produce and star in a docu-series charting their path to unparalleled fashion fame in the late '80s and early '90s.
This will be no fluff project, either. Director Barbara Kopple, who has twice won the Academy Award for Best Documentary Feature, will helm the series. On Instagram, Crawford wrote that the documentary won't be a mere celebration and rehash of their established history. Rather, the series plans to "explore the dynamic personalities, and shifts in media and culture that helped shape and define this iconic era." Hollywood heavyweights Brian Grazer and Ron Howard will produce.
While some models had crossed over into pop-culture sensations before the supers, Campbell, Evangelista, Turlington, and Crawford charted a new model for a model's career. Up until that point, there was a notable division in the industry between print and runway models. The faces regularly seen on the covers of magazines and in cosmetics advertisements in the '70s and '80s weren't necessarily the same ones who would appear on the haute couture runways in Paris. Though, with the help of industry insiders (Gianni Versace, Italian Vogue editor Franca Sozzani, and photographer Steven Meisel among them), this crew charted a career that included closing runway shows, covering magazines, appearing in high fashion ads, and cutting major endorsement deals for all manner of product. Their fame also led them to the interview seats on talks show, roles in movies, and, for better or worse, frequent appearances in the gossip columns.
While other models have arguably obtained the title, this group are the indisputable masters of the form. All four appeared together on an iconic Peter Lindbergh-shot British Vogue in 1990 and later in George Michael's iconic "Freedom! '90" video along with Tatjana Patitz.
They'd eventually be joined by Claudia Schiffer a short while later. The younger Kate Moss would equal this group in fame by the mid-90s, but always inhibited her own distinct allure and cultural cache even as she followed in their path. Any argument that this cast is not the definitive four should be quickly settled by pointing out that their names are the first four checked in RuPaul's song "Supermodel."
The series will include "exclusive access" and in-depth interviews with the foursome, and, we would have to imagine, tons of fabulous archival footage. No premiere date, however, has been announced.
It's also about time we got some sort of official look back at the heyday of the supermodels. While we'd all obviously consider a fictionalized version of the moment must-binge, finding four actresses to convincingly play these women would be a feat in and of itself. Besides, why bother when you can get the real thing?
Related: Naomi Campbell Recalls That Time She "Kidnapped" Kate Moss