Supernova Trailer: Colin Firth and Stanley Tucci Fall in Love, Break Your Heart
The British film is a love story and a road trip movie. And it's "dreadfully painful," according to Firth.
---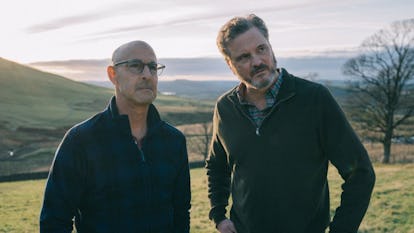 © Courtesy of The Bureau Sales
The plot of the upcoming British film Supernova will sound familiar: It's a movie about a road trip. On surface level, it seems just like a riff on the beloved British bromance series The Trip. But Supernova is a tragedy—and according to one of its costars, Colin Firth, a "dreadfully painful" one at that. (And that's saying something, coming from the star of the devastating A Single Man.) Two years before Firth and Stanley Tucci set off in an RV, Tucci's character, Tusker, was diagnosed with early on-set dementia. The trip isn't so much a getaway as a goodbye tour.
Tusker has been married to Sam, a concert pianist played by Firth, for 20 years. And as the trailer that dropped on Tuesday makes clear, Sam is utterly devoted to Tusker, eager to help out with things like buttoning up Tusker's shirt and passing on the news of his diagnosis. "Now, as most of you will know, I am slowly losing my ability to remember," Sam says at dinner one night, reading aloud a speech for his husband. "And I definitely wouldn't be here if it weren't for this man next to me."
Tusker, once a novelist and aspiring astronomer, is businesslike about his mental decline. "If you had one wish in the world, what would it be?," he at one point asks Sam. "I wish this holiday wouldn't end," Sam replies. Tusker, apparently unmoved, forces a laugh, then suddenly switches gears. "So, can you tell? That it's gotten worse?"
Tucci and Firth also costarred in 2001's Conspiracy, and it was Tucci's idea for them to do so again. (Though this time, not as Nazis.) With the approval of Supernova's director, Harry Macqueen, Tucci passed along the script to Firth, who also happens to be his friend. Both were drawn to how it deals with sexuality—or rather, how it doesn't. "I don't think I've seen anything where it's just about two people who love one another, and they happen to be gay," Tucci told Deadline ahead of Supernova's premiere this week, at the San Sebastián Film Festival. (It hits theaters on November 27.)
"Really, the story is about love, and love is love," Tucci continued. "That's it. It doesn't matter if you're gay, straight, whatever. Real love is all the same."
Related: Ammonite Trailer: Kate Winslet and Saoirse Ronan Strike Up a Romance