A Review of Susan Cianciolo's Restaurant at the Whitney Biennial
The fashion designer-turned-artist's "love feast circa 1968" is taking over the Whitney Museum's modernist Untitled restaurant. The results are … interesting.
---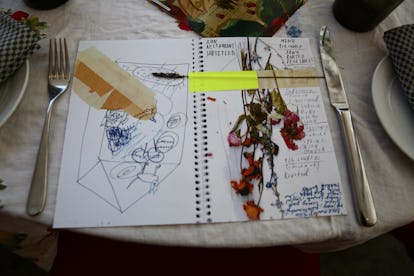 Paula Court 2017
"I feel so turned on in New York City," a woman wearing a single blue glove and a single lid of blue eye shadow said to a crowd gathered at the restaurant attached to the Whitney Museum on Tuesday night. "Isn't life fecund?" she added, weaving her way between the tables, which had been set with everything from newspaper ad inserts and floral wrapping paper to baskets made of popsicle sticks and clumsily painted wooden blocks.
These were not the typical trappings of the museum's clean, modernist restaurant, Untitled, designed by Renzo Piano. The artist responsible for the eclectic redecorating, however, was keeping a low profile. Leaning against a wall, clutching a glass of water with both hands, the fashion designer-turned-artist Susan Cianciolo looked on approvingly at what was the unveiling of the three-night dinner series that marks her 2017 Whitney Biennial project, a full month after the show's other 62 artists have already showed theirs.
In a way, though, Cianciolo has been working on her installation even longer. Run Restaurant Untitled is actually a recreation of a monthlong pop-up eatery Cianciolo first staged 16 years ago, down the block from the Whitney in what was then a very different Meatpacking District.
The venue, Alleged Galleries, which was owned by Cianciolo's then-husband, was essentially a playground for downtown artists like Mark Gonzales and Mike Mills—or, in the words of the New York Times critic Holland Cotter at the time, "a tea shop, an ashram, a mall and a game of Playing House." Run Restaurant, he continued, had "a faint air of a Krishna Consciousness love feast circa 1968"—a DIY vibe that's carried over to the present-day. The servers' uniforms are hand-stitched, and draw on Cianciolo's long history with patchwork; mobiles hanging from the ceiling are produced by Cianciolo in partnership with a younger artist: her eight-year-old daughter, Lilac.
The $10 prix-fixe vegetarian menu of yore, on the other hand, has not aged so well. It's been replaced by a five-course collaboration between Cianciolo and Untitled's two-star executive chef, Michael Anthony, with dishes like seafood chowder and grilled arctic char. They come with a $125 price tag, with an additional $50 for wine pairings. (There are also some $25 tickets for students available, though judging by the crowd of Cianciolo's longtime friends on the opening night, not many took advantage.)
The exception, though, was a 12-year-old named Fox, who takes classes like hip-hop dancing and African drumming at his arts school in Portland, a city that he eagerly informed his tablemates is quickly changing. "Traffic is getting super crazy," he leaned over and said to three members of the Whitney family, a New Museum curator, and his dad, a cofounder of Yale Union, the Portland contemporary art space where the evening's resident poet, Morgan Ritter, also works.
Meanwhile, Flora Miller Biddle, the museum's former president and granddaughter of its founder, Gertrude Vanderbilt Whitney, asked the table at large if kombucha, which she'd just tried for the first time at dinner, had alcohol. Her daughter Fiona, on the other hand, advised her niece, another Flora, on her upcoming trip to Cambodia. There was plenty of dead air, after all, with the promised interactive art show not so interactive after all.
"Are we the performance?" Fiona asked a few courses in, to laughter.
She was not the only one wondering. Diners picked hesitantly at the first course of raw and roasted vegetables and a miniature Japanese omelet, feeling that they might clink their forks during Ritter's wandering performance—a confusion both artists had anticipated and that will no doubt present itself again the next two nights, which will feature additional performances by 9 Bridges, a group Cianciolo discovered on the subway with her daughter, and Captain Kirk Douglas, the guitarist for the Roots.
"I like that it's a question mark of what will happen," said Ritter, who bonded with Cianciolo after a cabin stay and a few trips to the sauna following Cianciolo's "miniretrospective" at Yale Union last year. She certainly kept the diners guessing—as it turned out, the formal performance had indeed concluded. The guests did not entirely seem to mind. Flora Miller Biddle, it seemed, may have been right. Even when she'd already put her coat on and picked up her cane, Flora, who's in her late eighties, was persuaded to stick around thanks to a new conversation topic. It seemed Cianciolo's attempt to install a communal vibe was indeed coming through, though it may have also been the promise of dessert.
At that point, Cianciolo herself was nowhere to be found,. "Her daughter has school in the morning," Fox, the 12-year-old, explained at an hour likely past his own bedtime. By way of explanation, he added, "We're friends."
See W's most popular videos: