Susan Sarandon Flat-Out Denies That She Ever Feuded With Julia Roberts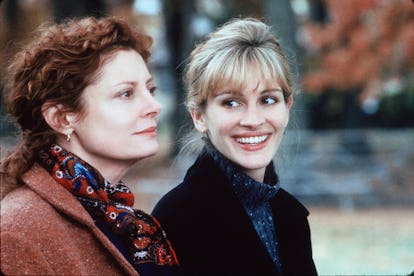 Getty Images
In 1998, Susan Sarandon and Julia Roberts co-starred in the comedy-drama Stepmom, a film that explored the tensions between a stay-at-home mother (Sarandon) and her ex-husband's new, younger girlfriend, a fashion photographer (Roberts).
But the press tour for the movie did not focus not on the weepy plot. Instead, the world was fixated on the supposed feud between the two co-starring actresses. But now, Sarandon — nearly 20 years later and, conveniently co-starring in the aptly named Ryan Murphy–helmed FX drama Feud: Bette and Joan alongside Jessica Lange—is setting the record straight on her relationship with Roberts. Again.
Even at the time of the film's release, Sarandon called out the sexism that seemed to be fueling the claims of a catfight. "If you make a movie with a male star, everyone assumes you're f—ing. If it's a female star, everyone assumes you're fighting," Sarandon said when rumors of a feud first surfaced, dismissing any insistence that she and Roberts had any problems with each other.
Echoed Roberts at the time: "Actually, Susan and I were kinda hoping that people would say we were f—ing. Now that's delicious cocktail-party fodder. But this? Boring."
And this weekend, Sarandon took to Twitter to lay it all out once again. And with a simple tweet, two decades' worth of rumors met their end (hopefully).
Sarandon didn't stop there, though. She continued to use the social media platform to launch a preemptive strike on those seeking to churn up any controversy about her and her Feud co-star Jessica Lange, and to again underscore the kind of blatant sexism that prompts these kinds of rumors and the questions that female actors face in responding to them.
Appropriately, Sarandon's current project, Feud, tells the story of the backstage drama that played out between iconic actresses Bette Davis (played in the FX show by Sarandon) and Joan Crawford (played by Lange) while making the classic film Whatever Happened to Baby Jane?.
So, one last time: There's no real-life bad blood between Sarandon and any of her fellow actresses; if anything, Sarandon knows how to play the role of the rival on-screen a little too well.
7 Infamous On-Set Hollywood Feuds:
Susan Sarandon's Style Evolution Knows No Bounds, Even at Age 70
Susan Sarandon favors a suit over a dress early on in the '80s, but with much wider lapels than her husband's, at the premiere of White Nights in November, 1985.

Ron Galella/Getty Images
Susan Sarandon steps out in fur—and with a brooch—at the premiere of Tin Men in February, 1987.

Ron Galella
Susan Sarandon stands out in red at the 9th Annual Woman's Sports Foundation Awards in October, 1988.

Ron Galella/Getty Images
Susan Sarandon brings out the bling at the Cirque Du Soleil-hosted Fundraiser for Children's Defense Fund benefit in April, 1991.

Ron Galella/Getty Images
Susan Sarandon does pantsuits her own, striped away at a screening of Bopha in New York in September, 1993.

Ron Galella/Getty Images
Susan Sarandon pulls out another patterned pantsuit for the Mother's Voices Luncheon at the Waldorf-Astoria Hotel in May, 1994.

Ron Galella/Getty Images
Susan Sarandon keeps her sunglasses on to take home the Oscar for Best Actress for her role in Dead Man Walking at the Annual Academy Awards in March, 1996.

Steve.Granitz/Getty Images
Susan Sarandon turns to one of her favorite materials—leather—for some prescient, all-black airport style at LAX in March, 1998.

Ron Galella/Getty Images
Susan Sarandon does body-con the full-length way, plus straightens out her locks, at the 25th Annual People's Choice Awards in January, 1999.

Ron Galella/Getty Images
Susan Sarandon heads to Italy in a low-cut dress—sunglasses hardly forgetten— for the 2005 Venice Film Festival in September, 2005.

George Pimentel/Getty Images
Susan Sarandon gets intricate with lace cut-outs at Heifer International's "Beyond Hunger: A Place at the Table" gala in September, 2013.

David Livingston/Getty Images
Susan Sarandon ties her hair back to keep the focus on her suit of blue sequins at the IWC Inside The Wave Gala in January, 2014.

Harold Cunningham/Getty Images
Susan Sarandon keeps it dramatic with both a shimmery blue suit and a completely sheer shirt at AARP's Movies for Grownups Awards Gala in February, 2014.

Michael Buckner/Getty Images
Even without making the list, Susan Sarandon stands out in red at the TIME 100 Gala in New York in April, 2014.

Ben Gabbe/Getty Images
Susan Sarandon channels Diane Keaton at the Variety Power Of Women: New York event in April, 2014.

Cindy Ord/Getty Images
Susan Sarandon makes her presence known in hot pink at the 61st Taormina Film Fest in June, 2015.

Venturelli/Getty Images
Susan Sarandon wears a Max Mara trench coat to the Hollywood Foreign Press Association & InStyle's annual celebration of The Toronto International Film Festival in September, 2015.

Todd Williamson/Getty Images
Susan Sarandon dresses for the occasion with the actor Miles Robbins at the world premiere of Zoolander 2 in New York in February, 2016.

Kevin Mazur/Getty Images
Susan Sarandon shows off her "Call Your Mother" t-shirt, which benefits victims of Uganda's civil war, at the SiriusXM Studio in April, 2016.

Monica Schipper/Getty Images
Susan Sarandon skips out on a shirt but adds some color with a bright-red clutch at the 2016 Tribeca Film Festival after-party for The Meddler in April, 2016.

Andrew Toth/Getty Images
Susan Sarandon reprises her sunglasses and gives her leg room to breath on the red carpet of the Money Monster premiere during the 69th annual Cannes Film Festival in May, 2016.

Pascal Le Segretain/Getty Images
Susan Sarandon keeps it low-cut at the Kering and Cannes Film Festival Official Dinnerin May, 2016.

Venturelli/Getty Images
Susan Sarandon keeps a Pashmina close at hand at the FOX 2016 Upfront Awards in May, 2016.

Astrid Stawiarz/Getty Images
Susan Sarandon rolls out a jumpsuit—and gold Doc Martens—for a Feud Tastemaker lunch in February, 2017.

Chance Yeh/Getty Images
Susan Sarandon sticks to all white—down to another pair of Doc Martens—at the premiere of FX Network's Feud: Bette and Joan in March, 2017.

Frazer Harrison/Getty Images
NEW YORK, NY – JUNE 01: Actress Susan Sarandon attends the New York premiere "Spy" at AMC Loews Lincoln Square on June 1, 2015 in New York City. (Photo by Neilson Barnard/Getty Images)

Neilson Barnard