The Suspiria Remake Sent Dakota Johnson to Therapy and Is Making Critics Nauseous
"One of the most f---ed up things I've ever seen," but in a good way.
---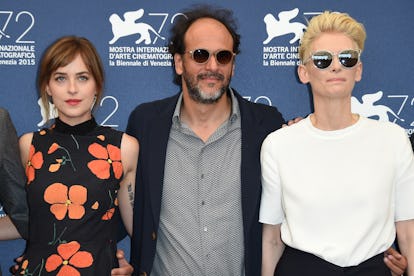 Venturelli
Luca Guadagnino's reimagining of Suspiria has already sent star Dakota Johnson to therapy, and now preview footage of the film is apparently sending critics and journalists reaching for vomit bags. Yes, the director, whose last film was the loving and tender Call Me by Your Name (where the only thing harmed during filming was a peach), is apparently not pulling any punches with his remake of the lauded giallo classic. One critic who saw the preview clip at this week's CinemaCon in Los Angeles called it "one of the most f—ed up things I've ever seen."
Before we get into all of that though, we should provide some backstory on what exactly this project is.
Dario Argento's original 1977 film is about an American ballet dancer who travels to Germany to take a spot at an elite dance school. As you might suspect, it turns out there are spooky things afoot at the school. There are bumps in the night; people die; maggots rain down from the ceiling. It's all very gory, with some genuine spooks for sure, but the film isn't necessarily remembered for being the scariest thing ever. The big reveal ending, in particular, is a little bit schmaltzy. Despite initial mixed reviews, what has cemented the film as a cult classic is not gore for gore's sake, but rather its overall style. As much as it's at times really, really hard to watch, it's also just really, really pretty to look at for most of the running time. The elaborate set design, scene staging, atmospheric lighting, and classic soundtrack provided by Italian prog-rock band Goblin all contribute to the film's reputation. It's the kind of movie you might see on mute at a particularly discerning hipster Halloween party—or perhaps a Swiss art dealer going through a midlife crisis might take to his interior designer and say, "Make my bedroom look like this."
Take a look at the trailer for a recent restoration of the original below:
Though other filmmakers have tried to remake the film before, Guadagnino is the first to actually get the project together (Amazon Studios is footing the bill). Though, he prefers to think of it not as a remake, but rather "a homage to the incredible, powerful emotion I felt when I saw [the original]."
For his version he's recruited two of his favorite leading ladies. Dakota Johnson will play the American dancer, while Tilda Swinton stars as the mysterious headmistress of the school. Chloë Grace Moretz and Mia Goth play fellow students, and the original film's star, Jessica Harper, also has a role. Polish model Małgosia Bela will also be making her film debut.
For her part, Johnson has said filming the project has already sent her seeking professional help. She recently told Elle that the film "no lie, f—ed me up so much that I had to go to therapy."
"We were in an abandoned hotel on top of a mountain. It had 30 telephone poles on the roof, so there was electricity pulsating through the building, and everyone was shocking each other," she elaborated. "It was cold as shit, and so dry."
Mind you, she divulged all of this in the midst of a Q&A about her favorite beauty products, so clearly the experience has stuck with her no matter what the topic of discussion at hand (coconut oil helped with the dryness, by the way).
Which brings us to the reaction at CinemaCon to the first footage. People were losing their damn minds, if not their lunches, over the scene.
Luckily, some managed to hold it together long enough to describe the actual scene. In a setup that seems reminiscent of the dance climax of Alex Garland's Annihilation, it involves a sort of violent dance scene in which one partner controls the body of the other. Except, way more violent. Perhaps the setup was still on his mind when he recently shot a W fashion spread involving two models mirroring each other's movements.
So, don't eat lunch before seeing the film. Noted.
The real question on many a mind, however, is whether or not the remake is still pretty too look at?
Hmmm. Though, Amazon did bathe the room in red light before Guardagnino took the stage to introduce the footage, so that has to mean something.
Birth Movies Death also adds that "the entire sequence was beautifully shot and edited with laser precision."
Thom Yorke is doing the music, but apparently isn't taking his cues from the original score, either.
There's still a lot more information to come about the film, it seems, including a release date. Despite some speculation it may ultimately premiere at Cannes, no date has been given.
Related: Rianne van Rompaey and Adwoa Aboah Star in "Sister My Sister," Directed and Photographed by Luca Guadagnino