Sutton Foster's No Shrinking Violet
The actress discusses her latest Broadway role, looking her age, and her new TV show.
---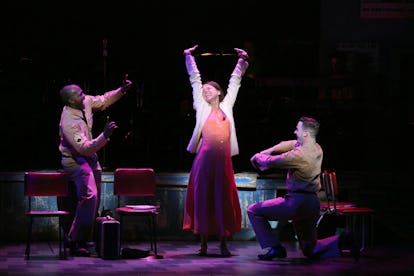 She dreams of Ingrid Bergman cheekbones, Ava Gardener eyebrows, and Rita Hayworth skin, but in reality Violet, the title character in Violet, the soaring, kickass musical that opened last night on Broadway at the American Airlines Theater, is a disfigured young woman on a bus journey. Scarred by an axe as a teen, Violet, played with stunning sass and vulnerability by Sutton Foster, travels from North Carolina to Oklahoma in 1964 to seek the healing powers of a TV preacher. En route she meets two hot-to-trot young soldiers, one white (Colin Donnell), the other black (Joshua Henry), who prod her into seeing beyond her own idea of ugliness. With lyrics by Brian Crawley and a score by Jeanine Tesori (who also composed the critical hits Fun Home, based on Alison Bechdel's graphic novel and Caroline, or Change, with Tony Kushner), the play is the first to fully showcase Foster's elastic range. Just before opening night, W caught up with the actress-singer in her cozy dressing room at the Roundabout Theater, where she and her new pup Mabel were trying out some squeaky toys.
You've won Tony Awards for Best Actress for playing the spark plug—the character that draws all eyes toward her. In Violet, you're the one people turn away from because they are horrified by her scarred face. You're right; I'm used to playing the spunky girl next door like Millie (Thoroughly Modern Millie) who's coming into town and going to take over the world! Or Reno Sweeney (Anything Goes), who is so assured and sexy and fabulous. Of course I could relate to Millie because I was that girl with the suitcase, staring at the city with big dreams. But Violet has probably been my biggest challenge. She wants to be powerful. That's goes beyond beauty. She wants to be the one everyone adores. I had to work to understand that she truly believes she's ugly. She is ruled by this scar and by how people react to her. I have this image she wears a coat of spikes to face the world because something was taken from her. As a child she was hit in the face with an axe, so her innocence was taken from her.
In what other ways has the role been a challenge? I'm as naked and bare as I've ever been as a character. It's so stripped down. It's interesting to play a character in an environment where there's not much spectacle. There no fancy costumes, no wigs, no fabulousness. I don't wear a stitch of makeup. At first I shied away from the ugliness of her. She's all edges and I wanted it to be pretty and soft. I had to figure out, 'where do I dig in?'
When David Bowie starred on Broadway in The Elephant Man [in 1981], he played John Merrick without prosthetics to hide his own beauty. In the movie version, however, Merrick's disfigurement was clearly shown. Was there ever any discussion about how best to convey what Violet looks like? There was never a discussion of showing it. We are asking the audience to participate in the storytelling and I think people's imaginations are much stronger than anything we could show.
Jeanine Tesori's score is rooted in Appalachian melodies, gospel, bluegrass, blues and country music. And, of course, Violet speaks with a thick Southern accent. Well the draw was Jeanine and her music. And I love anything that's rooted in country bluegrass folk. My entire family is from North Carolina and I was born in Georgia so I have a very Southern upbringing. I lived there until I was 13 and had the thickest Southern accent you've ever heard. My accent sort of went away out of necessity for survival, but I can get it back quickly. All I have to do is call my cousin on the phone and I'm talking Southern.
Though your TV show Bunheads was canceled, I hear you're starring in Younger, a new show debuting in September on TVLand that was written and produced by Sex and the City's Darren Star. [It co-stars Hilary Duff and Debi Mazur.] I play a 40-year-old mom of a teenager, who is recently divorced and decides to go back to work. When she has trouble getting hired, she reinvents herself as a 26-year-old hipster living in Brooklyn and gets a job at a book publisher's. An artist friend of hers makes her over. It's sort of like Tootsie, but with age.
Speaking of age, in Violet, your character is 25, but you're also playing a 40-year-old mother on TV. Isn't it rare for an actress, at age 39, to get to play that kind of range? I do look younger for my age, but I want to start transitioning to playing older, more age-appropriate roles. And the mother in Younger is at a crossroads. She missed out on her 20s because she had a kid young, so now gets to relive that part of her life. They're dressing me very hipster cool. Patricia Field is the costume designer. In one episode, they had me wearing a leather mini skirt with thigh-high stockings and wedged leopard boots. I kept thinking, 'do people dress like this?' Of course they do! I'm going to become much cooler than I think I am.
Photos: Sutton Foster's No Shrinking Violet
Sutton Foster. Photo by WireImage.
Joshua Henry, Sutton Foster, and Colin Donnell in "Violet." Photo by Joan Marcus.
Sutton Foster and Alexander Gemignani in "Violet." Photo by Joan Marcus.
Sutton Foster and Colin Donnell in "Violet." Photo by Joan Marcus.
Colin Donnell and Joshua Henry in "Violet." Photo by Joan Marcus.
Sutton Foster and Annie Golden in "Violet." Photo by Joan Marcus.