Suvi Koponen Loves Surf Spray, Hates Wearing Too Much Makeup
The Finnish model spills her beauty secrets.
---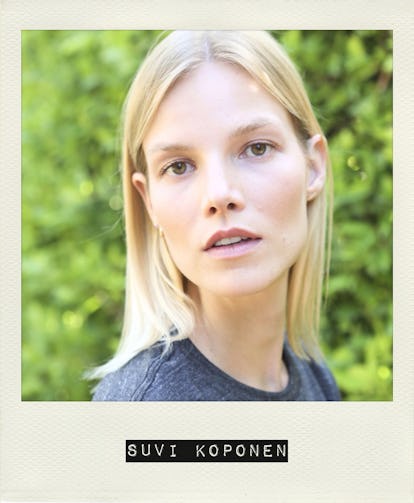 While Finnish model Suvi Koponen got all dolled up for "Super Normal Super Models" in W's September 2014 issue, the 26-year-old has a much more minimalist approach to beauty and fitness in real life.
Your look: Simple.
Daily routine: Moisturizer day and night. I don't wear a lot of makeup, ever.
Beauty from the inside out: Live in the moment.
Exercise regime: Yoga, hikes, long walks, occasional runs. I try to stay active. ____
Beauty essentials: Moisturizer, lip balm, surf spray for hair.
Skincare secrets: Wear the least amount of makeup, wash your face, drink water, moisturize!
Day to night look: If I wear make up during the day it's a bit of mascara and cover stick. At night I add blush, luminizer stick, and lip gloss.
Favorite workout: I do gyrotonics sometimes, and try to do yoga three times a week.
Best advice from mom: Marry for love, not money. Love makes you beautiful.
Best advice from the pros: La Roche-Posay Effaclar Duo Acne Treatment is amazing! Surf spray for hair!
Necessary splurge: La Mer lip balm.
Drugstore favorite Coconut oil is an amazing body moisturizer and makeup remover.
Fragrance of choice: Chloé Eau de Parfum.
Beauty Icons: Meryl Streep. She only gets more and more beautiful.
Anything else: Confidence is what makes you beautiful. Accept yourself and others will, too.