Suzanne Demisch, New York
For this design gallerist, fabulousness is all-encompassing.
---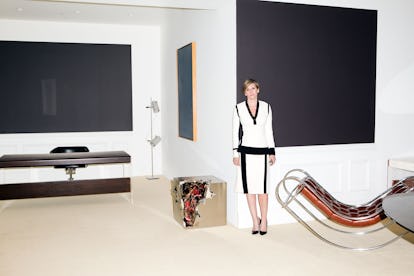 Photographer: Jeremy Liebman Stylist: Nora Milch
At 2013's Design Miami fair, the Demisch Danant booth, with its plush wall-to-wall carpeting, low-slung Maria Pergay sofas and coffee tables, and groovy Sheila Hicks wall hangings, stood out from the fray as an oasis of cool composure, practically begging visitors to grab a martini and make themselves at home—if only they had been allowed to sit on anything. ("Ugh, Suzanne has the best taste," came the constant refrain.) Since they founded their intimate second-floor Chelsea gallery 10 years ago, Demisch and her Paris-based partner, Stephane Danant, have made French design from the '60s and '70s their specialty. Though seemingly narrow, it's a vein that runs deep, and one Demisch has found to be particularly loaded. (Surrounding Demisch, are a Roger Fatus 1967 wenge-and-Plexiglas desk; an Etienne Fermigier floor lamp from 1970; a tubular chrome rocking chair by Jean-Michel Sanejouand from 1971; and a recent cube piece by Pergay, who, at 85, is one of the few living designers the dealer represents.) Her approach is scholarly, though never stuffy ("Librarians rock!" she exclaims, regarding her tendency to accessorize dresses by Céline or Balenciaga with loafers and reading glasses). It helps that the sleek, sculptural aesthetic plays well with others. "In that era, people were mixing contemporary design with Old Masters or Art Deco," she says, citing Yves Saint Laurent, who lived among furniture by Claude Lallanne and Eileen Gray and artworks by Frans Hals, Paul Cézanne, and Georges Braque. "It was a period of real connoisseurship," Demisch says, adding almost unnecessarily, "very sophisticated and elegant."
Hair by Claudio Belizario for Oribe at Jed Root; makeup by Lisa Aharon for Chanel at Jed Root. Fashion Assistant: Samantha Mcaleese.