Oh, Suzanne
After lying low during her billion-dollar divorce, Suzanne Saperstein is back—with a new man and plenty of unexpected new missions.
---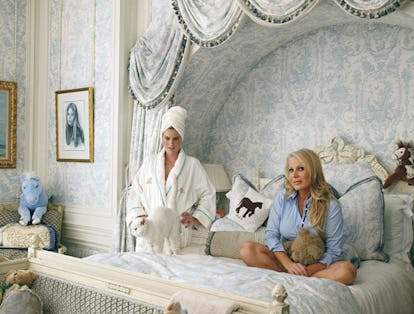 During the haute couture shows in Paris this past summer, as the front rows filled with the usual mix of stiff-backed socialites, slouchy fashion writers and Janet Jackson, one woman—a tall, buxom glamazon in her late 40s with a long mane of impossibly blond hair—attracted the most stares. She made her entrances in a series of outré couture getups and hazardously high heels, on the arm of a hunky younger man who seemed to have been snatched from a Dolce & Gabbana casting call. There she was at Chanel, in a cream-colored dress and a bolero jacket from the house's spring 2008 couture collection; at Christian Lacroix in the designer's electric red embroidered jacket; and at Givenchy in a black couture fishnet trenchcoat.
The woman in question, everyone quickly learned, was Suzanne Saperstein, the Swedish-born chatelaine of Fleur de Lys, one of Los Angeles's most extravagant homes. Although Saperstein, a former model and competitive skier, was no newcomer to Paris (she's been a dedicated couture client since the Nineties), she had been mostly absent in recent seasons as she weathered a bitter divorce from her husband of 21 years, Texas billionaire David Saperstein. Among the jaded onlookers at the shows, Saperstein's fashion-victim ensembles and 33-year-old boyfriend (former pro soccer player Christopher Roselli) sparked a range of comments, some kinder than others. But any critiques from the crowd were mild in comparison to the torpedoes Saperstein fires at herself a few weeks later, over lunch at the Polo Lounge in Beverly Hills. As she amusingly mocks her physical imperfections, her taste in clothes and her tendency to get bloated during transatlantic flights, Saperstein confesses to a self-doubt that knows no bounds.
"I'm the most insecure person you could ever run into in your entire life," she says, taking a sip of white wine. "When I'm watching a football game and the players get into a huddle, I think they're talking about me. They're saying, 'Oh, God. Did you see that dress? That hair?'"
If Saperstein has been feeling fragile lately, no one could really blame her. One day in 2005, as she was flying to Europe on the family's Gulfstream IV, the plane made a stopover in Texas, where she was served with divorce papers. David, it turned out, was dumping her for the family nanny, Hillevi Svensson, who was also tall, blond and Swedish—but only 32. (Alimony laws are more restrictive in Texas, where the Sapersteins had a home; Suzanne later counter-filed in California.) The couple met in the early Eighties, after David had founded Metro Networks, a helicopter traffic-report service. They struck it rich in Houston, then moved to Los Angeles and in 2000 settled into their 45,000-square-foot French-limestone dream house, inspired by Vaux-le-Vicomte. Suzanne made dozens of research trips to Europe and stocked the place with first-rate 18th-century furniture and Fabergé eggs.
Friends say that the divorce dealt a real blow to Saperstein and that her recovery is not yet complete. The details of the settlement, finalized last year, remain sealed. But among the things she got in the breakup, in addition to the house (now for sale at $125 million) and its contents, was a new attitude. "The key to success in life is how you handle plan B," Saperstein says. In her case, that plan includes several new passions and business ventures, ranging from two clothing lines to a same-sex dance studio in West Hollywood. Remarriage? Not in the cards, she declares, but it's clear she's not getting herself to a nunnery, either. "Right now I want to have fun," she says. "I want to wake up in the morning and have a smile on my face."
That might help explain one of Saperstein's current addictions: competitive Latin ballroom dancing, an arena where smiles are not just welcome but mandatory. Last fall Saperstein, an avid viewer of Dancing With the Stars, noticed that the show's contestants were having fun and losing weight at the same time. So she did what any enterprising multimillionaire would do: She hired one of the show's choreographers, Christian Perry, as her private instructor. After two months of intensive daily practice, she and Perry entered their first pro-am competition, in Long Beach, California. Saperstein says she didn't tell anyone about it except for her 87-year-old mother, Anna, who came to watch.
If you're guessing that Saperstein won the contest, you're correct. "It was absolutely amazing," she recalls, insisting she came in first place only because her competitors, in the beginners' division, were terrible. Still, she says, "I couldn't believe it when they said my name!" A few months later she entered a much larger contest at an airport Hilton. After 36 rounds of cha-cha, rumba, samba, jive and paso doble, she snagged first place again, this time in the bronze division. (She has now progressed to silver.)
The night after our lunch interview, Saperstein takes me with her and Roselli, plus Perry and a few other friends, on one of their regular outings to an L.A. salsa club. We arrive at the Mayan, a massive pre-Columbian-style nightclub, where a security guard is frisking people at the door. When it's Saperstein's turn, she excitedly throws her arms in the air, but the guard only wants to look through her handbag. "Damn it," she says, laughing. Inside, although she's practically the only blond in the crowd (and surely the only one with a net worth in the nine figures), Saperstein blends right in on the dance floor, twisting and twirling with Perry to the rhythms of the live band. Later she and Roselli sit on a balcony, kissing.
It was on a last-minute setup in 2006 that Saperstein first met Roselli, an affable Orange County native who has played pro soccer in Brazil and Croatia. She was hosting an L.A. charity dinner, and when the conversation turned to her dating misadventures, one guest declared that he knew the perfect man for her. Although it was already past 11 p.m., they called Roselli in Newport Beach and told him to come join them immediately. He declined, unwilling to make the hour-long drive. So Saperstein got on the phone and said: "Take a cab. And if you're not happy when you get here, I'll pay your fare home." Roselli got into his car. "What woman would have the balls to say that?" he asks. "I had to meet her." When he arrived, the chemistry was instant. "The date lasted three days," Roselli says.
Saperstein admits to being slightly disturbed that her boyfriend is three and a half decades younger than her ex-husband. She was particularly mortified one night when Roselli was carded at a restaurant. When Roselli is clean-shaven, she laments, "he looks 16 years old," so she has asked him to maintain an appropriate amount of stubble at all times. But the relationship has clearly evolved beyond the fling stage. "Christopher is kind of an old soul, and I'm sort of a youngish, crazy person," Saperstein says. "Somehow, after about a year, I started putting away the age difference." In any case, Saperstein says, "I'm certainly not going to jeopardize my own happiness because of other people's perceptions. I've done that for so long."
The only opinions she's concerned about now, she says, are those of her children—Jonathan, 21; Alexis, 20; and Stefanie, 18—none of whom seem to be complaining. In fact the two girls are partnering with Roselli on a new clothing and jewelry line called Chiave, financed by Saperstein. It began after her daughters requested extra spending money, and Saperstein told them they'd have to "work for it, like everybody else." They proposed a line of clothing and jewelry for teens that raises awareness about the dangers of drunk driving. Printed inside the T-shirts (which are sold online) are statistics about alcohol-related traffic fatalities.
While the Saperstein kids have never lacked for luxuries (for Stefanie's circus-theme bat mitzvah, Saperstein brought in professional trapeze artists and an elephant, and she wore her version of a clown suit, courtesy of the Givenchy couture atelier), friends say the brood is astonishingly unspoiled. "When you consider that they lived in what's basically Versailles in the Holmby Hills, it's just remarkable," says Houston socialite Becca Cason Thrash, who's known the family since the Eighties. "Those kids are so grounded and have impeccable manners." That's partly due to the influence of Saperstein's mother, who moved from Sweden 21 years ago to help raise the kids. Saperstein also kept the children on a strict sports and activities schedule. "We were at horse shows nearly every weekend," Saperstein says. "There were no Hollywood nights out."
The goal, it seems, was to instill in the kids the same discipline and drive that had initially brought Saperstein to America from Sweden at age 21. Raised in a town north of Stockholm, Saperstein was never one to think small. "Make a difference," she says. "Build something." Once in the U.S., she met David right away and began working full-time at Metro Networks, where she eventually became director of sales.
Though her ex is now married to Svensson and living in Houston, Saperstein shows no eagerness to dis him. "I want him to be happy," she says. "I want to have a relationship with him, because we were great friends and we are still parents of three kids."
These days Saperstein has plenty to distract her from her past with David. In addition to Chiave she has launched her own niche label, Equestrian Cocktail, a line of jackets and britches for the horsey set. (Saperstein is a longtime rider and still spends many weeks each year on the road with Stefanie, who competes internationally.) Then there's Balliamos, the ballroom-dancing studio for same-sex couples, opening in December. Though it might seem a surprising venture for a woman whose guests at Fleur de Lys have included Prince Andrew and George and Laura Bush, Saperstein has been donating to gay causes for years and liked the idea of making the classes gender-neutral (heterosexuals are welcome).
Besides, she has always shown a cheerful disregard for what's expected or appropriate. One afternoon this summer while she was in Paris with Roselli, I reached her on her cell phone and heard some cheesy pop music in the background. In her booming contralto, she announced that they were on the Champs-Elysées, eating pizza.
"Suzanne's idea of being social is different than yours and mine," says Cason Thrash. "It's about surrounding herself with people she likes, period. As a result, there are some society ladies in L.A. who do not get her. But I don't think she really cares." Cason Thrash says Saperstein might have ruled the scene in L.A. if she'd wanted to: "Let's face it—social status in Hollywood is all about who's got the most money and the best house. Suzanne certainly qualified. But she chose another path."
Saperstein also goes her own way in the fashion realm. This past couture season she bought pieces at Chanel and Givenchy and also dropped by the atelier of upstart Alexis Mabille, where she picked up a black dress with a sheer back. Saperstein often asks the fashion house to send a sketch of her wearing the piece; she later frames it and hangs it on a wall at Fleur de Lys. Dozens of the sketches—signed by Jean Paul Gaultier, John Galliano, Alexander McQueen—line a stairway leading to Saperstein's legendary closets, which contain not only the couture pieces currently in rotation but also shelf after shelf of vintage Hermès Kelly and Birkin bags, in as many shades as you'll find in a jumbo box of crayons.
Occasionally, with a kind of believe-it-or-not glint in her gigantic blue eyes, Saperstein will venture a remark about how happy she is with simple things. She claims that she might actually live in an RV for a while if she sells this place before building a new one. (Her next home will be "turn-of-the-century Spanish," she says, and "a little more casual.") Even harder to believe is her assertion that she regularly uses every room in the house, given that one of them is a 200-person ballroom with frescoed ceilings. "It's not a display house," Saperstein insists. "We do go into all the various areas." With her children away at college, Fleur de Lys now seems particularly oversized and under-inhabited, and that may be why Saperstein is moving on. When I look out a second-floor window and see Roselli alone on the pristine 1.5-acre lawn, throwing tennis balls to Saperstein's German shepherd, I feel like I'm at Gatsby's place, after the party's over.
That is, if Gatsby had a body like Brigitte Nielsen's and a mouth like Phyllis Diller's. At one point I muster the courage to ask Saperstein for her views on plastic surgery, and she doesn't flinch. "Are you kidding me? I want to keep doing it until my ears meet at the back!" she says. Her main worry: "There aren't enough procedures in the world right now to make me feel comfortable with myself. It's like, Where do I start? I would have to begin at the bottom and tie everything up with a big knot at the top of my head. So I'd rather go and buy myself a great dress—and incredible girdle."
All wisecracks aside, Saperstein doesn't spend all her money on surgery and sable: Her philanthropic efforts are fueled by the same entrepreneurial zeal that drives her business ventures. One new project is an ambitious expansion of the Costume and Textiles department at the Los Angeles County Museum of Art, where this year Saperstein spearheaded the acquisitions of two important private collections of 18th- and 19th-century clothing. "Sometimes it takes just one person to change the fortunes of an entire department," says LACMA director Michael Govan, noting that Saperstein's contributions were not just monetary. Many at the museum, Govan says, were astounded by "the speed and force with which Suzanne took action." The expanded collection will be unveiled at a splashy gala in 2010.
In the meantime, Saperstein says, she's discovering what it's like to "live for the moment." She no longer panics if she has a day without scheduled plans, and she's trying to leave room for life's spontaneous pleasures, such as last-minute trips to Las Vegas with the kids and ogling the surfers changing into their wet suits as she drives along the Pacific Coast Highway.
Saperstein is not entirely sure where her current adventures will lead her. "I think people were put on the earth for a reason," she says. "I'm still looking for that specific thing, why I was really put here. I hope I'm going to find it one day."
Suzanne Saperstein and her youngest daughter, Stefanie, in Stefanie's bedroom.

Photographer: Larry Sultan
Saperstein and her dance instructor, Christian Perry, in the hall outside her ballroom.

Photographer: Larry Sultan
Stefanie in a Chiave piece, with a design assistant.

Photographer: Larry Sultan
Saperstein and boyfriend Christopher Roselli in their office, with designs for the Chiave clothing line.