Sweater Vests Are Trending at the Milan Menswear Shows
Miuccia Prada opened her show with one, which is proof enough.
---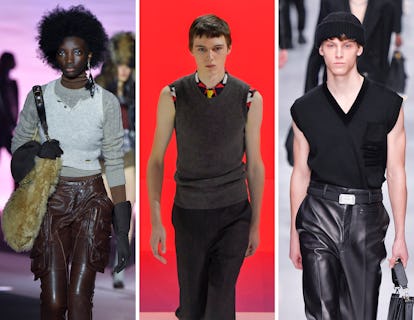 Sweater vests made something of a comeback this past weekend at the Fall/Winter 2020 menswear shows in Milan (though these catwalks now include all genders), showing up on the runways at Prada, Fendi and other labels.
Sweater vests are sort of a tricky item. For one thing, it's hard not to think of Molly Shannon's Mary Katherine Gallagher character (whom the actress developed on Saturday Night Live and then brought to the silver screen with Superstar, which—sadly!—only rates 32% on Rotten Tomatoes). Shannon's incredibly socially awkward yet determined Gallagher is a caricature of a Catholic school girl, immutable uniform of sweater vest and knee-length skirt included.
The garment has other associations, too. Zach Woods's Jared, on HBO's Silicon Valley, wears a zippered version as a kind of neutralizing armor—something into which he can pocket his hands when things are tense or weird in the obscure dynamics of start-up tech culture. There are argyle knits for the preppy crew, and plain wool blends for office-wear, once the temperatures start to dip.
Yet, as has been proven over the fast few days, the sweater vest can be an effective styling piece—and may prove to be a standout this season. Miuccia Prada, for one, opened her show with a gray version worn over a hyper-short-sleeved geometric collared shirt.
Functional? Arguable. Fashionable? Yes.
Prada
Here's the opening look at Prada. It is one of many sweater vests that Mrs. Prada included in her show, which was staged in a sort of sunken arena, like a flattened facsimile of a gladiatorial ring. As is always the case with this label, the inspiration is never crystal clear outright, yet, over time, the intent begins to gel—and to hold. Mrs. Prada told the press that this collection was about "value" in a time of worldly disarray. That meant a clean, contemporary slim-down, moving away from novelty and into what felt like a new silhouette, with boxiness, muted color, geometries, crops, and, yes, sweater vests at the fore. The fact that she chose to open with a sweater vest sent a clear message: don't sleep on it. What Prada does permeates.
Fendi
At Fendi, Silvia Venturini Fendi pushed things forward with a bit of a sleeker silhouette and, still, a fair amount of logo play. (Her double-F monogram was even spotted lining the lug soles of boots.) This deep-V sweater vest has all the regularity of the established wardrobe stable, yet is given a semi-futuristic spin with what appear to be cargo pockets.
DSquared2
This season marks DSquared2's 25th anniversary. Yes, that's exactly right: Dean and Dan Caten have been not-so-quietly marching to the beat of their own drum for a quarter of a century. The Canadians are, as ever, hard at work and to celebrate their milestone they sent out lots of little vests, be they of the sweater variety or otherwise (some were rendered in leather). Emphasis on the word little: the Catens' iterations were shrunken and cropped, sometimes so much so that they scrunched up the shirts they were covering. Rocker hipster vibes, with a bit of digging around one's closet for something you used to wear but is now just this side of too small. Fitting for a birthday. Also, Sister Sledge performed.