Salad Days Are Here
New York City welcomes an irresistible new spot: Sweetgreen.
---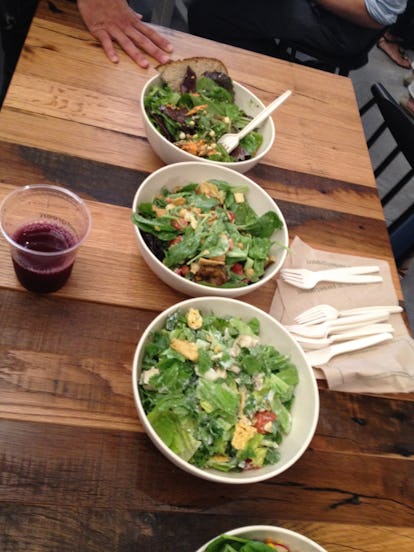 The New York City salad bar scene has just gotten chicer, thanks to three guys who are truly thinking green. Sweetgreen is the brainchild of Jonathan Neman, Nicolas Jammet, and Nathaniel Ru, Georgetown University grads who started the locally sourced, farm-to-table salad chain in Washington, DC in 2007. They will open their twentieth outpost and first New York City location next to the NoMad Hotel on Thursday, July 25th.
Lucky us, we got invited for a sneak preview last Friday, when we grazed on heaps of local, in-season produce like arugula from Migliorelli Farm in the Hudson Valley and goat cheese from Coach Dairy farms (yes, that Coach).
This Sweetgreen is the first restaurant ever designed by the architect brothers Dominic and Chris Leong of Leong Leong, the firm behind the Phillip Lim 3.1 headquarters and stores. Standout green features include a ceiling outfitted with recycled denim to absorb noise and salvaged school gym bleachers that can be collapsed to create a stage.
This Wednesday, July 24, Sweetgreen will have a for a pay-what-you want day with the proceeds going to City Harvest. And stay tuned for a TriBeCa locale set to open this winter.
Beauty Director Jane Larkworthy investigates her options
Sweetgreen Nomad is located at 1164 Broadway, New York, NY; (646) 449-8855