Swizz Beatz Buys Basquiats, Gifts His Own Artwork to Jay Z
How a superproducer became a real art world player: A conversation with Swizz Beatz before his buzzy new art fair cum hip hop festival No Commission in his native Bronx.
---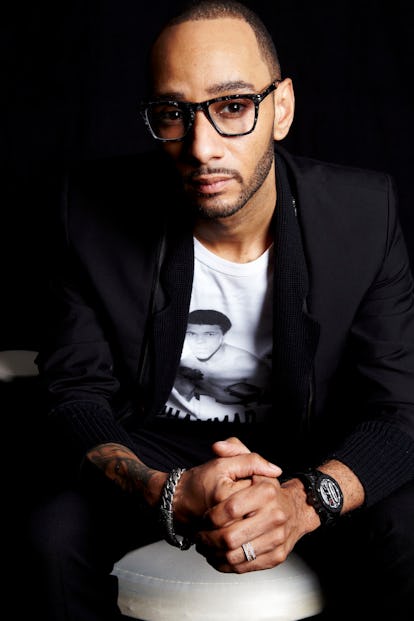 The hip-hop super producer and rapper Swizz Beatz has been collecting art, and even making it himself, since 1998, the year his crossover record — DMX's "Ruff Ryders Anthem" — gave him the first big hit, and subsequently his first house and walls to fill. Born and bred in the South Bronx, where his father was a DJ in the nascent hip hop scene of the 70's, Kasseem Dean (his real name) starred in his first music video at age six, earning him his moniker "the vid kid." He was the youngest member of the break-dancing crew GDR, before breaking into the big leagues as a teenage DJ and producer for Ruff Ryders Entertainment, the record label founded by two of his uncles. He's since produced hit singles for the likes of Nas, Beyoncé and Jay Z, all the while building a sizeable art collection with works by Jean-Michel Basquiat, Keith Haring, Marc Chagall, and Joan Miró, to name a few. But he's also pushed to move art to the forefront of the hip-hop world ("Picasso, Baby," anyone?). As a creative director for Reebok in 2010, he plastered images of Basquiat on T-shirts and hats. "People thought at first it was Bob Marley," he said. "They were like, 'Who's this Basquiat?'"
These days, Dean and his wife, the singer Alicia Keys, live with their kids in New Jersey, in a home filled with the art he continues to collect for his Dean Collection, and equipped with a studio for Dean to paint in. But for now, he'd rather promote the work of other visual artists and do what he can to open the doors of the art world to a broader audience. He recently joined the board of the Brooklyn Museum and tonight he returns to the Bronx with the second edition of his No Commission Art Fair, which gives artists a free platform, not to mention 100% of their proceeds. Nina Chanel Abney, Kehinde Wiley, Rashaad Newsome and Faile are just some of the 36 showcased artists who will be on hand to talk about their work over the four-day event, while a rotating program of performances by A$AP Rocky, Young Thug and Pusha T (not to mention sets from Dean himself) promise to bring together music and art in the ultimate block party. Earlier this week, over mojitos in New York's Chelsea, I talked to Dean about his ties to the Bronx, his art habit and which of his works are in Jay Z's collection.
You're a hugely successful producer. Why stage an art fair? Because I'm fascinated by all these other areas. I love fashion, I love design, I love architecture, I love art. I love music. Music and art run parallel — the businesses made them segregated. But before the business came into it they would naturally be brothers and sisters. No disrespect to the DJs, but I would have not been a part of making history on the producer side if I hadn't asked, 'Why do I just got to be a DJ? I want to produce.' Why stick at only what you're good at? So I just started producing. And then I got involved with Kid Robot and designed for Reebok, Aston Martin and Lotus, and all these different things. Now I'm global creative chief for culture of Bacardi and the first thing I wanted to do was bring No Commission to the Bronx.
Why hold it in the South Bronx? It would have been easier for me to do this art fair in Manhattan or Brooklyn. But I wanted to do it in the Bronx because I got my eye for art and music from the Bronx. I grew up 15 blocks from where we're holding the fair. My dad lived at 1520 Sedgwick Avenue and DJ'd some of hip hop's first parties.
What were some of the things that first stirred you visually when you were a kid? For me, it was just waking up and going outside, seeing the graffiti on the trains, on the handball courts. I never really looked at graffiti as something special; it was something the city did, until I started to see things spray painted on trains and I knew it couldn't be something that the city paid for. Then I was in a break dancing crew called GTR, Guaranteed to Rock. I was the youngest and we had these Levi jackets with our names and graffiti on the back. This was the 80's. I'm 37 now and I got to have a piece of that pie and I'm still able to participate in 2016. It's pretty crazy.
You appeared in your first music video at age six. What did you do? I was just like this young kid in a party that I wasn't supposed to be in. And I knocked over like a vase or something like that. And my mother's godfather was casting the video. So he was like, "Oh, we need a kid for the video, why don't you have 'Seem come down?" I'm in this double breasted suit and walking around. I've got to find the video. I've never seen a real clear version of it because it was VHS.
How did you start collecting art? What made you decide it was something you wanted to pursue? It was a funny start. I went on a boat cruise and there was an art auction on it. I'm the youngest guy there, and there was some of Peter Max's work. I was like, "Man, I like this guy's work." So everybody's suited up, it's almost like a dinner date. And I'm like in just sweats and a shirt, raising my hand. And people are looking at me like, that can't be real, right? This piece was $20,000 at the time, which was like huge money for me at that age, 19. But this was for one piece. And it was the first time that I got addicted to buying art. It was the rush of getting somebody's creative message visually through colors, rather than sonically, which was leading my journey at that particular point.
How did you build your collection? I got my first house around 19, going into 20. I sold my first million records with DMX and I was furnishing my house. And I didn't want to hang posters on my wall. I was like, I want to put some real work on the wall that I see on TV and things like that. And so I started looking at galleries. But I couldn't understand how the price was so expensive. I bought a lot of junk in the beginning, a lot of prints. And some of them caught up to the value later. But a lot of it was just people just seeing me and taking advantage of me. But one person I met was David Rogath, who managed the Erté estate. He was the first person paying attention to me in a gallery because I was in there every week. And he gave me some advice. He said, "Listen, don't try to paint the big picture in one day. Find one piece, then another piece." Because I was looking for many things. I was going for the entire Warhol Campbell's soup can print collection. So I started listening to him. And then I bought some Harings, Chagalls, a Dali.
What interested you about Chagall. It's just that I love all different types of art. And I just connected to the passion in Chagall's work and the simplicity of the expression. It was just right to the point. Around that time, I got a check for $300,000 for royalties or something. I wasn't expecting it to come in. And I was like, "Okay, do I buy a Lamborghini or do I get [music exec] Clive Davis a commission from Peter Max?" Clive was the first person to make me an entrepreneur by helping me start my own label, Full Surface Records. He and Max were both fans of each other but had never met. Peter made two paintings and I was supposed to keep one of them. But when I arrived at Clive's big Grammy [awards] party, there was this big surprise. The shipper had sent both of the pieces. Everybody was there and I'm like, uh oh. So I'm thinking I can't say, "No, this one's mine." So I had to say, "There are two because one is for this house and one is for your other house." I gave Clive both of them. But you know what? It actually created a great friendship with me and Clive that's bigger than money, that's bigger than anything, even still to this day. I call him my godfather. And he plays a very significant role in me and my wife's life. He started her and believed in her, and he started me.
Does he know the backstory? No. I guess now he does. So I got comfortable with picking things that I liked. Although I was still collecting for the wrong reasons at that time when I was younger. Because I was buying the Chagalls not only because I liked them but also because I entertained, and if Clive came to the house and saw some of the pieces he'd think, Wow, Swizz is not just a regular rapper guy from the streets, he collects art. I made sure I knew about wines, I knew about watches, I got very detailed about these different things. I knew my stuff.
What led you to your interest in Basquiat? I got fascinated with Basquiat when I read his story and saw his passion. With Reebok, I wanted to show people that art is cool. I said, "Put Basquiat's face on all the shirts." At first they didn't even know it was Basquiat, they thought it was Marley. And everybody said, "Oh, Basquiat, Basquiat." And then it started getting real popular. I wanted to show kids that even if you can't own a Basquiat, you can learn about him, you can wear a shirt, you can participate in the Basquiat movement. Like don't just say, oh, that's for rich people. Let's create some price points where people can participate. So when you started hearing musicians putting Basquiat in the songs and all that, that's where it came from.
What do you paint, and how long have you been painting? I've been painting longer than I remember painting. Some of my family members have shown me photos of canvases and paintings I gave them that I don't even remember doing. And I remember after spending all this money on everybody else's art, I said, What if I just took the price of like one painting and just bought canvases and paints? So I turned part of my house into my art space. And I realized it was like therapy. I might not have been painting the Mona Lisa, I might not have been like doing the best thing, but I realized it was the only time I had to myself, just painting and listening to music. I would come up with more musical ideas and just vibe. If you look at my work I have like ten different styles that I paint. I never landed on that one style. And I remember Jeffrey Deitch wanted to do a show with me. But to this day, I've never sold any of my paintings. I only give them away as gifts. There are so many people who are better than me who need to get their shot. I've been blessed to have my shot.
Doesn't Jay Z have some of your works? Jay Z owns my car hood sculpture and also my diamond dust alligator sculpture.
What is A$AP Rocky's connection to all of this? He loves art, he loves fashion, he loves music. And he speaks to the millennials. And it's important for them to see him supporting art. Because he knows what it is to be a struggling artist. It's important for him to perform. It's important for me to perform because I'm from the Bronx — this is where I started. But I didn't want to make it so nostalgic, that's why I didn't only have Bronx artists or musicians. It's a little bit of seasoning from everywhere. There's people in my show from Asia, from the UK, from Africa, from all over the place. I'm global-minded. I love my borough, but I'm not in the mind frame of only my borough. I want to take my knowledge and expose my borough to new things.
Did you curate the art in the show? I curate the Dean collection but Nicola Vassel curated No Commission. I love to reach out to artists myself. I no longer collect non-living artists. Every artist that's in the Dean, I want to know them, I want them to know me, I want my kids to know them. And I want it to be like a family. So they have something they need help with, they can call me on the phone and we can have a dialogue.
Do artists reach out to you through social media? Yeah, because I gave the artists my social media. The Dean Collection started off as a personal museum I wanted to build, which I'm still pursuing for my kids. But what happened was I would post a new artist that I just bought, and tag them in it. And then I would get a DM or a text back saying, Wow, my show sold out. Wow, the galleries that weren't looking at me are looking at me now. So I was like, Wait a minute, something that I'm doing for my passion is really changing people's lives. So I just gave the artists my social media platform and started exposing the world to new artists that galleries might not have picked up, or the big auction houses might have overlooked. And I just gave them their shine. And that's what made me come up with the idea for the digital platform for No Commission, which I'm going to launch soon. It's going to be a game changer.
Do you collect all the artists in this Bronx edition of No Commission? I don't have everybody that's on the list now. Biggie said never get high on your own supply. I'm trying not to. Because it's like, look, I know these artists so I can commission other pieces. So for me it's like, you know, I'd rather the artists have a new buyer that they don't know. I see things that I really want, and I'm like okay, if this is not gone by Saturday I might have to buy it. But my connection with these artists is everything. Because they're all living, they're all young. They're all trying to make a name for themselves, even though there are also some more established artists in the show. They all are looking for their independence. So all of these people here are part of my family now.
I'm glad to see there are a lot of female artists on the bill. It's very important for me to have female artists in the show. Where would the world be without female artists? I know so many female artists who are way better than the guys. I'm sorry. I'm just saying. This has been like a male-driven thing for a long time. And I want to make it an equal thing. You can't have a story with just all guys. That's not the whole story. We're going to have a female President. I'm just putting it in the world. And then the women's movement is going to really start. That's going to be the first sign globally that women officially have power. The world is in trouble because there's too many men in power. And there's not enough love. Like the world needs a hug and women and moms are the ones that give the hugs. Guys are too cool. We're not going to give the hugs. We're going to be tough and stand off here, and we're going to stand off there.
But you're not like that, you're giving hugs. I'm different. I'm talking about the people that are in charge. There's a certain way that they feel they have to be. Imagine if a lot of political issues were dealt with through communication and love, instead of ego? Ego is the killer.