Meet Symonds Pearmain, London Fashion Week's Buzziest New Brand
Together, Anthony Symonds and Max Pearmain have created a label that's rooted in art.
---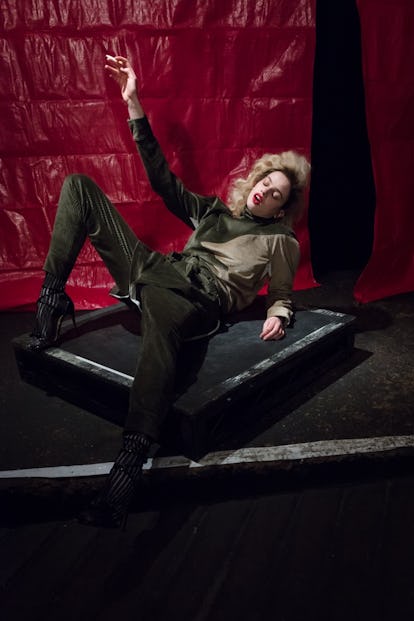 Photo by Mark Blower
The buzziest new brand coming out of London Fashion Week is a study in juxtapositions. It's a mix of the new and old-school, the luxurious and the everyday, the in and the out. It offers up a bigger question as well, is Symonds Pearmain art or is it fashion, and can it be both?
It is within the grey area that Symonds Pearmain exists. The label takes its moniker from its two co-founders, Anthony Symonds and stylist Max Pearmain, who is known for his men's line, and who's worked for the likes of Arena Homme and W. Symonds is a Central Saint Martins-trained designer who has been a part of London's fashion scene since the 90s. Known for his cutting skills, Symonds worked with John Galliano, Vivienne Westwood, and Katharine Hamnett, before launching a line of his own in the 2000s. More recently, he had ditched the endless fashion cycle, and decided to show his collections on his own terms. Those terms happened to mean presenting his fashions through London's Cabinet Gallery, among other artists whose work include sculpture, painting, and collage. "That Symonds would show his [work] within the context of Cabinet Gallery is very interesting to me," Pearmain said of his design partner. "I went to art school myself, and obviously, I work in fashion, but I find that grey area really, really fascinating. It is something that we both do."
Despite not following the traditional fashion calendar, Symonds would still lend his pieces out to press for photo shoots, which is how Pearmain stumbled upon him in the first place. In 2013, he picked up Love magazine, which featured an attention-grabbing image of Kate Moss in a soapy bath, shot by Mert & Marcus on the cover. Moss was wearing a shirt by Symonds.
"Four years ago I just sent him an email saying hi," said Pearmain. "We got on very well, we share a very similar sensibility of taste and interests. We were talking quite a lot and where we realized we just needed to go ahead and make something happen. So just for the enjoyment of it really, pure and simple."
Pearmain got into fashion purely for the enjoyment of it, as well, he notes. "I got interested in fashion because it was slightly out of reach. I didn't grow up in London, I grew up outside of London, the attraction and the abstractness of fashion was something that drew me to the big city," Pearmain explained. "I like fashion the most is when I don't understand something. Personally, I think both of us are interested in keeping something out of reach. But," he paused, "I also like being able to attract like-minded people who might be interested."
Together, the duo launched Symonds Pearmain debuted last season at London Fashion Week for Spring 2017, in a small presentation at Horse Hospital in London. Symonds cuts everything by hand, so their pieces cannot be mass produced; the luxury comes through in the cut, and is juxtaposed with the fabrics they use, which are quotidian – predominantly jumbo cord this season, sweatshirt jersey last season. "There needs to be an up and there needs to be a down." Pearmain says.
The "nice oxymoron" that is their label is furthered by the fact that they just presented during London Fashion Week in a salon style setting not unlike old Chanel couture shows, and yet in a few weeks' time, the duo will be doing a full-on runway show–at Berlin Gallery Week, no less. They've also found a muse in Lily McMenamy, who took on different character roles with each look that she wore for the fall presentation. Lily is "separate from fashion," Pearmain says, "yet she's very much a part of fashion, her mother and herself." McMenamy possesses a confidence and nonchalance towards fashion that seems at odds, yet also fits right into that same grey area Symonds Pearmain exists in.
There is also a Symonds Pearmin fragrance, a rare endeavor for such a new brand, which first debuted at Symonds's solo gallery show at Berlin's Bortolozzi Gallery. Named 'Iron Lady,' the fragrance is referred to as a "a 50/50 combination of YSL Rive Gauche and Chanel No. 5." There is a forthcoming fragrance campaign, shot by Tyrone Lebon, that will debut in Berlin.
When asked if, and how, the collection pieces would be for sale, Pearmain notes that the pieces are "all available through the gallery," referencing Cabinet, and "we do have collectors buying it."
At a time when London Fashion Week, and all fashion weeks for that matter, are a mad mix of see-now-buy-now, or of ready-to-wear brands aligning themselves with the couture schedule, somehow, presenting through the frame of art–and in a gallery–makes sense. It is a grey area for sure. The duo say they are just trying to make something that works for them, and what they're doing is, once again, purely for the enjoyment of it.
After all, Pearmain says he was a "go to school, not really speak to that many people, go buy a copy of The Face, find the perfect corner at school and go and read" type during his student days. He was fascinated by a world in which he was not yet a part. "The irony is Anthony's clothes were probably in The Face when I was reading it," Pearmain said, laughing.
London Street Style Stars Aren't Afraid to Let Their Sartorial Freak Flag Fly
A scene from London Fashion Week Fall 2017 Street Style

Photo by Julien Boudet
A scene from London Fashion Week Fall 2017 Street Style

Photo by Julien Boudet
A scene from London Fashion Week Fall 2017 Street Style

Photo by Julien Boudet
A scene from London Fashion Week Fall 2017 Street Style

Photo by Julien Boudet
A scene from London Fashion Week Fall 2017 Street Style

Photo by Julien Boudet
A scene from London Fashion Week Fall 2017 Street Style

Photo by Julien Boudet
A scene from London Fashion Week Fall 2017 Street Style

Photo by Julien Boudet
A scene from London Fashion Week Fall 2017 Street Style

Photo by Julien Boudet
A scene from London Fashion Week Fall 2017 Street Style

Photo by Julien Boudet
A scene from London Fashion Week Fall 2017 Street Style

Photo by Julien Boudet
A scene from London Fashion Week Fall 2017 Street Style

Photo by Julien Boudet
A scene from London Fashion Week Fall 2017 Street Style

Photo by Julien Boudet
A scene from London Fashion Week Fall 2017 Street Style

Photo by Julien Boudet
A scene from London Fashion Week Fall 2017 Street Style

Photo by Julien Boudet
A scene from London Fashion Week Fall 2017 Street Style

Photo by Julien Boudet
A scene from London Fashion Week Fall 2017 Street Style

Photo by Julien Boudet
A scene from London Fashion Week Fall 2017 Street Style

Photo by Julien Boudet
A scene from London Fashion Week Fall 2017 Street Style

Photo by Julien Boudet
A scene from London Fashion Week Fall 2017 Street Style

Photo by Julien Boudet
A scene from London Fashion Week Fall 2017 Street Style

Photo by Julien Boudet
A scene from London Fashion Week Fall 2017 Street Style

Photo by Julien Boudet
A scene from London Fashion Week Fall 2017 Street Style

Photo by Julien Boudet
A scene from London Fashion Week Fall 2017 Street Style

Photo by Julien Boudet
A scene from London Fashion Week Fall 2017 Street Style

Photo by Julien Boudet
A scene from London Fashion Week Fall 2017 Street Style

Photo by Julien Boudet
A scene from London Fashion Week Fall 2017 Street Style

Photo by Julien Boudet
A scene from London Fashion Week Fall 2017 Street Style

Photo by Julien Boudet
A scene from London Fashion Week Fall 2017 Street Style

Photo by Julien Boudet
A scene from London Fashion Week Fall 2017 Street Style

Photo by Julien Boudet
A scene from London Fashion Week Fall 2017 Street Style

Photo by Julien Boudet
See 81 of Fashion's Biggest Stars Come Together