SZA's New Video "Love Galore" Features Travis Scott and a Little Light Bondage
The video was directed by Nabil, the mastermind behind Kendrick Lamar's "DNA" clip, and is the first taste of SZA's upcoming debut album.
---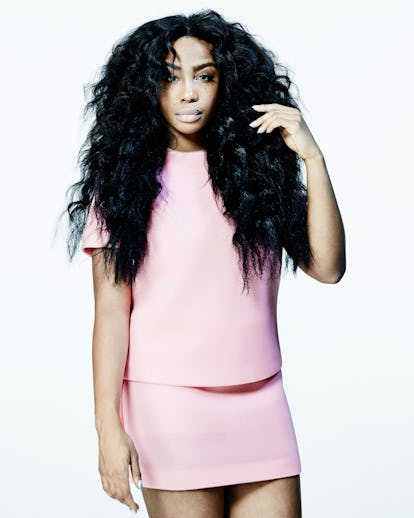 Courtesy of SSENSE
SZA has come a long way since she was working at Sephora and studying marine biology at college. After two EPs (aptly titled Z and S) and a mixtape (See.SZA.Run), the singer and rapper is finally gearing up to release her debut studio album Ctrl on Kendrick Lamar's Top Dawg Entertainment label. (She's also remarkable as the first woman signed to the label, back in 2013.) The latest preview of her full-length, which will be out later this year in partnership with RCA Records, comes complete with a gruesome new video that premiered Thursday and finds the musician conjuring up her own fantasy—and her own horror fest.
In "Love Galore," which SZA teased at a small show in New York back in January, she and rapper Travis Scott, who co-stars in the clip, get it on in a plush bedroom; scenes of their romance are interspersed with more stylized moments where SZA and Scott are surrounded by a kaleidoscope of monarch butterflies. (This is the technical term for a group of butterflies; I googled it.) Scott, as is his wont, barely looks into the camera (he's frequently in shy repose, peering down and looking as though he's just realized he forgot his watch). For her part, SZA locks eyes with the viewer as she sings.
Scott has most recently been attached to one Kylie Jenner, but the video finds him playing around with some light bondage with SZA. "We do whatever we want, love however we want," she sings as she begins to tie Scott to the four-poster bed. "You'll do whatever I want, get whatever I want, get whatever I need." The video is directed by Nabil, the visionary behind Kendrick Lamar's new visual for "DNA" and a go-to TDE collaborator. SZA had previously expressed her frustration at her label, tweeting—and then deleting—that she had quit Top Dawg in October. And while it's been a while since her last major project, 2014's Z, she's been busy in the meantime, collaborating with Rihanna on Anti's "Consideration" and with Kingdom on Tears in the Club's "What Is Love." She has also worked with labelmates Schoolboy Q and Isaiah Rashaad on their respective records. But with "Love Galore," it's clear that SZA is back and masterminding her own universe.
The video takes a creepy turn as it nears the end; the scene cuts from some rough play between Scott and SZA that escalates into a fight to the exterior of the house, where a morbidly obese woman wielding a cane makes her way to the front door. SZA leaves Scott tied to the bed and lets this stranger into the house; she climbs the stairs slowly, menacingly, as Scott struggles against the restraints. She stands over him with a deranged grin on her face and raises her cane—and then the scene cuts to the exterior again. All we see is a shock of blood spatter across the window. Then, the woman takes a seat in a rocking chair, cackling gleefully. In the alternate scene where SZA is surrounded by butterflies, she looks placidly into the camera.
The message is clear: Do not cross her.
Exclusive: SZA Brings a Camera Backstage at Panorama
TK Wonder and Cipriana Quann

Photo by SZA.
SZA and her bass player, Carter Lang.

Solána Rowe
How model Casil McArthur learned to express himself through cosplay: