Curative License
Taffin's James de Givenchy lets a few of his friends have their way with his jewels.
---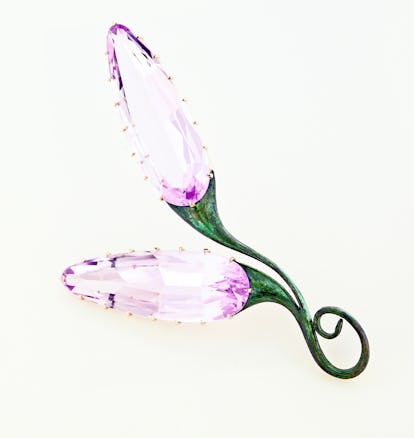 James de Givenchy, who for nearly two decades has been designing imaginative, unconventional, artful jewelry and accessories under the name Taffin, had never regarded his work as edgy—until he asked the artist Max Snow to select what he considered to be six defining Taffin pieces. Snow's picks, which include a pair of diamond-and-gunmetal earrings and coral-and-silver skull bookends, join those of perfumer Frédéric Malle, stylist Elizabeth Stewart, and Pace Gallery founder Arne Glimcher in an exhibition on view through the end of December at de Givenchy's newly opened Madison Avenue salon. "They're all people I have great admiration for," says the designer of his chosen curators. "I find it interesting to see myself through their eyes."
Emerald and diamond ear pendants, chosen by Frédéric Malle. Courtesy of Taffin.
A pearl and black- jade ring, chosen by Arne Glimcher. Courtesy of Taffin.
A kunzite brooch, chosen by Elizabeth Stewart. Courtesy of Taffin.
Coral and silver bookends, chosen by Max Snow. Courtesy of Taffin.