Take a Break from Fashion Week with Politics and Odell Beckham, Jr.
The Commander-in-Chief forum proves contentious, and the New York Giants star weighs in on the Lena Dunham situation.
---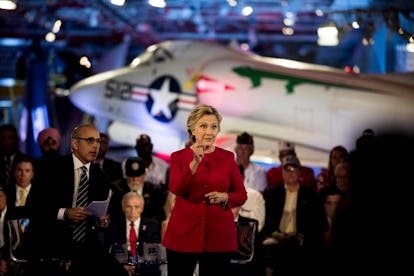 The Washington Post/Getty Images
Beckham, Jr., Odell The New York Giants star weighs in on the Lena Dunham controversy he found himself — unwittingly — embroiled in.
Clinton, Hillary Move aside, Tom Ford: Here's the real kick-off to fashion week.
Fashion Week, Prague While New York Fashion Week gains momentum, here's who you should be watching over in Prague.
Fashion Week, New York "We are facing the end of an era," Diane Von Furstenburg told the New York Times. New York Fashion Week, now almost in its 75th year, is evolving faster than we can keep track, with designers moving to different presentation models — and even different times of year. For the occasion, a few of New York's most notable designers look back on the history of NYFW.
Knightley, Keira Hillary's competition for herald of the start of fashion week — the new face of Chanel Fine Jewelry took to Bergdorf Goodman Tuesday night to celebrate.
Lauer, Matt Moderator of Wednesday night's Commander-in-Chief forum — now facing quite widespread criticism over how he handled the event. (Politics chugs on, even during fashion week.)
Preston, Heron One half of fashion week's most unlikely combination: a former Kanye West collaborator and the New York Department of Sanitation.
Yeezy Season 4 took over the Roosevelt Island smallpox hospital on Wednesday afternoon. And, with fainting models, a nearly four-and-a-half hour run time, and little artistic development from previous seasons, Jezebel is calling it a "disaster."
See W's most popular videos: