Talking Septums With Chris Habana, the Jewelry Designer Working With Rihanna and Gypsy Sport
Rihanna wore ChrisHabana rings in the W magazine September issue spread and one male model even wore a silver mouthpiece. Here, the designer talks about his unique aesthetic.
---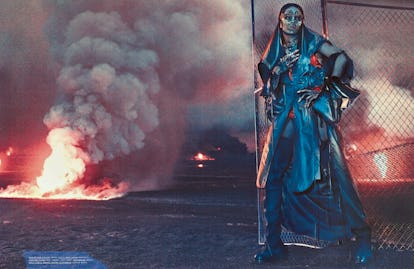 Photographs by Steven Klein, Styled by Edward Enninful
Jewelry designer Chris Habana, 42, went from designing accessories for himself as a 20-year-old club kid in San Francisco, to getting direct requests from Rihanna for a septum cuff. His aesthetic mixes punk with tribal imagery, so it was a perfect fit for W magazine's September cover spread, which features three of his pieces. Rihanna — who was already a fan of Habana's since 2015 — wore two rings, one that sits on the fingertips highlighting the nail, and one of the male models wore a silver mouth piece as well.
Originally from Manila but currently based in New York City, Habana has had his own line since 2008. For Spring 2017, he'll also by styling the accessories for designers like Adam Selman, Chromat, Zana Bayne, and Gypsy Sport. (Rio Uribe is a longtime friend.) In the past, he's also worked with names like Siki Im, Opening Ceremony, Gentle Monster, Prabal Gurung and Hood By Air.
"People are experimenting more and more, and becoming more open to other ideals of beauty and style," Habana said of his recent success in the fashion industry. (Septums! They're everywhere!) "I feel that my brand has been at its most relevant in fashion right now because of this."
When did you start designing jewelry and why? When did you start your own line? I've always been designing my whole life, even from when I was a kid. Since I am self taught, the start of the jewelry process was a bit more organic. While in San Francisco as a club kid in my twenties, I would make experimental accessories such as neck braces and show them at random galleries. When I moved to New York in 2000, I became more ambitious and started selling recycled jewelry and accessories to Seven New York (while it was still on Orchard Street). This led to other stockists in Japan and the business slowly grew from there. In 2008, I decided to make it a full-fledged business, and that's when ChrisHabana as you see it now was formed.
When was your "big break?" Well, I've definitely had a few starts and stops along the way. But I guess my more recent "big break" was when Rihanna reached out and wanted our Single Pearl Septum Cuff from our sterling silver collection. She then wore it to an i-D shoot by Paolo Roversi and it made it into the Spring 2015 music issue! It all kinda went from there. It's so full circle that she's wearing our pieces again for this W spread.
Describe your aesthetic using three words: Minimal, Refined, Dangerous.
Style icons/inspirations: Walter Van Beirendonck, The Warriors, Wolfgang Tillmans, Anish Kapoor, Iris Van Herpen, Alexander Mcqueen, Judy Blame, Ray Petri, Dia Dear, Grace Neutral, gutter punks, Michelle Lamy, Stranger Things, Jodorowsky, A Tale of Tales and Martyrs, Miguel Adrover, the boys from The Wolfpack, '90s Bjork, rave culture, horror, weed.
What designers are you working with for Spring 2017? Oh man, this is the first time we have taken on these many designers in one season. We are working with Adam Selman and Chromat, both CFDA nominees, who have become friends of mine throughout the years and this process. We are also creating hardware for my good friend Zana Bayne, whom we have collaborated with in the past. And as always, we are creating new pieces for CFDA winner Gypsy Sport. I've worked with Rio Uribe on all of his jewelry collections since Fall 2015. We were friends prior to working together, so the design process has always been seamless with us.
Inspiration for your most recent collection: My latest collection continues on the current themes that the brand possesses. I have started to infuse the refined Punk sensibility with imagery from the Mursi Tribe in Ethiopia. I find there are a lot of amazing similarities between the two. To me, it's all about mixing and clashing cultures. Goth and Punk are cultures just as much as the Kirat tribe in Nepal has it's own unique culture. I've also looked at references from the punk zine, In the Gutter, as well as the recent "Manus x Machina" exhibit at the Met, plus Jimmy Nelson's photo series "Before They Pass."
What makes your pieces unique? How would you describe your customer? Whenever I look at the jewelry business climate these days, I see this emphasis on easy, microscopic, simple pieces that any woman or man can wear. While this is a valid point and smart way of designing, I'd like to think that people are a little more clever than that. We create pieces that intrigue and require a little bit of thought; pieces that at first glance might look like aggressive and beautiful sculptures, but once worn become minimal yet strong aesthetic statements. My customer ranges from men, women and everyone in between, with varying age ranges. One thing that unifies though, is their innate need to stand out and wear pieces that will make them memorable. That is very important to me.
Why is the septum piercing so popular now? How would you describe the current state of fashion and how does your work fit in, if at all? I think septum piercings and cuffs are popular right now because people are wanting alternative ways of decorating their body than just the usual rings, earrings, necklaces and bracelets. People are experimenting more and more, and becoming more open to other ideals of beauty and style. I feel that my brand has been at its most relevant in fashion right now because of this.
Do you have any piercings? I used to have piercings, but haven't gotten one in a long time. And oddly enough, I have none now. People are always surprised when they hear this because our jewelry has the look of piercings, especially in our septum and ear cuffs. When customers realize a majority of it is all cuff work, especially when it's on my ears or nose, I get the "Ooohhs" and "Aahhhs". My first piercing was my labret (right below the center of my lower lip). That wasn't too bad. My most painful body manipulation is the tattoo I got on my chest and shoulders. I really had to take myself out of my body to go through those tattoo sessions.
Social media profiles you're inspired by: @bessnyc4, @michelgaubert, @vanillajellaba, @judyblame, @ryburk, @domsmithphoto, @pizzzzzza, @anymorebrightideas, @walesbonner, @natgeo, @jasonfarrer, @dmtworld to name a few.
Most epic jewelry moments in pop culture history: I'm not too sure but what comes to mind is when Rihanna wore that Adam Selman crystal encrusted see through outfit during the 2014 CFDA awards. She was a walking diamond that night, and now we are working with both of them! Yesssss!!!