Open Your Chakras: Yoga Erotica is Here
A morning workout with Tamara Faith Berger, the acclaimed novelist behind a new book of erotic fiction about yoga. Put down that copy of 50 Shades of Grey and embrace Kuntalini.
---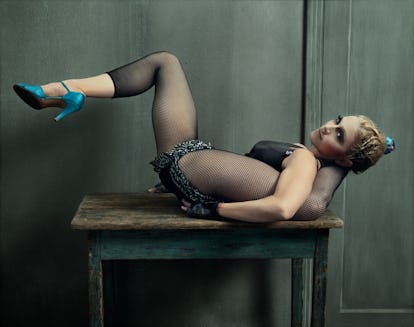 If you've ever been in a yoga class and come out of your zen only to realize that all the Ujjayi breathing and downward dogging feels (and sounds) rather sexual, then you already have a head start on the opening chapter of Tamara Faith Berger's new book, Kuntalini, the latest volume in the New Lovers series of erotic short fiction from artist Paul Chan's publishing outfit Badlands Unlimited.
The heroine, a woman in her mid-twenties named Yoohoo, has a "breakthrough" (read between the lines) during a particularly intense yoga move called paschimottanasana, setting off a journey of sexual exploration. Here's a sample line from the first chapter: "Jay-Jay touched my low back to signal that he was going to give me an adjustment. I'd had adjustments from him before, but this was different." Titillating! You can imagine what happens next.
Berger herself has taught Ashtanga yoga for 15 years, but it's the first time she's used it as fodder for her erotic writing. "There's so much sexuality in the yoga world, and people deny it because it's about purity and cleanliness and spirituality. No. You're doing all this stuff to open your chakras and whatever," she said.
I was visiting Berger at her AirBnB on Clinton Street while she was in New York for some book readings, and found myself concentrating on a tickle-me-pink wall one recent Saturday morning, all while trying to hold a high lunge and cursing each glass of wine consumed the night before. I was already ill at ease, having never started an interview in child's pose inside a stranger's apartment, and having forgotten a hair tie.
But Berger is a very matter-of-fact teacher, leading me through sunrise salutations and vinyasa flows, pausing to watch my form and offer adjustments. Unsurprisingly, I have a hard time letting go of tension in my neck.
"Adjustments!" she exclaimed when I asked if yoga is intrinsically erotic. "Are you kidding me?" Though her own adjustments were firm, they were less of the "Kuntalini" (a wordplay on kundalini yoga) variety, more like a guided twist of the hips or stretch of the arms. And in fact, the yoga world was not all that amused by her satire of the practice. When Badlands tried to shop out Kuntalini to yoga studios, Berger said, "They were just like, 'Uh…No.'"
Berger has written erotica—she prefers to just call it "porn"—since she graduated from Concordia University in Montreal in 1996. Her first job involved freelance porn work for a production company that released publications called Bump N' Grind. "[Eventually] my stories started getting rejected because there was blood or violence. Two years is a long time to be in that world, and you end up going a bit crazy," she said. "My first book was called 'Lie With Me,' and it was about that female character who had been stifled—all she had been doing was moaning. It was still highly sexual; everything that happened was sex, but the female porno protagonist was speaking."
She's written two books since: Little Cat and Maidenhead, about which Roxane Gay wrote, "There are no easy moments, no comfort to be found in the searing prose." Miranda July called it one of her all-time favorite novels, telling the New York Times, "Now there's a novel that terrified me to the end."
Kuntalini is Berger's fourth book, though the author calls it more of an art project than anything else. It's why the story reads like a quick and dirty bildungsroman, ending with Yoohoo rescuing girls from a brothel. It's an empowering message of sorts, which is how I felt when Berger finally leads me into a sukhasana pose—a little out of breath, but more confident than I was when we started.
The Badlands' New Lovers series is based on the Traveller's Companion books published by Olympia Press in the '50s—a kind of erotica for the masses. Other titles include "How to Train Your Virgin," by Wednesday Black, "We Love Lucy," by Lilith Wes, and "God, I Don't Even Know Your Name," by Andrea McGinty.
Berger is the only writer in the series who's previously written erotica—sorry, porn. "I like the word [porn]. It's a little bit in your face," she explained. "For me, erotica is like when you go to Barnes & Noble and it's Fifty Shades of Grey. I hate Fifty Shades of Grey. I need the porn or erotica, whatever it is, to go further. To do more, to disturb a little more."
It's all part of her goal to re-appropriate the genre for women, who will act as the protagonists, of course.
"I'm feminist," she assured me as I roll up my mat. "Card-carrying."
Watch W's most popular videos here:
Madonna on the cover of W Magazine's April 2003 issue
Photographer: Steven Klein
Christian Lacroix Couture silk brocade and organza dress, hat and mask.

Photographer: Steven Klein
Rick Owens cotton tank; Western Costume Company ap pants; Sports Chalet gloves; Palace Costume shoes; Capezio fishnets.

Photographer: Steven Klein
Rick Owens cotton tank; Western Costume Company tap pants; Sports Chalet gloves; Palace Costume shoes; Capezio fishnets.

Photographer: Steven Klein
Prada silk tap pants; Dolce & Gabana silk corset; Gap customized T-shirt; vintage Danskin leotard from Universal Costume; Sports Chalet knee pads.

Photographer: Steven Klein
Photographer: Steven Klein
Photographer: Steven Klein
Photographer: Steven Klein
Photographer: Steven Klein
Agent Provocateur bra; Decades sequined capelet.

Photographer: Steven Klein
Decades blue top; Prada tap pants; Dolce & Gabbana corset; Palace Costume boa; LaCrasia gloves; Yves Saint Laurent Rive Gauche boots by Tom Ford.

Photographer: Steven Klein
Rick Owens cotton tank; Western Costume Company tap pants; Sports Chalet gloves; Palace Costume shoes; Capezio fishnets.

Photographer: Steven Klein
Christian Lacroix Couture silk bustier, mask and gauntlet.

Photographer: Steven Klein
Universal Costume tap pants; Capezio fishnets; Freed of London shoes.

Photographer: Steven Klein
Photographer: Steven Klein Stylist: Arianne Phillips Stylist: Joe Zee