Tamy Glauser Has No Hair, No Problems
The androgynous model shares her beauty secrets.
---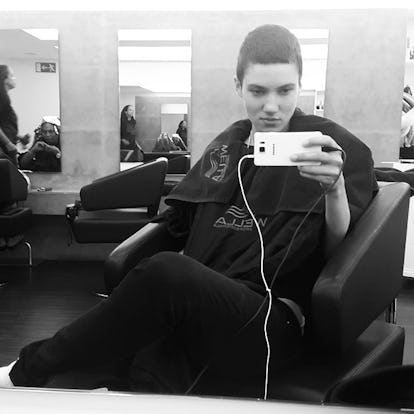 Tamy Glauser, who takes a gender bending role in W's September issue, is best known for her striking features and shaved head. Here, the androgynous Swiss model shares her favorite products and beauty secrets. Your look in three words: Relaxed, clean, cool. Five-minute routine: I splash my face with cold water, then brush my teeth. I use Embryolisse to moisturize. Then a bit of MAC eye shadow for my eyebrows to close the gaps and brush them. One last look, fix the hair, and off I go.
Never leave the house without: My jewelry, the book I'm reading, and my eyebrow brush.
Beauty from the inside out: I go for walks in the park or the forest, if possible. I love trees they relax me. When I'm centered I feel the most beautiful in my skin.
Exercise regime: If I go to the gym, I do 30 minutes of cardio to warm up. Then some really light weight lifting for different body parts. After that I swim a round or go straight to the sauna. But yeah… it's been a minute.
Marni earrings, dresses, and tunic.

Photographer: Catherine Servel Stylist: Akari Endo-Gaut
Loewe earrings; Balmain bodysuit.

Photographer: Catherine Servel Stylist: Akari Endo-Gaut
Prada earring, jacket, and neck piece.

Photographer: Catherine Servel Stylist: Akari Endo-Gaut
Céline earrings; Monse blouse.

Photographer: Catherine Servel Stylist: Akari Endo-Gaut
Proenza Schouler earrings and top.
Model: Tamy Glauser at Marilyn. Hair By Shingo Shibata at the Wall Group; Makeup by Asami Taguchi for Chanel at Frank Reps; Manicure by Dawn Sterling for Dior at MAM-NYC; set design by Tara Marino; digital technician: Alonzo Maciel; photography assistants: James Garrett, George Valenzuela; fashion assistant: Caitlyn Leary.
Skincare secrets: Once or twice a week I use the Dermalogica Daily Microfoliant followed by La Roche-Posay Hydraphase Intense Mask. The more I travel, the more I use the mask. It's the perfect moisturizer. I use Dermalogica's SPF 50, even when it's raining.
Beauty essentials: I love all kinds of products from Dermalogica, La Roche Posay, and Dr. Hauschka.
Hair remedy: No hair, no problems.
In-tub must-read: The Cosmic Serpent by Jeremy Narby.
Spa-cation at: While working for Acne Studios in Stockholm I spent some time at the Sturebadet Spa. Beautiful setting.
Fragrance of choice: Lavender.
Best advice from mom: Be flexible when it comes to applying products–eyeshadow also works perfectly for your eyebrows.
Best advice from the pros: Facial massages can be magic.
Beauty icon: My grandmother from the few pictures I saw of her. I never got to know her.