Grand Illusion
In her home as in her art, Tara Donovan creates a world of wonders.
---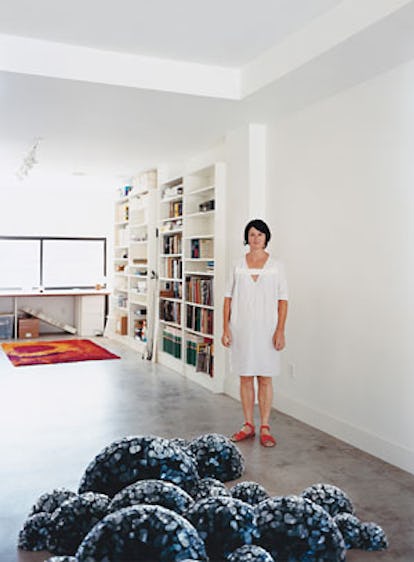 Sculptor Tara Donovan has made a career out of seeing the marvelous in the mundane, and so it was that in a ramshackle auto-body garage in Williamsburg, Brooklyn, she glimpsed her dream house. Feisty, earthy and up for adventure, Donovan, 38, spied the building three years ago and, when she found herself in a bidding war, threw in one of her works to snag the deal. Today it looks like nothing else on the block, which is crammed with bodegas, modest brick homes and factories-turned-lofts. In the same way that she transforms the everyday materials that make up her work—in her hands, plastic cups call to mind mounds of melting snow, and pencils multiply into sprawling cities—Donovan has turned the gritty space into a striking sculpture of glass and stucco.
Sparking a sense of wonder in the viewer is something of her stock in trade. Step inside Donovan's front door, and the first thing you see is a narrow stacked staircase that leads your eye to the glass floor above it. At first you think it's a mirror. But then light comes flooding through the glass, leading your eye up another 17 feet to skylights in the ceiling. Seeing my response to this optical illusion, Donovan recalls the night her dealer, PaceWildenstein's Marc Glimcher, came to visit: "I laid facedown on the glass floor so that when he looked up, he thought I was flying—or about to come crashing down!"
Donovan's ingenuity and industry are on view everywhere in her home-cum-studio. Her first major museum survey opens at the Institute of Contemporary Art/Boston in October, and in her ground-floor studio, four young female assistants sit around a table as if at a quilting bee, gluing together Styrofoam cups and chatting noisily. Over their heads thousands of the cups are amassed in what looks like a bulging, giant foamy cloud. (The piece, first made in 2005, will be shipped in sections and reassembled on-site.)
Donovan jokes around with the women as she leads me to a brand-new work, to be installed in a museum wall facing Boston Harbor. Seen from afar, it suggests a block of intricately carved ice or undulating waves in an aquarium, but, in fact, it's made of nothing more than plain old plastic sheeting, unfurled from rolls and folded over and onto itself. Twenty-four feet wide by four feet high, it will be visible from both sides. "I discovered this kind of kaleidoscopic, optical thing it does," says Donovan, whose pale skin and smoky blue eyes are framed by a perky black bob. Increasingly her work has focused on the way translucent materials affect perception. "I think in terms of infinity—of [the materials] expanding. I'm interested in this idea of a visual, expansive field that has shifting viewpoints."
Resembling topographies or biomorphic forms, her large-scale works often resonate with the complex geometry found in the natural world. Donovan chooses her material before seeing what she can make of it, using vast quantities of the same mass-produced item and laboriously building forms through careful accumulation until she finds what ICA chief curator Nicholas Baume calls "the tipping point," when the toothpick or cup ceases to be itself and becomes something entirely different.
The end result "is visually seductive," says David McFadden, chief curator of New York's Museum of Arts and Design, where Donovan's Bluffs—a coral reef made of glued-together plastic buttons—will be featured in a new show, "Second Lives," opening in September. "From a distance her work gives the impression of being made of something extraordinarily precious. But as you get closer, you realize that the preciousness is the effect that she achieves, not the preciousness of anything that she's used."
Donovan forages in surplus and grocery stores but doesn't look too hard for materials. "It's a matter of deciding, Okay, I'm going to buy those cups. I don't need plastic cups, but I'm going to get 'em and then mess around with them until I get an answer," she says. "It's a very organic, intuitive and observant process. I see where I wind up." She doesn't care that they're cups—what interests her is "exploiting the physical characteristics of the thing that have nothing to do with what it's used for."
By way of example, she shows me her second-floor office, her "clean studio," she calls it, which is reserved for experiments such as the one now in progress: Holding a contraption that unspools thread, an assistant stands over a four-sided area, shooting silver thread into it until the thread begins to suggest a windswept haystack.
"Right now it looks like a bad fiber-arts project," Donovan explains. "I'm still working it out. The idea is to make it not thread on a spool anymore, and not thread as a string, but thread as this massive, tangled thing. Sometimes the answers come quickly; sometimes they're a real struggle."
Fortunately, building her house was far from a struggle—though it was still a construction site when she moved in last fall. Then again, Donovan had lived for years literally on top of her work in a loft-studio in Bushwick, Brooklyn, where she couldn't get out of bed without knocking her head on the ceiling. "I always wanted to design a house," she says, and as she points out the materials she chose for the third-floor living space—the gray stone for the fireplace ("I told the architect, 'Think Brady Bunch!'"), the penny tiles in the bathroom, the Garolite (what circuit boards are made of) fronting the cabinets—she radiates enthusiasm. "I love not having to move hot-glue guns to eat dinner!" she says, erupting into peals of laughter.
The house has other happy associations: During its design, Donovan met her husband, Robbie Crawford, who works for her architect and made the final model. They married last September in a community garden on New York's Lower East Side and were serenaded up the street by an old-time string band. Their wedding present from the groom's parents (his father had worked for Jim Henson) was a puppet show about how they met, performed during the ceremony. "We had a killer wedding," recalls Donovan, who wore a Chloé minidress and created the cake's topper—a bride and groom with wooden faces painted to resemble the real ones.
A gourmet cook, Donovan has been "crafty," she says, since her earliest days, beginning with her older sister's school projects, including "a Pueblo Indian village made out of all the crap in the house." The family lived outside Nyack, New York, and Donovan's father owned a pub near the World Trade Center, though he was largely absent from her life after her parents divorced when she was 12. Even as a sophomore at the Corcoran College of Art and Design, "Tara was not afraid to do something outrageous scalewise," says her former professor and mentor Kendall Buster. She tended bar and waited tables for six years before starting grad school at Virginia Commonwealth University, though she didn't quit her day job until 2003, when her first New York solo show, at Ace Gallery, proved a breakout success.
Last fall Donovan became one of the few contemporary artists to create a work for the Metropolitan Museum of Art. She curled Mylar tape into tiny loops, installed them in clusters on a wall and lit them with spotlights. You felt you were floating in a bottle of club soda. The sculpture will be remade for the ICA survey, which will feature 17 pieces and then travel to Cincinnati; Des Moines, Iowa; and San Diego.
While Donovan is hardly the first to use everyday materials, her work runs counter to much of the sculpture and installation art now in fashion, says ICA's Baume, referring to works made of "very collaged materials" that have in common what he calls "a tenuous existence and tendency to implode and fall apart. Then you have someone like Tara, whose work is incredibly rigorous and formal, with a very precise relationship to specific materials."
Artist Chuck Close, a friend who shares many of her preoccupations, goes further: "At this particular moment in the art world, invention and personal vision have been demoted in favor of appropriation, of raiding the cultural icebox. For somebody to go out and try to make something that doesn't remind you of anybody else's work and is really, truly innovative—and I think Tara's work is—that's very much against the grain of the moment. To me, it represents a gutsy move."
Donovan concludes her house tour on the roof, with its sweeping views of the Williamsburg Bridge, pointing out the spot where she plans to install a hot tub—an almost unheard-of luxury in New York. Her mother, she recalls, wasn't at all happy about Donovan's decision to choose art school over a more traditional college. "Art school didn't exactly equal a job!" Donovan says, laughing. "She's happy now."