The Art of Being Tara Subkoff
Actor, designer, director, operator…Tara Subkoff quite literally knows no boundaries.
---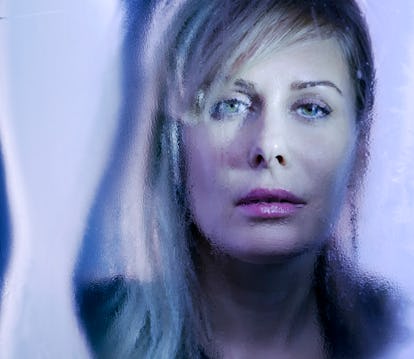 Photographer: Marilyn Minter Stylist: Jessica dos Remedios
"I love an event," Tara Subkoff said as she stood in a corner of Gagosian Gallery, in Beverly Hills, on a cool night in early fall. Although this particular event—the focus of which was a pair of enormous fountains—was for her husband, the Swiss artist Urs Fischer, Subkoff seemed, as she often does, to be the center of attention. She was wearing her usual combination of the slightly odd (a very short smock dress from her former fashion line, Imitation of Christ) and the conventionally sexy (sky-high Saint Laurent platform sandals that accentuated her lovely tan legs). Subkoff, who started her career as an actress ("I was always the best friend of the star, on and off set") has evolved into the more intriguing hybrid of director-designer-artist. Her first feature film, #Horror, premiered this past spring at Cannes and is in theaters now. She has the rare ability to project personality in any crowd—to simultaneously fit in and shine.
Most important, seemingly from birth, Subkoff, who turned 43 this month, has had big ideas and big plans. Growing up in Westport, Connecticut, she staged her own one-woman art show while she was still in high school. "Tara's mind has always run a million miles a minute," said her younger brother, Daniel. Since childhood, Subkoff has been constantly percolating, dreaming up extravaganzas that cross-pollinate the worlds of Hollywood, fashion, art, and, lately, social media. She sees possibilities everywhere: Her conceptual enterprises may not be consistently cogent or have lasting impact, but they are invariably inventive, loud, and extremely ambitious.
"Tara will stop at nothing to make something happen," Chloë Sevigny, a longtime Subkoff collaborator and one of her closest friends, told me. "We all come into the world with a sensibility, and Tara's is the ability to make grand gestures. She never thinks about practicality, but she is good at finding people who can help her." To accomplish her goals, Subkoff has been known to deploy varying degrees of seduction, manipulation, and deceit. Her succession of high-profile romances: directors Wes Anderson, Tom Hooper, and Michel Gondry—and now, Fischer—hardly seems accidental. "If it serves her larger goal, she will beg, borrow, and steal," said one of her former boyfriends, somewhat admiringly. "She's not malicious, but after a while all the drama does become exhausting."
Subkoff's most impressive invention was Imitation of Christ, which she started in Los Angeles with her friend Matt Damhave in 2000. The concept was simple, with an eco-political subtext—all the clothes would be made by deconstructing existing garments and reworking them into chic new ones. While Damhave oversaw design, Subkoff concentrated on spinning Imitation of Christ into an event. "I saw it as a movement," Subkoff told me over tea a week before Fischer's opening. "We had a manifesto: We live in a world full of garbage, and we wanted to repurpose that supposed garbage and make something beautiful. Selling the clothes didn't really matter. The important thing was the message."
From their first New York show, which was held in a funeral parlor in the East Village, Subkoff and Damhave were instantly notorious. The name Imitation of Christ comes from a 15th-century devotional guidebook, which Subkoff discovered at a garage sale; for anyone who was raised Catholic (as Subkoff was), the appropriation of the phrase was mildly transgressive. So the funeral was a kind of requiem for dead fashion and restrictive religion and, also, a sort of resurrection for both. The symbolism may have been murky, but the experience was definitely more interesting than a typical runway show, especially in 2000.
The Imitation of Christ theatrics kept expanding, pushing into the realm of performance art. In 2002, the two put on a show in the form of an auction at Sotheby's; in 2011, it was a church wedding with the socialite Lydia Hearst as the bride; after Imitation of Christ had been in existence only two years, they presented a "retrospective" (guests arriving at the Maurice Villency furniture showroom in New York encountered models vacuuming topless in their underwear). Then there was the time they staged a show at the Beekman movie theater, where invitees were filmed as they walked the red carpet, their images projected onto the screen inside. Afterward, they were all asked to donate money to an anti–child labor campaign. "It was hard to conceive of a way in which sweatshops figure into the picture for Imitation of Christ," wrote Guy Trebay in The New York Times. "Their clothes are made from 'repurposed' garments."
Even though their one-of-a-kind dresses were available at Barneys New York (with price tags well into the four figures) and Scarlett Johansson (a Subkoff pal) wore them in magazine spreads, they were not particularly notable. Subkoff and Damhave's ultimate best-sellers were vintage shirts emblazoned with incendiary yet inscrutable slogans like BRING ME THE HEAD OF TOM FORD or SINCERITY IS THE NEW VULGARITY. But for Subkoff, Imitation of Christ was an excuse to plan and execute elaborate events that combined her prescient mix of zeitgeist commentary, artiness, and just plain fun.
Back at Gagosian's large gallery space, Fischer emerged from an upstairs office, where he had been, apparently, hiding from the crowd. The artist has an open, almost cherubic face that is offset by the tattoos that cover his body. He was wearing beat-up jeans and a dark brown button-down shirt accessorized with a blue plaid Swatch. "This is like a modern Versailles," Subkoff said, referring to both the packed gallery and the ornate fountains, one of which resembled a tower of champagne glasses. Many of the wall-size paintings in the show were self-portraits: close-ups of Fischer's face half-obscured by thick, aggressive layers of paint. I complimented him on a series of images of ears surrounded by circles of color. "Those are my right ear," Fischer said, taking a drag from an e-cigarette. "I quit smoking," he continued, seeming to want to change the subject. "My daughter, who is 6, said I smelled—and I probably did." He laughed. "I just can't smoke anymore. So this is okay."
Subkoff met Fischer in 2013, through their mutual friend Jeffrey Deitch, the art dealer, who at the time was the director of the Museum of Contemporary Art, Los Angeles. Fischer was about to have a major survey there, and Subkoff had made a short film that ran on the museum's YouTube channel. Their two creative worlds—anomie versus engagement—did not really link up thematically, but Subkoff and Fischer clicked. Both were seeing other people (in Fischer's case, the mother of his child, the artist Cassandra MacLeod), but they eloped soon after they met. Although Subkoff doesn't like to speak about Fischer ("Private is private," she told me), he has clearly made a huge impact on her life and work. The marriage has given her financial and emotional stability, which means she does not have to hustle favors in the old way. She didn't have to search for a benefactor to sponsor the premiere of #Horror; Larry Gagosian (one of Fischer's dealers), Eva and Michael Chow (who collect Fischer's work), and New York's Museum of Modern Art (which has Fischers in its permanent collection) were all thrilled to host separate screenings and parties.
I first met Subkoff in 2003, when she was dating Anderson. The two were inseparable for three years, and Subkoff struck me then as being a character from one of his films: quirky and determined to be noticed. She seemed to always be wearing a beret. The relationship was tempestuous, and, eventually, it ended, leaving Anderson so depressed that he left New York for Paris. Perhaps to exorcise his demons, he wrote a short film, Hotel Chevalier, in which Natalie Portman is, essentially, Subkoff, with Jason Schwartzman standing in for Anderson. The Subkoff character is mysterious, seductive, and a bit of a grifter. "Natalie did a great job," Subkoff told me, sounding rather proud to have been immortalized. "I adore Wes, and his films are amazing, but we were not well suited for each other."
Post-Anderson, Subkoff dated a string of thrilling bachelors, most notably Jimmy Fallon, Gondry (who filmed her fall 2005 Imitation of Christ couture show, in Paris), and Jason Blum, who is currently one of the most successful producers in Hollywood. "There are a lot of pretty girls in the world, but Tara is unique," Blum told me. "She has a ton of ideas; she's bright and funny and she's exciting to be around." In spring 2011, she became engaged to Hooper, whom she had met at a Golden Globes party. (She was Hooper's date for the Oscars, at which he won the award for best director for The King's Speech.) But when Hooper broke off the engagement, Subkoff claimed she was pregnant. "She did the same thing when we broke up," another ex-flame told me. "I considered it just another example of Tara being Tara. We have stayed friends because she is always captivating, but the relationship is much better with some distance between us."
Subkoff's flair for the dramatic is deep-rooted. Her father had an eclectic antiques store on West 13th Street in New York in the 1980s; her mother taught kindergarten in Harlem but stopped in order to raise her two children. "Our mother was the one who suggested we make films," ­Daniel said. "Tara played Wonder Woman! Even then, it was one of her dreams to become a director."
After graduating from a Massachusetts boarding school ("Not surprisingly, I had issues with authority and rules"), Subkoff enrolled at Otis College of Art and Design, in Los Angeles, to study art but dropped out after a year to try her hand at acting. She got small parts in films like Freeway and As Good As It Gets—she met Sevigny when they were both cast in The Last Days of Disco—but her big break was in the 2000 thriller The Cell. She played a murder victim, a role that required her to drown in scene after scene. "After The Cell, I wanted to do something else," she said. "I've learned that what doesn't kill you makes you find yourself."
She continued to act, but after meeting Damhave outside a club in L.A., Imitation of Christ became her passion. When the fashion line proved financially impossible to sustain (and she and Damhave were no longer getting along), Subkoff cold-called the Jones Apparel Group, which owns the mass shoe brand Easy Spirit and persuaded the company to let her design a line of comfortable Grecian sandals. In 2008, she created four capsule collections for Bebe, all of which reportedly sold out within days. But designing clothes without any fanfare has never been compelling to Subkoff: "I missed the larger ideas," she said. "I missed creating art."
Around that time, Subkoff, who was living in Los Angeles, began experiencing severe headaches, loss of hearing in one ear, and bouts of dizziness. Her insurance from the Screen Actors Guild (SAG) had lapsed, and, when she was told that she had a benign, slow-growing brain tumor that would eventually require surgical removal, she was consumed by fear. Quickly, Hollywood friends helped her get film parts so that her SAG insurance was restored. In New York, a crew of art world pals—the photographer Jessica Craig-Martin, the painter Cecily Brown, Art Production Fund's Yvonne Force Villareal—helped to organize a benefit with a silent auction of donated artworks and some 200 pieces from Subkoff's personal Imitation of Christ archives, to raise money for the operation.
This is where the story gets confusing: The New York Foundation for the Arts, which sponsored the event, returned most of the money to the donors. It wasn't clear if Subkoff had intended to use the funds solely for her medical bills or for other purposes not wholly related to her illness. Many people began to wonder if she even had a brain tumor at all. "I'd say it's 50-50," said an old friend. "From what I know about Tara, it could have been true or it could have been a lot less severe than she was claiming."
When I asked about the incident, Subkoff deflected: "I don't like to talk about the tumor," she said firmly. Her unwillingness to discuss it was peculiar, especially in light of the detailed first-person account of it she gave to a fashion magazine in 2010. "I totally recovered," she finally told me. "Sometimes, life can be challenging, but life is great. That may be why I'm so driven. I'm conscious of how time could be taken away from me. It was a wake-up call."
It was also a return to the spotlight. A girl of the moment can fade when the moment passes, but Subkoff wasn't giving in to evanescence. She decided to concentrate on her long-lead plan: directing films. "I have a lot of energy," she said. "And I saw that I needed to focus on one thing." A film is harder to finance and produce than a fashion show, but it does last for longer than 20 minutes.
The idea for #Horror came to her after the daughter of a friend was ­cyber-bullied. The story follows five 12-year-old girls—most of whom were actually 12 when it was shot—who are trapped in a lavish, art-filled house during a snowstorm. While engaged in a murderous online game, one of the girls cyberstalks and kills her friends. The film showcases Subkoff's knack for integrating art into the mainstream: Fischer created terrifying masks for one crucial scene, and the juxtaposition of these young would-be fashionistas in vintage furs with their menacing new faces is very powerful. Sevigny plays one of the girl's mothers, lending the project some dramatic credibility, but for the most part, #Horror is bloody and shrill.
"I made the film for young women," Subkoff explained. "And I wanted it to feel fast. But it's also a commentary disguised as a horror thriller." Subkoff only had 17 days to shoot, but she took nearly seven months to edit the footage, adding in explosive animated sequences by the artist Tabor Robak that pop and crackle with emoji and image blasts. "My work is always a collage," she explained. And, as is her way, she linked #Horror to an anti-bullying group called Bridg-it School. "I was bullied myself," Subkoff told me, although this seemed more convenient than likely. "And most of my actresses have been cyber-bullied—one girl attempted suicide four times as a result of it. She says my movie saved her life. And I believe her."
In May at the Cannes Film Festival, where she sold #Horror to IFC Midnight films for distribution, Subkoff staged a demonstration. It was the second of her #Horror-themed events; the first was a haunted-house party—complete with fire eaters, sword swallowers, and many snakes—at a pop-up of the Parisian nightclub, Le Baron, which drew stars like Benicio Del Toro and Michael Fassbender. She followed it up a few days later with an anti-bullying protest on la Croisette, the city's main boulevard, featuring 70 teenage girls. "I got to Cannes early and painted signs," Daniel Subkoff told me. "They said bullying kills and stop the harassment. Urs created the signs and helped paint them." Fischer also contributed masks for the protestors, which they wore on the back of their heads, each girl simultaneously becoming both bully and victim.
This being Cannes, the gendarmes were quick to shut it down before it really began, but Subkoff got her moment. "We had signs and T-shirts and masks and body makeup," she said, still sounding thrilled. "It was in English and French, but the emotion was universal. It felt like something exciting, but I didn't know how hard it would be. With a lot of my ideas, ignorance is bliss. I stay in my child mind, where everything seems possible. I hope to live there forever."
Photos: The Art of Being Tara Subkoff
Tara Subkoff, in New York, October 2015. Styled by Jessica dos Remedios.

Set designer: Matthew Stone; Hair by Hiro + Mari for Redken at Salon87; Makeup by Fara Homidi for Tom Ford at Frank Reps; Manicure by Elisa Ferri for Dior at See Management; photography assistants: Johan Olander, Michelle Matson, Alex Austin; fashion assistant: Bryan Villalobos; Subkoff wears Alberta Ferretti jumpsuit.

Photographer: Marilyn Minter Stylist: Jessica dos Remedios
Blue Lindeberg, Emma Adler, Mina Sundwall, Sadie Seelert, and Bridget McGarry (from left) on the set of #Horror. Photograph by Annabel Mehran.
Tara Subkoff and Alison Folland, in All Over Me, 1997. Courtesy of Fine Line Features/courtesy of Everett Collection.
Tara Subkoff in The Cell, 2000. Courtesy of New Line Cinema.
Imitation of Christ's spring 2001 "funeral" show. Photograph by Robert Mitra.
Tara Subkoff in 2001. Getty Images.
Tara Subkoff and Matt Damhave, photographed by Annie Leibovitz, 2001.
Tara Subkoff with Jimmy Fallon, 2002. Getty Images.
The Imitation of Christ "retrospective," New York, 2002. Getty Images.
Tara Subkoff with Chloë Sevigny, 2004. Getty Images.
Tara Subkoff with Wes Anderson, 2004. Getty Images.
Tara Subkoff in 2008. Getty Images.
Tara Subkoff in 2008. Getty Images.
Tara Subkoff in 2008. Getty Images.
Tara Subkoff in 2010. Getty Images.
Tara Subkoff with Tom Hooper, 2011. Getty Images.
Tara Subkoff with Urs Fischer, 2015. Getty Images.
Set designer: Matthew Stone; Hair by Hiro + Mari for Redken at Salon87; Makeup by Fara Homidi for Tom Ford at Frank Reps; Manicure by Elisa Ferri for Dior at See Management; photography assistants: Johan Olander, Michelle Matson, Alex Austin; fashion assistant: Bryan Villalobos; Subkoff wears Alberta Ferretti jumpsuit.