Taraji P. Henson Has a New Makeup Line with Mac, and Some of the Best Eyebrows on Television
The Empire star discusses eyebrows and her new six-piece collaboration with Mac Cosmetics.
---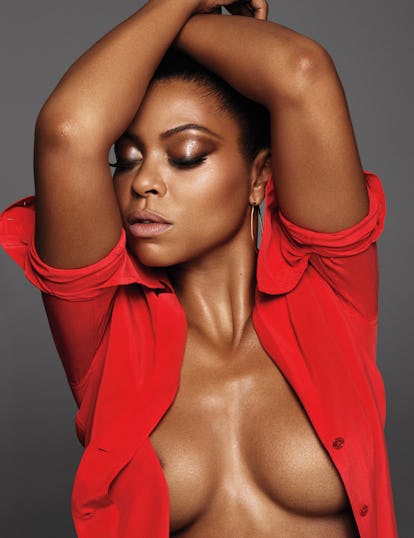 Mert and Marcus
This cowlick is not in her hairline. "It's in my right eyebrow and grows in three different directions," explained actress Taraji P. Henson. "Since the cowlick is in the arch, it makes it look really high. I inherited it. My dad and his mom had it, too."
That cowlick has put Henson's eyebrows in the eyebrow arch hall of fame and is one of the reasons she's become a favorite of makeup artists. "They get so excited when they see me because there is so much eyelid to work with!" she said, laughing.
It was was only a matter of time before Mac came calling, and the actress was ready with plenty of ideas. "There were a lot of meetings, a lot of back and forth with color mixing," she recalled of what became the six-piece Mac X Taraji P. Henson collection (out this week). It includes mascara, liquid liner, matte lipstick, a makeup brush and two highlighting powders. "This is all I need to do a natural look," she said. "And I want to share that with women. That they don't need so many products to achieve it."
Indeed, when she's not on the Empire set, Henson, who is a favorite of designers like Alexander Wang, prefers to let her skin breathe, treating it with products from Paul Scerri, Biore and Urban Skin and facials with Los Angeles facialist Kate Somerville. "Just when I've got a big event, I'm pretty good at taking care of it myself," she said.
She's also quite skilled at doing her own makeup, a talent she's honed since college. "I studied theatre at Howard University, and we had to learn how to do makeup," she said proudly. "Once I learned how to do highlight and contour, I was off to the races."
See W's most popular videos: