Tarantino Goes West
The New York premiere of Quentin Tarantino's latest film, "Django Unchained" included an impressive roster of co-stars who joined him at the Ziegfeld Theater.
---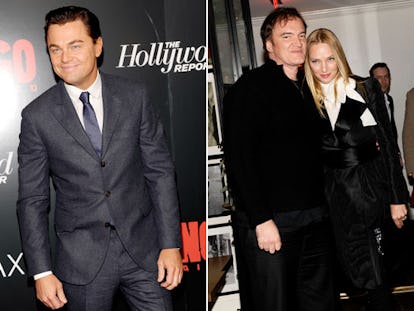 "My favorite part about acting in a Western is who I was acting with," said Jamie Foxx at last night's New York premiere of his latest film, Quentin Tarantino's "Django Unchained." Listing his impressive roster of co-stars, many of whom joined him at the Ziegfeld Theater for the big night, Foxx mused, "That's good company. It's a humbling experience when you get an opportunity to be in a movie which is going to be a big film and you're able to do your art with all these great people, and [at the same time] you're riding horses, you're spinning guns, you're having a good time!"
The red carpet was quickly flooded with a slew of stars, including the film's Leonardo DiCaprio, Christopher Waltz, Don Johnson, and Samuel L. Jackson. Uma Thurman made her grand entrance setting off a flurry of camera flashes, and coyly snuck up behind Jackson to greet him with a kiss on the cheek.
The stunning Nichole Galicia was admittedly wide-eyed as she took in the scene. "I'm nervous! I'm shaking under my dress," said the actress, who plays DiCaprio's lover in the film. She couldn't stop smiling as she recounted the experience. "If I could think of a dream job, it would be playing Leonardo DiCaprio's love interest." DiCaprio, however, who plays the story's villain, admitted his on-screen character was less than romantic. "This character in particular was probably the most disreputable, horrendous, narcissistic bastard I've ever read in my entire life," said the actor, with a twinkle in his eye. "When Quentin Tarantino gives you the opportunity to play somebody like that, you have to take those opportunities. He really writes the best villains ever." John Legend, who wrote a song for the feature, expressed his own excitement at being part of the film. "I'm honored. [Quentin] really understands how to use music in his films, how to really create drama, heighten drama, and create a distinct personality for his movies."
The crowd's energy was palpable throughout the screening; the sound of laughter, gasps, and cheers reverberated through the theater at each key moment. Tarantino chose a seat next to Thurman, his longtime muse, and they whispered back and forth, reacting together to the on-screen action. Post screening, guests piled into the phalanx of black SUVs parked outside and set off for the Standard Biergarten for the after-party. Guests like Olivia Wilde, Elettra Wiedemann, and models Anja Rubik and Hilary Rhoda mingled while rehashing the film. It seemed as though everyone agreed that Django Unchained was the epitome of fun at the movies. "We had way more fun than I thought we would [making the film]," said Jackson. But when it comes to a Tarantino project, he said, that's usually the case. "Great stories, great characters, and too much fun on set."
Photos: Clint Spaulding/PatrickMcMullan.com