Tatiana von Furstenberg Opens New Exhibit Showcasing LGBTQ Artists Behind Bars
"On the Inside," currently on view at the Abrons Art Center in New York, aims to promote the work of prisoners with artistic inclinations.
---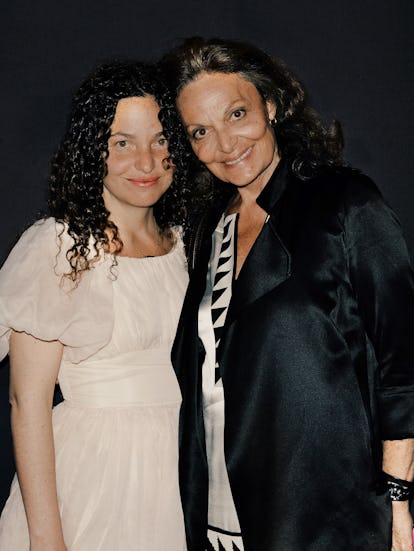 Getty Images.
From now until December, a group show called "On the Inside" at the Abrons Art Center in New York's Lower East Side aims to showcase the art work of LGBTQ prisoners. It's got a prominent supporter in Tatiana von Furstenberg, Diane's daughter and a writer and director in her own right.
About four years ago, von Furstenberg discovered a newsletter called Black and Pink put together by former prisoners with artistic inclinations and distributed across the country for those still behind bars. As it so happened, the newsletter was sprinkled with art and so, besides financially supporting the newsletter project so it could have a wider reach, von Furstenberg resolved to stage an exhibit of the art work.
"My hope is that anybody who comes to the show has no choice but to realize that there is an enormous amount of humanity, talent and complexity behind bars," von Furstenberg said shortly after the exhibit's opening on Friday.
Von Furstenberg, who sits on the board of directors of her mother's label, became the exhibit's project director and began the process of soliciting artistic submissions by prisoners from all over the country.
"My initial objective was very simple, because they don't have spouses and are shunned by their family of origin; they receive very little support from the outside in the form of mail, encouragement and donation to their commissary account. And I wanted to do that," von Furstenberg said.
From the four thousand entries that came in, constructed with the basic materials like letter-sized paper, pencils and ball-point pens, prisoners have available in jail, a selection was made to feature in the group show. One piece, an air-brushed painting, was ingeniously made using an asthma inhaler with Kool-Aid.
"The reason the show took 4 years, is because there is no Internet or cell phones and so the submissions and information for the show was all done by snail mail," von Furstenberg explained.
The artists will have the opportunity to receive visitor feedback thanks to an interactive element von Furstenberg incorporated into the show. Guests can "text" the artists messages that will then be compiled and mailed to prison.
"We can't just enjoy their art without giving something back," von Furstenberg said. "The artists behind bar feel forgotten and when you write to somebody, they know that you are thinking about them."
Kendall Jenner and Gigi Hadid Dramatically Reading "Baby" By Justin Bieber Will Blow You Away