Model and Burton Ambassador Tavia Bonetti Breaks Down the Basics of Snowboarder Chic
The 23-year old from Vancouver loves Glossier but also a comfortable hoodie and Vans.
---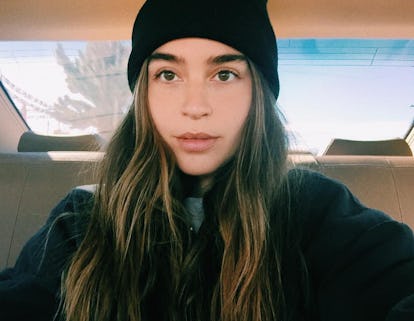 If a 2-year-old North West can wear a Heron Preston turtleneck while learning to ski in Colorado, the rest of us can learn to step-up our slope style, too. And the 23-year-old model and Burton Girls ambassador, Tavia Bonetti, is a winning example of how to be warm and comfortable in the mountains, but also stand out from the pack.
Born in Vancouver, British Columbia, Bonetti is loyal to her local Whistler mountain. But she's currently based in Los Angeles, and when she's not snowboarding she is learning how to skateboard. Given skate style's recent adoption by the fashion industry, it makes sense that snowboarder style would follow suit. But Bonetti will have you know they're completely different sports.
Bonetti is a self-proclaimed tomboy through and through and prefers a hoodie and Vans any day. But she's also a fan of Yohji Yamamoto and Vivienne Westwood, and praises Glossier for keeping her skin dewy, even in the winter months.
When did you start skating/snowboarding and what do you love about it? I have been snowboarding for as long as I can remember, but skating…I just picked it up in 2016! It's always fun for me to learn new tricks.
What are the essentials to the perfect snowboard outfit? My perfect snowboard fit include my Burton x Lamb plaid pants with attached suspenders/detachable kilt. Also Burton makes these crazy soft face masks that I can't hit the mountains without.
How do you describe your personal style? How does it express who you are? Tomboy; when it comes to clothes I like to be comfortable. The way I dress is definitely an expression of who I am.
Daily Uniform: A hoodie or oversized jacket with my favorite pair of Levis and some slip-on Vans.
Style Icons: Yohji Yamamoto, 90s skateboard culture, TLC, and Missy Elliott.
Night Out Look: I like to dress up a bit more when I go out because I keep it so low-key most of the time. So, for a night out I'll usually wear some crazy pants with heels or something a little more form-fitting so people remember I'm a girl underneath all the baggy clothes.
Beauty Secrets: I'm crazy about keeping my skin moisturized and eyebrows full and bushy. My secret for both would probably be Glossier's products—they do a really good job of making your skin naturally dewy and you don't have to spend a lot of time getting ready, which is key for me since I'm always on the go. I also use coconut oil for everything!
Do you have any snowboarding beauty tips, like braiding your hair, moisturizers, etc? Beauty tips for snowboarding would be to keep it as natural as possible. If you're out there all day, whatever you have on your face is going to come off eventually. All you need is Burt's Bees lip chap and a couple hair elastics.
Misconceptions about skating/snowboarding that you'd like to debunk: That if you can skate you can snowboard. I actually thought this for a while, but witnessing this firsthand, they are completely different.
Most prized possession(s) in your closet: Right now I would have to say my Vivienne Westwood bondage pants.
Always in your suitcase: My Supreme jean/sweats with the drawcords at the bottom.
Exercise regime beyond the slopes: Aside from skating around L.A. and snowboarding in the winter months, my friends sometimes convince me to hit a class or go to the gym. But I like to keep it to the outdoors.
Favorite place to snowboard around the world: Whistler hands down. I have been to some crazy places for snowboarding, including New Zealand, but nothing beats my hometown mountain in Vancouver. There is something really special about it. Go there, and you'll see!
15 Shearlings to Get You Through Winter Days Ahead
Photo by Adam Katz Sinding
Photo by Adam Katz Sinding.
Photo by Adam Katz Sinding.
Photo by Adam Katz Sinding.
Photo by Adam Katz Sinding.
Photo by Adam Katz Sinding.

Photo by Adam Katz Sinding.
Photo by Adam Katz Sinding.
Photo by Adam Katz Sinding.
Photo by Adam Katz Sinding.
Photo by Adam Katz Sinding.
Photo by Adam Katz Sinding.
Photo by Adam Katz Sinding.
Photo by Adam Katz Sinding.
Photo by Adam Katz Sinding.
Photo by Adam Katz Sinding
Watch W's most popular videos below.