Taylor Simone Ledward Remembers Her Late Husband, Chadwick Boseman
"He was blessed to live many lives within his concentrated one," Taylor Simone Ledward said.
---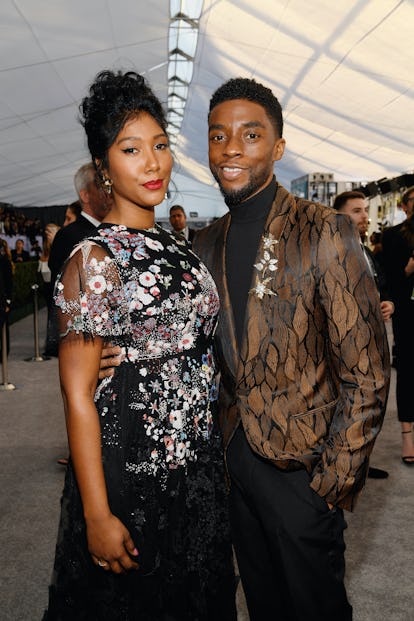 Photo via Getty Images
The 30th annual Gotham Awards that took place semi-virtually on Monday night confirmed that two things will define this awards season: technological glitches and recognition of the actor Chadwick Boseman, who died in August after a private battle with colon cancer. But the many fumbles over audio and casual deliveries from A-listers like Viola Davis, who appeared FaceTime-style via iPhone, actually made the evening feel welcomely intimate. And that intimacy only made it feel morepainfully personal when Boseman's widow, Taylor Simone Ledward, tearfully paid tribute to her late husband via webcam.
"As an artist, an actor, and a person, Chad made a practice of telling the truth," Ledward said. "He is the most honest person I've ever met because he didn't just stop at speaking the truth; he actively searched for it. In himself, in those around him and in the moment. The truth can be a very easy thing for the self to avoid, but if one does not live in truth, then it's impossible to live in line with a divine purpose for your life."
While accepting Boseman's Actor Tribute award for his role in Ma Rainey's Black Bottom, Ledward looked back on his portrayals of real-life people, like Jackie Robinson in 42 and James Brown in Get on Up. "He was blessed to live many lives within his concentrated one," Ledward said. "He developed his understanding of what it meant to be the one, the none and the all. 'A vessel to be poured into and out of,' he'd said."
Davis did not mention her co-star Boseman while accepting the Actress Tribute award, but she's paid several tributes to her late costar since his death, most recently while promoting Ma Rainey's Black Bottom. "Lord knows we all would've wanted him to live another 50 years. We all want longevity," Davis told Yahoo Entertainment. "But I can't see his life tragically at all. Because I felt like he was always living in the moment, squeezing out every bit of life. What it makes me think is, it's not the quantity, it's the quality."
Related: Hollywood Remembers Chadwick Boseman, an Icon Gone in His Prime