Taylor Swift Announces New Album "Reputation"
Really not subtle with this one.
---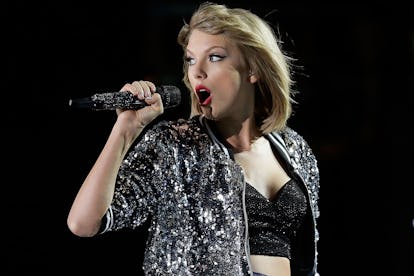 Mark Metcalfe
Well, everyone, it's here. Taylor Swift is officially back and ready to take over your Spotify playlists for the rest of 2017.
After teasing everyone a mysterious social media blackout and then three days of creepy snake videos, the pop star finally unleashed her ultimate move: the announcement of a new single and a new album. Here we go again.
According to Swift's social media posts, her upcoming album titled Reputation will be dropping on November 10. And if that's too long for you to wait for new music, you're in luck; she also revealed that a brand-new single will be released tomorrow night. To make things even juicier, she shared what appears to be the cover art for her new album, which looks like an old-fashioned newspaper with a black-and-white photo of Swift on the front. And if you simply look at her Instagram profile, the grid of her last six posts make for a pretty striking image.
So what was with all the snakes? Considering that her new album is called Reputation, it definitely seems as though Swift—like her fans—has decided to reclaim the "snake" motif bestowed upon her last year after Kim Kardashian revealed the recordings that proved that Swift did in fact know about Kanye West's reference to her in his song "Famous," and make it her own.
Curiously, Swift is releasing her new song just days before the Video Music Awards, which have generally been her main domain. Of course, this year, the festivities will be hosted by Katy Perry, the singer's known nemesis, so this one can really go either way. Sunday night could either be a Swift blackout, a la her recent social media purge, or the perfect opportunity for a very public pop princess reunion.
Related: Katy Perry Confesses to Crying to Some of Her Own Songs
A 7-Year-Old Interviews Katy Perry
MTV VMAs: See What Britney Spears, Taylor Swift, and More Wore to Their First Video Music Awards
Arguably the queen of the VMAs, Britney Spears made her first appearance in 1999 in sheer black; 17 years later, she wore a similarly-colored ensemble.

Photos by Getty Images.
Taylor Swift kicked off her storied VMA history in a blush pink dress in 2008; in 2015, she took home Video of the Year in sequined sweats.

Photos by Getty Images.
Alicia Keys attended her first VMA's in 2004 wearing a grecian-inspired gown; last year, she appeared bare-faced.

Photos by Getty Images.
In 2000, Beyoncé attended the ceremony with her Destiny's Child band members wearing matching leather looks; last year, she took home "Video of the Year" in a feathered couture gown.

Photos by Getty Images.
Ariana Grande opted for a sweet floral look for her first VMA red carpet; in 2016, she opted for something a bit more mature, by Alexander Wang.

Photos by Getty Images.
The picture of pop princess-dom, Christina Aguilera went leopard and sheer for the 1999 ceremony; by 2008, she was fully embracing the glam side of things.

Photos by Getty Images.
Justin Bieber piled on the accessories for his first ceremony in 2010; in 2015, he opted for a more streamlined look in ripped jeans and a leather jacket.

Photos by Getty Images.
Ciara attended her first show in 2008 wearing a silver minidress; in 2015, she took a much more fashion-forward approach in a fringed number.

Photos by Getty Images.
Jared Leto presented at the 2006 awards wearing some serious guyliner and a white skinny scarf; nine years later, despite a new Academy Award, the actor proved he still was into his goth ways.

Photos by Getty Images.
J.Lo showed up to the 1998 awards in a oversized cream suit and matching hat; the singer's look for the 2015 awards was far more on par to the Jennifer Lopez we know now.

Photos by Getty Images.
Kanye West arrived at the 2004 awards in an all-white ensemble; twelve years later, he wore a similar ensemble and arrived with now-wife Kim Kardashian.

Photos by Getty Images.
Justin Timberlake showed up with the rest of the 'Nsync gang in a leather jacket; by 2013, he had shifted to his signature fedora.

Photos by Getty Images.
Katy Perry, who will host this year's ceremony, crafted her own ensemble for the 2008 awards; at the 2014 awards, she riffed on Britney Spears's iconic denim gown.

Photos by Getty Images.
Lady Gaga kicked off her tradition of kooky ensembles in 2009 wearing a feathered look; in 2013, she saved her theatrics for the stage.

Photos by Getty Images.
In a leather mini and trailing braid, Kesha made her VMA debut in 2010; in 2014, she toned down the look with a pastel gown and matching hair.

Photos by Getty Images.
Madonna kicked off the inaugural ceremony in 1984; in 2009, she returned in a subdued black suit.
A year before her iconic lavendar catsuit, L'il Kim matched Lisa "Left Eye" Lopez at the 1997 awards; the rapper let her boots do the talking in 2013.

Photos by Getty Images.
Gwen Stefani attended the 1997 awards with her No Doubt bandmates; in 2014, she was solo and donning shocking pink.

Photos by Getty Images.
Miley Cyrus arrived at the 2008 awards in a modest metallic dress; in 2015, her look was still metallic but definitely not modest.

Photos by Getty Images.
Pink, who will receive this year's Video Vanguard Award, took home her first moon-man in 2001; the singer arrived at the 2012 awards in a metallic gown.

Photos by Getty Images.
Rihanna was a fresh-faced and little-known singer when she attended the show in 2005; last year, she recieved the Video Vanguard award.

Photos by Getty Images.
Demi Lovato attended the 2011 awards in a sequined minidress; four years later, she returned wearing a similar ensemble.

Photos by Getty Images.
Selena Gomez made her VMA debut in 2011 in a high-low black dress; in 2015, she was super sophisticated in navy Calvin Klein.

Photos by Getty Images.
Solange arrived at the 2001 awards in an ensemble she'd likely not be caught in today; the singer was much more in tune with her current sartorial standard by 2014.

Photos by Getty Images.