Taylor Swift Will Star in a Movie Version of Cats with Ian McKellen and Jennifer Hudson
This certainly helps her reputation as a cat lady.
---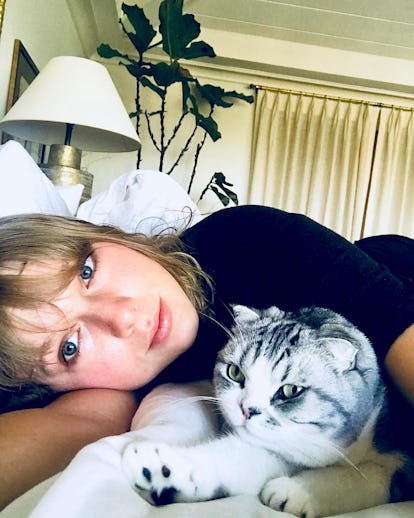 Courtesy of @taylorswift
For pretty much as long as Taylor Swift has been known for controlling her image, she's also taken care to make sure it includes the fact that she's a cat lady—a narrative that she's repeatedly spread on platforms ranging from her Instagram to her ads for Directv to her, um, raps. On Friday, she bolstered that reputation even further with the announcement that she's been cast in an upcoming movie version of Andrew Lloyd Webber's hit Broadway musical Cats, which will be directed by Tom Hooper (whose recent directing credits include Les Misérables, The Danish Girl, and The King's Speech).
Though it's certainly her loudest yet, this isn't Swift's first foray into film; over the years, in addition to her impressive oeuvre of over-the-top music videos, Swift has previously appeared in 2010's Valentine's Day and 2014's The Giver—whose cast included Meryl Streep—as well as in TV shows like New Girl and CSI. (For what it's worth, her two cats, Meredith Benson and Olivia Grey, also recently made a brief cameo in Deadpool 2.) Swift's IMDb page is set to get quite the serious boost, though, now that she's been cast alongside acting heavyweights Ian McKellen and Jennifer Hudson, as well as Tony Award Best Actor and five-time Emmy winner James Corden.
It's unclear as of yet which or how large a role Swift will play in the film, which goes into production in November, though it's apparently been confirmed that Hudson, who won an Oscar for Dreamgirls in 2007, will play the "Glamour Cat" Grizabella. There are certain plenty options available; the musical, which was first performed in 1981, and which tells the story of a tribe of cats called the Jellicles, is full of characters with stand-out names, ranging from Bombalurina to Rumpleteazer to Skimbleshanks to Griddlebone.
While Swift's loyal fanbase seems to be delighted by the news, others on Twitter haven't greeted it so warmly. Still, some critics have managed to maintain an optimistic outlook; as one put it, "Yes, CATS will be nuclearly awful, but it'll be worth it for the Twitter meltdown if James Corden and Taylor Swift win Oscars in one night."
Related: Taylor Swift Raps About Her Cats And Probably Joe Alwyn On New Single "Gorgeous"