Taylor Swift Has Discovered Cottagecore
Find her in the woods singing with Bon Iver.
---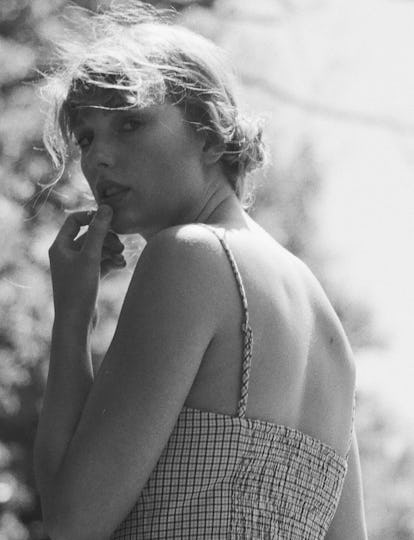 This weekend, Taylor Swift was supposed to be hosting her very own music festival with Lover Fest West in Inglewood, California. Instead, like the rest of us, she'll be sitting at home, likely with her cats. Swift's ambitious plans were another causality of the coronavirus pandemic. Always busy, however, the singer-songwriter announced today she's used her free time not only to write and record an entire new album titled folklore but that she's also, apparently, discovered the cottagecore trend.
Cottagecore is an aesthetic that has been bumping around Tumblr dashes and Pinterest boards for a while now, but has found new relevance thanks to both lockdown and its resurgence on TikTok. The feel is pretty explanatory: imagine a romanticized life living in a cabin in the middle of a forested nowhere. Think hikes in the woods; flowing, feminine clothing; freshly homemade bread; needlepoint kits, and writing a letter by a fire while drinking a warm beverage from a tea set.
Swift's surprise folklore era seems to fit the bill to a tee so far. The physical version of the album will come in eight special editions, all of which feature black-and-white cover artwork of Swift frolicking through the woods like a cottagecore queen. The de facto album merchandise also has a distinct cottagecore vibe, especially the piece de resistance: the folklore cardigan. It is the merch polar opposite of Lady Gaga's infamous hot pink Chromatica jockstrap.
We may be jumping to conclusions too quickly for an album we haven't heard a single note of yet, but Swift's choice of collaborators also reads appropriately cottagecore. Bon Iver, the indie folk singer who is a mainstay of cottagecore Spotify playlists, collaborated with Swift on a duet. Aaron Dessner, the main songwriter for indie rock band The National, co-produced or co-wrote 11 of the 16 songs on the album. Of course, Jack Antonoff also contributed (Swift called him "basically musical family" in the announcement).
That all seems rather, well, innocuous, but like most things on the internet there are politics behind the aesthetic movement as well. Many adherents find cottagecore as a stand against capitalism and the modern status quo. It's very "off-the-grid, but make it cute." Though, others have adopted cottagecore as something of a return to "traditional" (read: conservative) values. The aesthetic has been criticized for its inherent whiteness, though women of color have found ways to make it their own as well. Oh, and there's a whole subset of cottagecore specifically for queer women.
Along with the album, Swift will also release a self-directed music video for lead single "Cardigan" tonight and midnight. The preview does nothing to dissuade the idea that she's gone full-on cottagecore.