Taylor Swift's Squad Reunited at Her Philadelphia Concert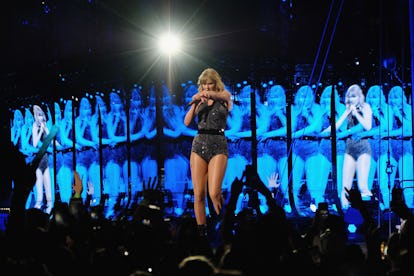 Photo by Jason Kempin/TAS18/Getty Images
The year 2014 feels like an entirely different time for, well, a lot of reasons, but at least one aspect of the pop culture zeitgeist seems to be making a comeback: the once ubiquitous Taylor Swift Friend Squad. No, it's not as large and ever present as it was in the days of the "Bad Blood" video and those Fourth of July parties, but over the weekend it seemed that some version of the squad was alive and well as Este Haim, Gigi Hadid, Martha Hunt, Ashley Avignone, and Kennedy Rayé Black attended a sleepover at Swift's NYC pad, and then her concert in Pennsylvania.
According to E! News, the gang went from a slumber party at Swift's TriBeCa place to the Reading, Pennsylvania, house where she grew up, to her concert that night. The supermodel Hadid (perhaps the Karlie Kloss of this new era?) posted a picture from the concert to Instagram Stories and wrote, "If I could find the words, I would explain how happy it makes me to watch you perform @taylorswift. I'm so proud to experience this celebration of clarity & strength with you. WHAT A SHOW. You did it again. Love you to the moon."
In addition to posing for a group pic in Swift's childhood bedroom, the gang also took a candid backstage that ended up on everyone's Insta with a slightly different caption, amusingly enough. Hey, when the Huji app filters come through, they really come through.
Taylor Swift's Red Carpet Return, Kylie Jenner's Gold Eyeshadow, And More of the Best Beauty Instagram of the Week
Returning to the red carpet, Taylor Swift poses at the 2018 Billboard Music Awards in a romantically messy up do and a rose-colored pout. Photo courtesy of Instagram.
With perfectly tousled hair, Kylie Jenner poses for a casual car selfie with a look that lets her shimmering gold eyeshadow standout. Photo courtesy of Instagram.
In the same week she released her new Card B collaboration "Dinero," Jennifer Lopez poses backstage at the 2018 Billboard Awards. Photo courtesy of Instagram.
Cindy Crawford dons a face mask. Photo courtesy of Instagram.
Lais Ribeiro and Jasmine Tookes pose on set for Victoria's Secret. Photo courtesy of Instagram.
Amber Heard shows off a bold red lip. Photo courtesy of Instagram.
Martha Hunt shows off a smoky eye and nude lip. Photo courtesy of Instagram.
Sarah Paulson poses during press for Ocean's 8. Photo courtesy of Instagram.
Lucy Hale poses for a selfie. Photo courtesy of Instagram.
Paris Jackson attends the Dior Cruise 2018 show. Photo courtesy of Instagram.