Taylor Swift Slips In a New Single with Zayn Malik Just Under the Wire
The pop star has been relatively quiet this year, but she's closing out the year with a big one: a new, Fifty Shades-soundtracking collaboration with Zayn Malik.
---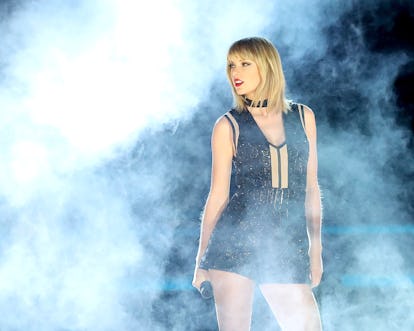 FilmMagic,
Adams, Amy The Nocturnal Animals and Arrival actress is nearly a shoe-in for an Oscar nomination (and perhaps even twice over). She discusses awkward airplane encounters, the Nocturnal Animals bathtub scene, and her history at the Academy Awards (she's been nominated five times already).
Jagger, Mick A parent. Again. For the eight time. At age 73. You're never too old to be a dad.
Jenner, Kylie The most promising young businesswoman of the Kardashian family (well, except perhaps Khloe) is launching her first IRL store Friday — The Kylie Shop goes live online Saturday.
Moss, Kate Our new favorite Elvis impersonator.
Prada Though high fashion has been largely exempted from the scrutiny on labor practices of its fast fashion counterparts, a new survey by Know Your Chain showed that Prada, as well as Hugo Boss and Ralph Lauren, had taken few steps to demonstrate that its supply chain was free of forced labor.
Swift, Taylor Could we close out 2016 without a little Taylor Swift? The pop star didn't release an album this year (so no Grammys, and no VMAs, for Swift), but she did work with Zayn Malik and Jack Antonoff on a new song for the upcoming Fifty Shades sequel.
Verhoeven, Paul The controversial director of the new Isabelle Huppert movie Elle stops off in Marrakech to discuss movies — both his and those of others. To him, Lawrence of Arabia is still the perfect movie, in that it's not boring.
Yachty, Lil Not just a musician. An artist. Not just an artist. A brand. Lil Boat has made it.
See W's most popular videos: