Taylor Swift's Surprise Album Has Caused Twitter to Lose It
The "Cardigan" singer posted a slew of tweets this morning detailing the upcoming release of "folkore's sister record," "evermore."
---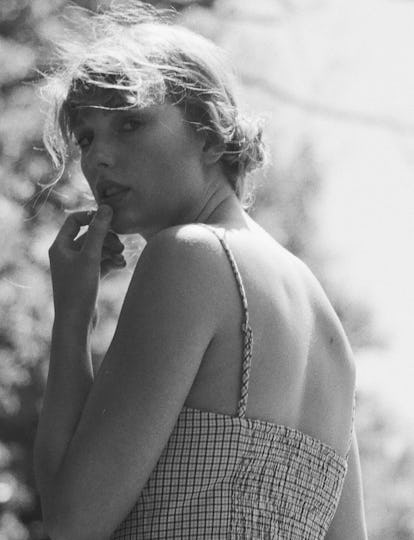 Just when you thought Ariana Grande and Mariah Carey had secured ownership rights to the holiday season, Taylor Swift emerged, a cloud of tartan coats, French braids, and foggy mornings in the woods. The "Cardigan" musician announced on Twitter and Instagram this morning that the "sister record" to folklore, called evermore will drop tomorrow at midnight.
Swift elaborated on the process behind the album, which features Haim, The National, and folklore collaborator Bon Iver, stating that she created these additional songs with Aaron Dessner, Jack Antonoff, and Justin Vernon who all helped craft her previous album. The core group apparently came up with more material than a single album could hold.
"To put it plainly, we just couldn't stop writing songs," wrote Swift. "To try and put it more poetically, it feels like we were standing on the edge of the folklorian woods and had a choice: to turn and go back or to travel further into the forest of this music. We chose to wander deeper in."
She also noted that putting out evermore two days before her December 13 birthday was intentional, due to the numerical significance of her turning 31 this year.
Alongside the album, Swift will also release her music video for the first single "Willow," at midnight. She teased some album art that, predictably, is in line with her current cottagecore aesthetic.
Even more predictably, the Swifties have utterly lost it. One Twitter user replied to the singer's initial tweet with "evermore isn't just an album, it's a lifestyle, a reason to breathe, an escape from this cruel world filled with thieves. It's art, the first gift you open on Xmas, a hug from a loved one, everything you've ever wanted, everything you need."
But somehow, the intense fangirling isn't even the tip of the iceberg in terms of the most entertaining reactions to the announcement of evermore. As usual, Twitter has delivered. And we're sure it will continue to deliver well into tomorrow, after the album is widely distributed, the fireplace is lit, and plenty of time has passed for listeners to mull it over with a mug of hot cocoa and a wool blanket (perhaps, even a silk hand-embroidered blanket).