Taylor Swift Invites Hayley Kiyoko Onstage to Perform "Curious" at Reputation Tour Stop
"DO NOT KNOW HOW TO COMPREHEND WHAT JUST HAPPENED," Hayley wrote later.
---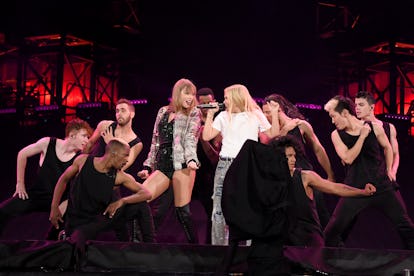 Kevin Mazur/TAS18/Getty Images
During her 1989 World Tour in 2015, Taylor Swift made a habit at every single show of bringing out another musician and joining them for a duet of one of their biggest hits. While she's largely moved away from that practice on this year's Reputation Stadium Tour—sans a brief appearance by longtime pal Selena Gomez at one of her Pasadena, California, stops in May—on Thursday (the first of her two nights at Boston's Gillette Stadium), Swift invited Hayley Kiyoko onstage to perform her hit song "Curious."
Both pop stars shared photos and videos from the collab on Instagram later Thursday night. "DO NOT KNOW HOW TO COMPREHEND WHAT JUST HAPPENED. PLEASE LET ME KNOW. THANK YOU. @taylorswift #20gayteen," Kiyoko captioned a clip of the performance, in which Swift appears to have quickly learned Kiyoko's choreography for the song. "UM @hayleykiyoko THAT WAS INSANE!! Thank you so much for coming to surprise the crowd tonight at @gillettestadium – THAT WAS SO MUCH FUN!!!! So stoked this was your first stadium performance, and you absolutely killed it," Swift wrote alongside her version of the video, adding a plethora of party emojis.
The duet invitation was the logical follow-up to the pair's initial interaction earlier this year. In March, Kiyoko was attacked by Swifties who assumed she was throwing shade at their snake-loving queen when, in an interview with Refinery29, she said, "I've had several music industry execs say, 'You're doing another music video about girls?' I literally looked at them and was like, 'Um, yeah…Taylor Swift sings about men in every single song and video, and no one complains that she's unoriginal.'" Swift soon called off her angry fans and came to Kiyoko's defense, writing on Tumblr, "We should applaud artists who are brave enough to tell their honest romantic narrative through their art, and the fact is that I've never encountered homophobia and she has. It's her right to call out anyone who has double standards about gay vs straight love interests."
Kiyoko later spoke to W about what it was like having Swift stand up for her right to sing about whatever she wants. "That was crazy. I just woke up one morning, and everyone was like, 'What happened with you and T. Swift?' and I was like, 'I don't know. I don't know her.' I don't know her personally, but she said such a wonderful thing, and it was so well put," she said. "I really appreciated it, because I think it was taken out of context. I didn't even see what happened, but I just know that she responded and understood what I was trying to say, which was just, basically, I want to sing about girls 24/7 and not have that be unoriginal. She stood up for the situation and the message that I was trying to convey, which is, you know, everyone should be able to sing about what they want, all the time, over and over again. I really respected that and appreciated that."
The 27-year-old added, "Anyway, if I ever meet her, I'll give her a big hug." Or, you know, perform her own single in front of tens of thousands of screaming fans with her.
From Taylor Swift to Victoria Beckham, Celebrities Love Jorts
Alexa Chung wears jorts while attending Glastonbury in 2010.

Claire Greenway
Emma Watson wears jorts while attending Glastonbury Festival in 2010.

Claire Greenway
Beyonce wears jorts for an appearance on MTV.

Getty Images
Agyness Deyn wears jorts while out and about in London in 2008.

Getty Images
Victoria Beckham wears jorts while out and about in New York City in 2010.

Getty Images
Lana Del Rey wears jorts to perform at the Isle of Wight Festival in 2012.

Getty Images
Candice Swanepoel wears jorts while out and about in Miami in 2013.

Getty Images
Jennifer Aniston wears jorts while out and about in New York City in 2013.

Getty Images
Rihanna wears jorts while out and about in New York City in 2013.

Getty Images
Miranda Kerr wears jorts while arriving at a Japan airport in 2013.

Getty Images
Gisele Bundchen wears jorts while out and about in Boston in 2014.

Getty Images
Jennifer Lawrence wears jorts while out in New York City in 2015.

Getty Images
Chloe Sevigny wears jorts while out in New York in 2015.

Getty Images
Dakota Fanning wears jorts while out in New York in 2015.

Getty Images
Selena Gomez wears jorts while out in New York in 2015

Getty Images
Lara Stone wears jorts while out in Paris in 2015.

Getty Images
Ciara wears jorts while out in London in 2015.

Getty Images
Taylor Swift wears jorts while out in New York City in 2014.

Getty Images
Diane Kruger wears jorts to the 2015 Global Citizen Festival.

Getty Images
Hailey Baldwin wears jorts while out in New York City in 2015.

Getty Images
Cara Delevingne wears jorts while out in New York in 2015.

Getty Images
Elizabeth Olsen wears jorts to an event in Los Angeles in 2015.

Getty Images
Emily Ratajkowski wears jorts while out in New York in 2016.

Getty Images
Lady Gaga wears jorts while out in New York in 2016.

Getty Images
Gigi Hadid wears jorts while out in New York in 2016.

Getty Images
Kendall Jenner wears jorts while out in New York in 2016.

Getty Images
Kim Kardashian wears jorts while out in New York in 2016.

Getty Images