Taylor Swift, Director, Manspreads and Marries Young in "The Man" Music Video
Taylor Swift made her solo directorial debut with a tongue-in-cheek music video for "The Man," in which she also stars as the Man.
---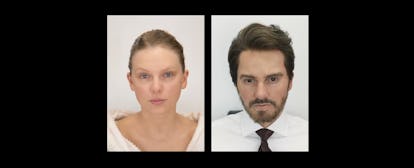 Image courtesy of Taylor Swift/YouTube.
"I'm so sick of running as fast as I can/Wondering if I'd get there quicker if I was a man," goes the chorus of Taylor Swift's song "The Man."
The lyrics of the fourth single released from her seventh studio album, Lover, try to unpack the double standard of being a woman—particularly one who works in the music industry, as is revealed in a scene from Swift's recently released documentary, Miss Americana, where she allows viewers to see her going through the songwriting process for this particular track.
Just a month after her not-so-revealing documentary, Swift has made her directorial debut with a tongue-in-cheek music video for "The Man."
The main character of this narrative is a Machiavellian executive who wins over everyone at the office, manspreads on the train, smokes in people's faces, and pisses wherever he sees fit (particularly on a subway-tiled wall graffitied with the titles of Swift's albums, leaving his mark) during the first verse of the song.
In the scenes that follow, the Man can be seen popping bottles on a yacht with beautiful, scantily clad women (this is the part where, if you were hoping for an actual Leonardo DiCaprio cameo to go along with the lyrics in the song, you would be disappointed, but Swift's father, Scott, makes an appearance later in the video instead). The Man congratulates himself after sleeping with a beautiful women, does the bare minimum at a park with his daughter, only to be called the "world's greatest dad," and plays an angry game of tennis for "women's charity."
The eponymous Man, who Swift herself transforms into for the video, looks like a bargain bin version of some sort of combination of Jared Leto, Scott Disick, and Jake Gyllenhaal.
All of the Man's actions are done with complete disregard for anyone's irritation with his behavior. Fifty-eight years go by, and eventually the Man grows old and marries a women seemingly five decades his junior.
Then, a shift in perspective occurs: The Man walks off what is revealed to be a music-video set, with Swift in the director's chair. His baritone voice (which you will probably recognize belongs to Dwayne "the Rock" Johnson) asks, "Was that last take more what you had in mind?"
The director then asks him to try to be "sexier" and "more likable," echoing the demands often placed on actresses by male directors.
The credits then reveal that the video was directed, written, and even owned by Swift (another nod to her ongoing legal battle with Scooter Braun, regarding the ownership of her masters).
Though it may be quite a rudimentary analysis of gender roles and double standards, "The Man" is possibly one of the more in-your-face assessments of societal inequities that Swift has tried with her music. And you have to admit, she does make some valid points.
Related: Taylor Swift Uses Leonardo DiCaprio as an Example to Explain Sexism in "The Man"