Teen Model Turned Author Lucky Blue Smith Says to Write What You Know
Fresh off his first book, Stay Golden, the model shares advice for aspiring writers, along with the rest of his culture diet.
---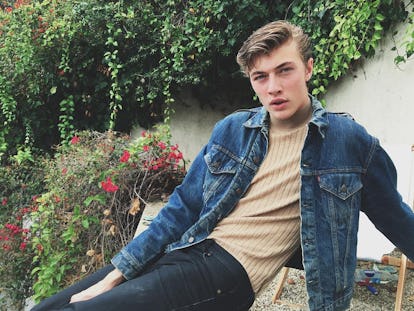 Courtesy of @luckybluesmith
At just 18, Lucky Blue Smith has already earned himself not just millions of followers, but a full range of professions, from actor to drummer to model with a cult following. All that's proven enough material for him to add author to that glut of gigs with the publication of Stay Golden, a new book out with Random House that recaps his life in 22 chapters, ranging from "Just a Punk Kid" to "GQ Cover." ("It is very time-consuming," Smith said of his first publishing experience.) Here, the Utah-born teen shares what else he's been up to with his culture diet.
First thing you read in the morning: I usually read texts or emails or get on Instagram.
Books on your bedside table right now: I have a coffee table book about surfing and one about muscle cars.
Favorite authors: My dad [Dallon G. Smith, who cowrote Stay Golden].
The TV shows keeping you up at night: "The Office." If I am home, I usually have it on in the background. It's funny and classic.
Last movie you saw in theaters: Don't Breathe. It's super suspenseful.
Last piece of art you bought, or ogled: I like old movie posters. I have Giant with James Dean, but it's in a foreign language — it's really cool. I also have one of Attack of the 50 Foot Woman.
Last museum exhibition that you loved: I went to the Vasa Museum in Stockholm with my mom. It has an amazing old wooden ship.
Release you're most eagerly anticipating: I am excited for my upcoming movie, Love Everlasting, which comes out November 15. And of course, music from my band with my sisters, The Atomics.
Items you're most looking forward to wearing this winter: Turtlenecks and cool jackets.
Favorite place to shop: I like vintage shopping because you can find one-of-a-kind things.
Last song you had on repeat: "Contract on the World Love Jam" by Public Enemy.
Last concert you saw live: James Blake.
How you get your news: Twitter, mostly.
Favorite Instagrams to follow: My mom, my sisters, photographers, and people I have worked with. Also @archidesignhome. It has cool structures and buildings.
Snapchat or Instagram stories? Instagram stories. I don't have Snapchat.
Advice to aspiring authors: Write every day, write about what you know, and keep little notes of things along the way.
Last thing you do before you go to bed: Check my phone.