You Have Just 24 Hours to Get Telfar's Ugg Collab
The label's ubiquitous tote bag is getting a shearling makeover.
---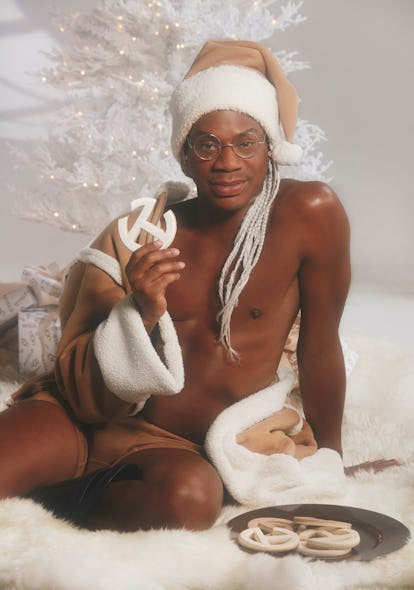 Photo by Roe Ethridge, courtesy of UGG
In 2017, when Telfar Clemens won the CFDA/Vogue Fashion Fund, it seemed like the designer was finally getting his due. But that was just the beginning for Clemens, whose eponymous label has been around for 15 years. Over the past few months, Telfar fervor has hit a fever pitch—and especially fervor for the Telfar tote, which just made it onto Oprah Winfrey's annual Favorite Things List. Demand has soared so high that the so-called "Shopping Bags" are now also known as "Bushwick Birkins." Even Amazon, which started carrying the label earlier this month, can't keep them in stock.
In keeping with the Telfar ethos—the label is "for everyone"—its next partnership is also decidedly mainstream. This week, Telfar and Ugg announced that they've joined forces on the next two Shopping Bags, in medium and small. Ugg has been partnering with smaller, buzzier labels as of late (see: Eckhaus Latta), but the pairing is still a bit unexpected. While Telfar totes are known for being vegan leather, the latest will be made of Ugg's signature shearling and sheepskin.
Clemens himself stars in the campaign, wearing little but a shearling Santa hat. There's also an adorable golden retriever puppy small enough to fit in the medium tote.
The pre-order window lasts just 24 hours, beginning on Monday, November 30 at 9 a.m. EST. Deliveries won't begin until next year, at some point between March and Juneteenth. But as a pre-delivery treat, buyers will receive a Telfar Christmas card in the week leading up to Christmas Eve.
"We know that is a long time to wait—but these bags are 𝒾𝓃𝓈𝒶𝓃𝑒𝓁𝓎 𝒶𝒹𝑜𝓇𝒶𝒷𝓁𝑒 and will sell out in minutes," the label wrote on Instagram. It also shared a preview of the card, which reads in part, "The future is uncertain but your Ugg x Telfar shopping bag is SECURED."
Related: Meet the White Castle Employees Modeling Their New Unisex Uniforms by Telfar