A Travel Guide to Telluride, Where There's More Snow Than in New York Right Now
Once an Old West mining town, Telluride, Colorado has become a favorite retreat destination for the international jet set crowd.
---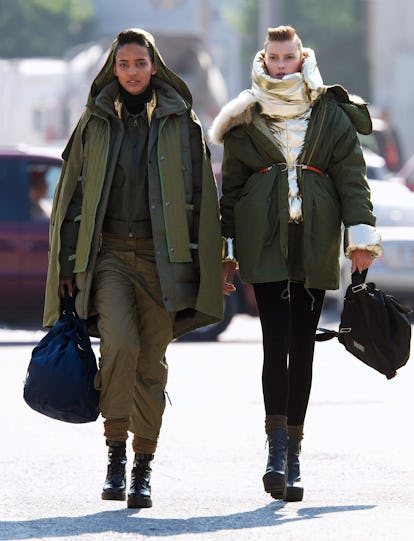 Photographer: Hans Feurer Stylist: Sarah Richardson
As you make the drive from the airport in Montrose, Colorado into Telluride, you pass the remains of old mining operations and wind through the striking San Miguel Mountains. The anticipation continues to build until finally, you drive into the box canyon where Telluride (which was originally named Columbia when it was founded back in 1878) sits.
Part of the allure of Telluride, which transitioned from a mining town to a ski-bunny, hippie haven in the late '60s and '70s, has long been its exclusivity. It's hard to get to, making it extremely attractive for celebrities like Oprah Winfrey and designer Ralph Lauren to buy land in this Colorado ski enclave. Celebrities won't be bothered by paparazzi or swarming fans here—it's almost an unspoken rule that you just go about business as usual, similar to other hotbeds for the rich and famous, even if Tom Cruise or Katie Holmes are walking down the street with Suri tagging along.
As opposed to other more glitzy ski towns around the world, Telluride is not a place to see-and-be-seen, and you can leave your outrageous fur coats and Moon Boots at home—there's no place for them here.
As Lauren explained in an interview, "Colorado was an escape for us. It wasn't about being in fashion. It was about a life that would be different, that would be freer—that would have nature and trees and animals and big sky."
Just because Telluride is about understated glamour, however, doesn't mean it lacks a strong culinary scene, high-end shops, or luxury accommodations. This small town needs to cater to the most discerning of tastes and it does not disappoint on that front. You'll find impressive local microbrews, wine lists with some of the world's best bottles, multi-course tasting menus served at the top of the mountain. To help, here are some insider tips to use as your plan your itinerary:
When to Go: Telluride Ski Resort is a skier's paradise in the winter months, with everything from a beginner's terrain to hike-to-ski areas to Nordic-style skiing. In the spring and summer, however, Telluride plays host to some of the country's top film and music festivals, like the Telluride Film Festival and the Telluride Bluegrass Festival. (Summer, for the record, increasingly draws the biggest crowds of all.)
Where to Stay: Madeline Hotel and Residences, situated right on the slopes with ski-in/ski-out access, is a go-to spot for repeat Telluride visitors from around the world. Highlights include the sweeping mountain views from the rooms, the food at Black Iron kitchen (make sure to try the Colorado lamb sliders), an impressive fitness center with the most up-to-date equipment (in case you need to work off a few too many lamb sliders or French fries), and the full service spa with an inspired range of treatments, ranging from targeted ski and mountain recovery treatments to crystal massage therapy. If you want something remote and extra luxe, opt for Telluride Ski Resort's Tempter House, situated at 12,200 feet up on the mountain. The house was designed in the late '90s by Anne Eckley, who is registered nationally at New York's Metropolitan Museum of Art.
Where to Eat: For fast and casual bites, the innovative tacos at Tacos del Gnar in town will blow your mind. If you are in need of something to warm you up in between ski runs, Poachers Pub is where the locals go—try the chili and the Ska Euphoria IPA. Other on-mountain dining favorites include Bon Vivant (for French country cuisine like crepes and cheese plates) and High Camp (they have self serve hot chocolate!). For a more gourmet, special dining experience, both Allred's and Alpino Vino on top of the mountain are a must. Afterwards, if you are still looking to keep the party going, have a nightcap in town at High Pie or There Bar.
What to Do: Aside from lots of ski and snowboarding, (and eating), do a scenic fat bike (it's a bike with extra fat tires so you can bike on the snow) tour to Telluride Brewing Company to sample some local microbrews. Make sure to try the Tempter IPA. Also, spend at least one afternoon exploring the charming town of Telluride (just a short ride away from the mountain village), where you'll find historic landmarks like the 103-year-old Sheridan Opera House (which has hosted more world premiere films than any theatre in the U.S. between New York and L.A. and still acts as a working theatre today), and a slew of specialty boutiques (Two Skirts is a must, along with Swanky Buckle, Picaya and T.K. Imports for home goods) and galleries. There's also a cannabis walking tour, led by Telluride Green Tours, where you can visit the town's many dispensaries and explore the cannabis scene, if that's up your alley.
In the Mood (Or Not) for Winter
Photographers "Always Ask" Kate Moss to Take Her Clothes Off
Photographers "Always Ask" Kate Moss to Take Her Clothes Off