Ten Ways to Wear Fishnet Tights According to Instagram Trendsetters
From the Kardashians to Sarah Snyder, fishnet tights are an unlikely must-have.
---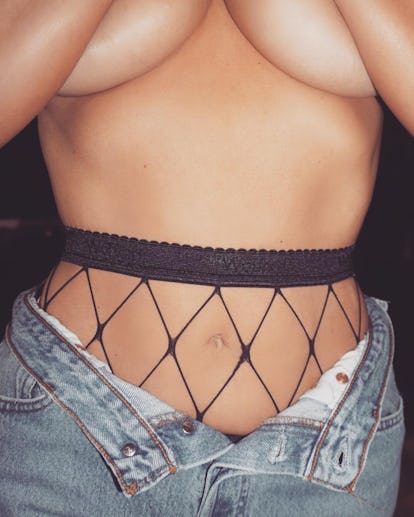 @kimkardashian
Between witchcraft and punk wizardry being all anyone could talk about this fall season, fishnet tights were bound to make a resounding comeback, too. And sure enough, they've been flooding our social media feeds, with the Kardashians taking the trend to new heights as a corset of sorts and young style stars like Sarah Snyder bringing it to the streets. Below, ten ways to try the look for yourself.
Kim Kardashian
Before her extended social media hiatus, Kim Kardashian had a very strong underwear-as-outerwear streak. Here, she wears her fishnet tights underneath her jeans as both an extension of a high-waisted pant, and as a corset. Excuse me, "waist trainer."
Kendall Jenner
Kendall Jenner wears her fishnets the old fashioned way for a sultry night out in Los Angeles paired with black high heels.
Or, alternatively, for a more causal day-to-night look with fishnet socks and Vans sneakers. She repeated this look recently when she sat court side at a Lakers game, but swapped sneakers for see-through Yeezy boots.
Kylie Jenner
Kylie Jenner, never one for social media modesty, chooses to wear her diamond-encrusted fishnet tights with no pants.
Caroline Vreeland
The great-granddaughter of the fashion editor Diana Vreeland, Caroline Vreeland goes full rock and roll by pairing her fishnet tights with lots of leather and safety pins, as intended.
Erika Bowes
The young London girl boss Erika Bowes gets creative with her ripped jeans, using fishnet tights as a patch of sorts.
Or
Alternatively, she takes a page from Kim's book with tights on the bottom…and nothing on top.
Sarah Snyder
It's rare to see Sarah Snyder in anything but jeans and sweats, but here she takes her signature look and updates it for night with tights underneath lace-up jeans. Very on-theme.
The same goes for jorts!
Reese Blutstein
The 20-year-old Atlanta style blogger, Reese Blutstein, keeps it simple and classy with black tights and a white slip dress.
Watch W's most popular videos below.