Tenet Delayed as Hollywood Concedes Coronavirus Defeat for Summer
Theaters have reopened in other countries, but America is far behind.
---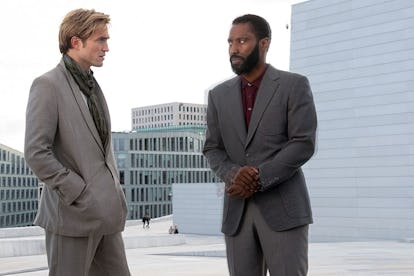 via Warner Brothers
Christopher Nolan is one of Hollywood's biggest defenders of film traditionalism, and as such, has been one of the biggest voices hoping for a swift and smooth return to traditional movie theater attendance. In fact, the originally scheduled July 17th release date for his next would-be blockbuster Tenet held firm during the height of the pandemic, in hopes that America would have the threat of the coronavirus under control. It would have served as something of a grand "welcome back" to movie houses. However, it was eventually shuffled to July 31st, and more recently, August 12th.
Now? Its release has been postponed indefinitely, as the country has shown a complete inability to get the pandemic under control nationwide.
"We will share a new 2020 release date imminently for 'Tenet,' Christopher Nolan's wholly original and mind-blowing feature," said Warner Bros. Pictures Group chairman Toby Emmerich in a statement. "We are not treating 'Tenet' like a traditional global day-and-date release, and our upcoming marketing and distribution plans will reflect that."
Without jumping to too many conclusions, the bottom line is essentially that Warner Brothers will release the film in different countries at different times depending on how far along they are in their coronavirus recovery and containment plans.
Tenet, which clocked in with an estimated production price tag of up to $220 million, was supposed to be a potential global blockbuster. Whereas other tentpole films (Disney's Mulan, Marvel's Black Widow, DC's Wonder Woman 1984, and the next James Bond flick) have been held back to at least the fall in hopes of pulling off a truly global release, Tenet may get a staggered release.
We should have seen this coming. China's movie theaters reopened this weekend for the first time in six months. Theaters in other Asian countries have been open for months. European countires began reopening theaters in May (though, some countries are still re-closing cinemas in certain cities based on detections of new clusters). Although no major country's box office numbers are anywhere close to where they were pre-pandemic, there are still movie houses in the world open for business and desperate for new content.
Smaller films have already announced staggered release dates across the world. For example, the teen romance sequel After We Collided (which will introduce former teen idol Dylan Sprouse to the cast as the character "Fucking Trevor") has set release dates for several continental European countries between September 2nd and 4th. It will come to Canada on September 25th. Its American release? Still unannounced.
The Tenet release will also serve as something of a wakeup call for theater chain execs. AMC has planned to have a portion of its American theaters back-in-business for Tenet's August release. At one point, that almost seemed feasible. In the first week of June, America was averaging about 21,000 new coronavirus cases a day and the country's original hotspot, New York City, seemed to have turned the corner. Now, America is averaging over 66,000 new cases a day. Of course, at that rate, whether or not we get to see a movie on time is the least of America's concerns.
Related: Robert Pattinson Gets Stuck in a Time Warp in 'Tenet' Trailer